Would you like to be our "Hanukkah Harry?"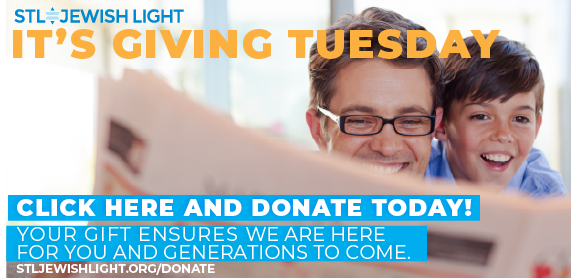 I'm sure I'm not alone here, but this time of year has me thinking a lot about gratitude and feeling grateful for the many blessings in my life, not the least of which are family and friends. I'm also grateful, and thankful, for my job at the St. Louis Jewish Light, and being able to have served as editor for the past dozen years.
As I look forward to No. 13 — my bat mitzvah year here — I've been reflecting on our print and digital work and how much has changed the past couple of years. While our newspaper edition has pivoted from weekly to every other week, our digital operations have literally exploded.
Along with the curated Your Morning Light dispatched to your inbox every day except Shabbat and other holidays, we also offer digital newsletters dedicated to the latest Israel news; recent obituaries; simchas/celebrations; and family happenings on a biweekly, weekly or every-other-week basis. And we look forward to adding more in 2022, including newsletters that cater to foodies, shoppers and pop culture vultures (and I mean vultures in the nicest way possible!).
All of the above involve an enormous amount of reporting and storytelling, which we not only generate ourselves, but also with the help of content partners, we have engaged in the Jewish journalism world and in the Jewish community here, across the country and in Israel. Some of these partnerships are free while others we pay for, but all provide us with distinctive Jewish stories that work to inform, inspire, connect and education our audiences — and I do mean audiences.
One thing we have learned navigating this new digital first landscape is that while most of our readers are Jewish, there is no one size-fits-all when it comes to content. Jewish Light readers span all ages and denominations, including the unaffiliated, and encompass a wide diversity of backgrounds and interests. Many live in St. Louis but others who read us regularly do so from New York, Chicago, Los Angeles, southeast Florida, even Boardman, Ore. — yes, I know, go figure.
While some people think the Jewish Light is part of Jewish Federation of St. Louis, we are not. Federation is a great supporter, but the Light is an independent, non-profit media outlet that spans more than seven decades. We take pride in the fact that all the products we offer — such as the newspaper and our digital newsletters — are free, and we want to keep it that way for generations to come.
Speaking of generations, we also are proud that we are one of only a few media outlets in the country, including mainstream/secular media, which boasts a monthly section created by and for teenagers. And though this section has been going strong for more than a decade, we plan to increase its scope in the year ahead with more video and audio content as well as additional stories that we hope will engage and resonate with both new and established readers.
I'm guessing by now you know where this is going. Asking for money is never easy, at least not for me, but we depend on donations from readers such as you to help us to continue to operate, grow and improve the Jewish Light for generations to come.
We take our role as community communicator seriously and believe we are vital to the health and vibrancy of our St. Louis Jewish community. Stories you regularly find in the Light — about the incredible people and places that make our St. Louis Jewish community unique — are stories you cannot find anywhere else. Not to be able to share them with readers would be an immeasurable loss.
As advertising revenue has continued to decline — the COVID-19 pandemic took its toll in that arena as well — donations have become even more important in helping the Light secure a bright financial future. So please, we would appreciate you donating online or using the envelope included in the coming week's issue to contribute. And if you haven't done so already, sign up for one or all of our newsletters at stljewishlight.org.
Happy Hanukkah and cheers to a healthy and hopeful holiday season.