Why you need to know this Nazi's name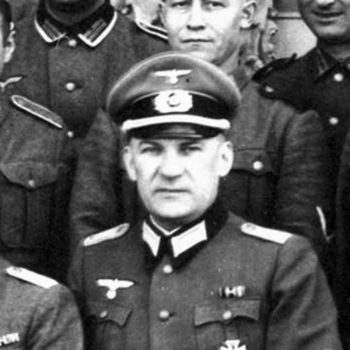 Back in January of 1963, in Flensburg, West Germany, a former SS leader, Martin Fellenz, was on trial for the mass murder of Jews during World War II in Russia and Poland. On that day, according to the Jewish Telegraphic Agency, the jury was told about a German army officer who stood up against the SS to defend Jews,.
The story, cited to the jury by the West German judge presiding at the Fellenz trial as an instance where "a man of character stood up for the cause of human dignity, " concerned Lieutenant Albert Battel.
Battel,  according to the judge, had been in charge of a Jewish work brigade at Przemysl, in southeast Poland. When the local SS command ordered him to release his Jewish workers, so they could be deported to death camps, he refused. Battel stationed one of his own machine gun detachments at his camp's end of a bridge, threatening to shoot if the SS men came to get the Jews. The SS retreated, and the Jews were saved–for the time being.
Later, according to the Judge, Battel was punished by being sent to the Russian front, where, subsequently, he was taken, prisoner.
According to the Jewish Foundation of the Rightous, Battel became a great embarrassment for the Nazi party. Battel, while a member of the Nazi party since 1933, had previously raised suspicions among Nazi officials. Before the war, he had been indicted for offering a loan to a Jewish colleague, and while serving in Przemyśl, he had been reprimanded for shaking the hand of Dr. Duldig, the head of Przemyśl's Judenrat who was a friend from university.
Unknown to Battel, the investigation into his actions was treated with great seriousness; Heinrich Himmler had vowed to arrest Battel after the war. Battel was released from the army in 1944 due to a medical condition.
Upon returning to his hometown of Breslau, he was drafted into the Volkssturm (a German national militia founded during the last few months of the war) and subsequently captured by the Russians. At the end of the war, he was released and settled in West Germany.  Due to his prior affiliation with the Nazi party, he was not able to practice law.
Albert Battel died in 1952.