Who knew? 6,000+ Jews call St. Charles County home
That translates to roughly 10% of all the Jews in the greater St. Louis region.
Bill Motchan, Special For The Jewish Light
Published April 10, 2022
St. Charles County is home to two dozen churches and zero synagogues. Curiously, about 5,800 Jews live in St. Charles, O'Fallon, St. Peters, Lake St. Louis, Wentzville and Cottleville. Those numbers come from a 2014 Jewish Federation of St. Louis study, so there may well be more Jews living west of the Missouri River in 2022.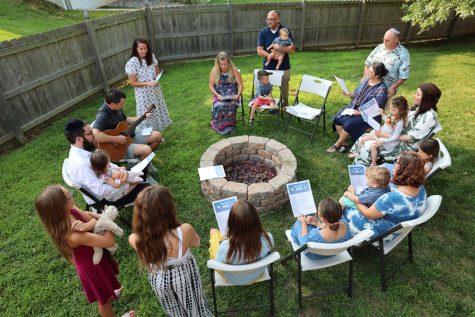 In the eight years since that study was completed, the overall population of St. Charles has increased by 28,660. A lack of Jewish worship facilities in St. Charles has not appeared to deter western migration. The 10-lane Veterans Memorial Bridge connecting Maryland Heights to St. Charles via Route 364 created fast access from St. Louis County. More affordable housing is another factor in the choice by many Jewish St. Louisans to migrate to what once seemed the far exurbs.
Mark and Carol Schatz moved to St. Charles County from the Chicago area in 1981. They were teachers looking for new opportunities in a less expensive market, and the Wentzville School District beckoned. It needed the skills they offered. Mark was an art teacher, and Carol taught special education.
Jews of St. Charles County: Mark Schatz
Mark had to look up Wentzville on a map to figure out exactly where it was.
"We had a short commute to work, a five-minute drive," said Schatz, 69. "At that time, the school district was not big, and when a new teacher was hired, the whole faculty threw them a party. It was nice and welcoming. They asked if we had a church — a lot of them didn't know any other word — because everybody in Wentzville went to a church and they wanted to help us out. That's how we found out about B'nai Torah."
The small, now-defunct congregation was a good fit for the Schatzes, and they made friends there and in the community. They raised both of their children in Lake St. Louis and, now retired, they still live there. For most of the years the Schatz children attended school in Wentzville, they were the only Jews in their classes.
"They tell us now they're glad they had that opportunity," Schatz said. "They're glad they learned what it was like to be a minority and got to meet all different kinds of kids and not just kids who were like them."
Jews of St. Charles County: Richie and Blair Levin
Six years ago, Richie and Blair Levin bought a home in St. Charles primarily because it was so affordable. Levin figures the same property in Creve Coeur would have been as much as $150,000 more.
"You get a lot more house for the money," said Levin, 32. "I also like the 'newness' of the houses being built here. And there are a lot of young families. My neighborhood is predominantly a few years older than us with young kids. On Halloween, we get more than 100 kids trick-or-treating."
That's a positive for the Levin family. They have a 2 -year-old son, Logan, and he'll grow up around other kids his age. He attends preschool at Temple Israel, a short drive from their home.
Levin doesn't feel isolated as a Jew in St. Charles. Another Jewish family lives down the street, and he has cousins and a number of friends who live in the area. And thanks to the Page Avenue extension, a drive to see family across the Missouri River takes just 15 minutes.
Jews of St. Charles County: Gerry and Jennifer Nemet
Gerry and Jennifer Nemet lived in Birmingham, Ala., for 17 years.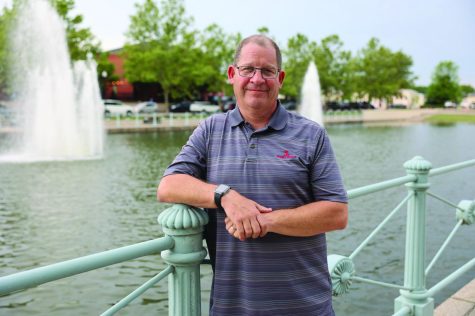 They were familiar with being part of a small Jewish community. Now they live in New Town, the St. Charles County planned community that looks like a quaint New England village. The Nemets got a good vibe about their new home as they were driving up in mid-2020. "I remember pulling into New Town," said Nemet, 55.
"It was June, and we saw all the pride flags displayed. My son said, 'You wouldn't see that in a neighborhood in Alabama.' It's just a lot more openminded, balanced place, and we really liked that."
Nemet said there are challenges to maintaining a Jewish home in St. Charles, but they're minimal, such as locating a challah at a local grocery. Finding other Jews has not been difficult, though. New Town is a diverse community, and the annual menorah lighting in the town square draws quite a few Jewish residents who can walk there.
Jews of St. Charles County: The Franks
The menorah lighting found its audience partly through social media. Brandy Frank created a New Town Havurah event on Facebook so the closeknit Jewish community there could easily find the time and location. Brandy and her husband, Eric, belong to United Hebrew Congregation, a 25-minute drive from their New Town home. The Franks are raising their children with a Jewish identity, which they proudly display.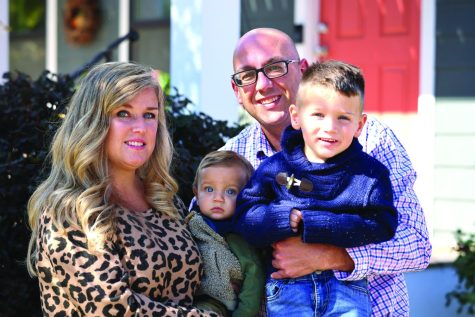 Eric Frank grew up in University City. His family moved west, and he attended Parkway Schools. He went to Jewish camp and celebrated his bar mitzvah at UH. The decision to move to St. Charles was a financial one for him.
"I basically came to St. Charles because it was affordable," said Frank, 45. "When I was 25, I couldn't afford to build a new house in St. Louis County." The Franks have a mixed marriage, not unlike other couples in St. Charles. Brandy Frank, 38, grew up in Washington, Mo., and she hadn't met many Jews before she took a job at Westwood Country Club, where she met Eric. They were married in a Jewish ceremony, and Brandy makes sure the family celebrates Jewish holidays.
"When I was growing up, my parents didn't have a faith," she said. "It's important for my boys to have a foundation of faith and values."
Finding a Jewish community has been another positive for the Franks and others in New Town. Gerry Nemet said that group is growing and has regular outings.
"We had one get-together where we met at Padavan's, a restaurant here in New Town, and everybody got together with their kids," he said. "We're building a group of Jewish people here. It's at the very start, but it feels like we're all getting to know each other."
Creating a Jewish gathering place
On a late July evening last year, a half dozen young Jewish families gathered in a backyard for a "Shabbat Under the Stars" singalong and dinner. Previously, they might have thought they were the only Jews in the area. The location was the Chabad Jewish Center of St. Charles County, which doubles as the home of its co-directors, Rabbi Chaim Landa and his wife, Bassy.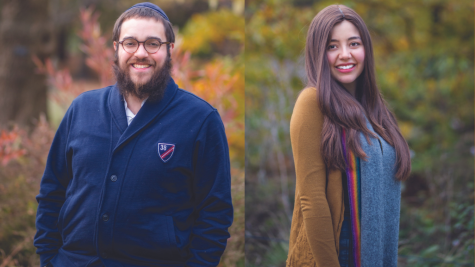 Mingling with the crowd were the Landa's two children, Chaya and Mussia (they've since welcomed a third, Cherna, into the family). The younger Landas served as tiny Chabadniks, entertaining the kids that came along with their parents for this family friendly event.
The Shabbat gathering was just one of the ways the Landas have connected the Jewish community in St. Charles County. That's not an especially easy task, given its size (593 square miles) and density; it's Missouri's third-most populous county. There are close to 6,000 Jews living in St. Charles, but they aren't located in one vicinity.
Landa thinks there are likely 10,000 Jews in the county, but he said they aren't always as easy to locate because some aren't necessarily comfortable sharing their religious identity in a neighborhood, or a city, where they are in a distinct minority.
Then came COVID. In-person gatherings had dwindled. Just as the Delta variant faded, we were introduced to Omicron. Ever the optimist, Rabbi Landa found a silver lining in the pandemic. "Although COVID presented very real challenges, especially for a startup community, it also brought out a huge blessing," said Landa, 31.
Jews of St. Charles County: Creating community
"For many, it was a moment of pause in their lives. People asked themselves, 'What am I missing in my life?' And for lots of the folks out here, the answer was Jewish community. When we came out here knocking on doors, people were very, very receptive and, I would say, eager to get involved."
The Landas used some of the same innovative ideas employed by their colleagues within the Chabad of Greater St. Louis network: Seder-to-Go kits available for pickup; outdoor, socially distanced Rosh Hashanah in the park gatherings; and the popular public Hanukkah menorah lightings.
The first night of the Festival of Lights on Dec. 28 drew a big crowd for the Hanukkah on Main Street celebration in Old St. Charles. It occurred mere feet from a Christmas tree and sled. More than 400 people joined, Jews and non- Jews, all of whom shared at least one thing: they loved the jelly doughnuts and gelt drop from a huge ladder extended from a St. Charles fire truck.
Before planning the menorah lighting, Landa had just finished another major event, a Jewish cultural and food festival, along the Missouri River at the St. Charles Foundry Arts Centre.
"It's safe to say over 1,000 people attended," he said. "I'd say about 75% of those who came to the festival were Jewish. And that's great. We're here for the entire community."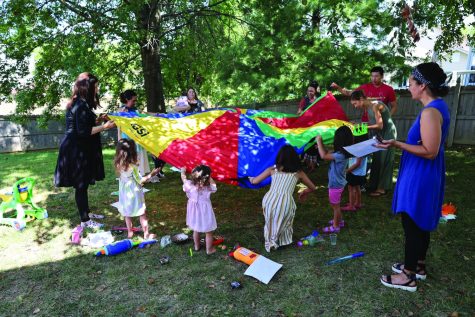 Of course, it's not just non-Jews the Landas seek to educate about Judaism. Many of the St. Charles Jews who attend Chabad are seeking to learn more about their heritage. A Shabbat morning Torah study group at the St. Charles Chabad offers a lesson and open discussion that ties the Torah portion for the week into current events and issues. That fosters both relevance and approachability.
Jews of St. Charles County: Mommy and Me
Another popular series of events is handled by Bassy Landa, a working mother who's handy with crafts. It's called Mommy and Me and is a program for the young Jewish families in St. Charles.
"The inspiration behind our Mommy and Me group, and really the Jewish Family Network as a whole, is to create a child-friendly, and a young parent-friendly space, that allows for this important demographic to connect, bond and build Jewish community together," she said. "It's been such a blessing to witness this community grow and to see the impact we're having on so many Jewish families in our county. We're at the point where it's hard to imagine a St. Charles without it."
Chaim Landa wants to grow the St. Charles Jewish community this year.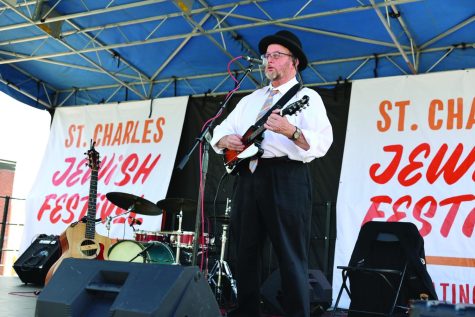 "As a community, we've accomplished a lot in two short years," he said. "We've had some really big events, like Hanukkah on Main Street and the Jewish Festival, and those have been amazing. St. Charles has really embraced them. But what gives us the greatest joy is seeing dozens of adults coming together every Shabbat, young children and their mothers learning about Judaism in a fun and meaningful way each Sunday. These reflect a real and growing community."
Jews of St. Charles County: Chabad
Landa says another sign of St. Charles County's burgeoning Jewish community are the many connections being made through the Chabad Jewish Center.
Not long ago, Landa had a meeting in a coffee shop near his home. When he walked in, he was delighted to see two Jewish couples he knew, sitting together. Both were St. Charles residents and had met and become friends at Chabad. "When you see Jews connecting in other settings, you know something good is happening," he says. "That's a success story."
A virtual Jewish community launches in St. Charles
The size of the St. Charles area and the lack of a centralized meeting place for the Jewish community offered the Chabad Jewish Center of St. Charles a chance to try something different: an online community. Thus was born the Facebook page Being Jewish In St. Charles (@ BeingJewishStCharles). The page offers a glimpse inside the lives of Jews who live and work in the area, told through firstperson photo essays.
It's the brainchild of Landa, with assistance from Lindy Drew, the co-founder of the popular Facebook page Humans of St. Louis. Drew, who is Jewish, said an online community is an ideal connection vehicle for this type of undertaking.
"We know there are over 6,000 Jews in the St. Charles region," said Drew, 43. "This community has the potential to depend on each other and be connected and to find friendships and relationships. Why not try to give them an opportunity to share their stories for how they arrived, and their background and how they connect to religion?"
The Facebook page started sharing the photo stories in October. Its goal is to seek out and feature more of the Jewish St. Charles residents. Social media has become a useful method to form connections, Drew said. "Knowing the power of storytelling, when you hear someone's individual experiences and lessons learned in life and beautiful connections combined with a really intimate photo of them shared through social media, there's a power in seeing the story," she said.
Welcoming diversity
Just outside the office of St. Charles County Executive Steve Ehlmann sits a tzedakah (charity) box. Ehlmann attended the 2021 St. Charles Jewish Festival and the menorah lighting on Main Street. Last summer, outside his office, he watched the printing of the "Tanya," the book detailing the philosophy of the Hasidic movement.
Ehlmann, an educator-turned-politician, enjoys learning about different cultures and religions. In 1976, when he taught world history at Clayton High School, he said he "was shocked to find out my Jewish students knew more about Christianity than my non-Jewish students."
He has written a referenced history of the St. Charles Jewish Community dating back to the 1820s. And he's encouraged to see St. Charles emerge as welcoming to the Jewish community, but he has the same hopes for any faith group.
"I'm very happy to see any religious organization be successful out here," Ehlmann said. "Of course, government has to be apart from church, but it doesn't mean we can't be rooting from the sidelines. I'd do the same thing for any Protestant or Catholic or Muslim organization that would ask me to participate."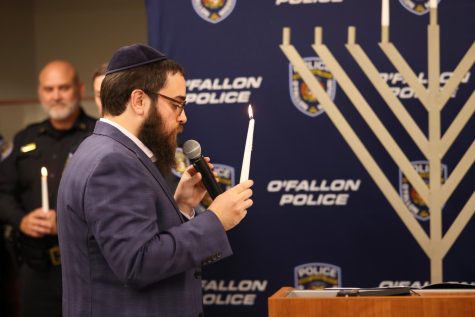 Hanukkah was celebrated Dec. 2, 2021, in O'Fallon, Mo., at the city's main police station, to the delight of Mayor Bill Hennessy, who said, "Hopefully that happens every year because, in O'Fallon, we welcome everybody, all races and religions."
Jews of St. Charles County: Hanukkah
The event was organized by Landa, who is also one of the O'Fallon Police Department's newest chaplains. Having a Jewish chaplain on board made a good fit, according to John Neske, acting chief of police.
"Rabbi Landa has several qualities that will make him a good chaplain for our department," Neske said. "Most police officers are Type A personalities, and they respect and respond positively to confidence. Rabbi Landa is a natural teacher. I see how he converses with people, and he enjoys explaining or describing things about the Jewish faith."
The emergence of the Jewish community in St. Charles County is welcome news to Dan Borgmeyer, mayor of St. Charles city. He has participated in the menorah lighting on Main Street for the past three years and was an early proponent of the St. Charles Jewish Festival. He also sees it as being an anchor event for the city.
"I want the next Jewish Festival to be like Hill Day," Borgmeyer said. "We want Jewish dancers, Jewish music, Jewish exhibits, Jewish food. I would like a large part of the Jewish population in St. Louis to be there."
Borgmeyer recently formed the Mayor's Multicultural Task Force in an effort to get input and representation from a diverse cross-section of people. It includes African American, Jewish, Hispanic, Vietnamese and Asian members. His goal is to create a one or two day St. Charles multicultural festival next year not unlike the International Festival held annually in St. Louis' Tower Grove Park.
"It will be an opportunity to see what diversity is and to understand cultures better and ultimately make the city better," he said.
Ehlmann is looking forward to this year's version of the St. Charles Jewish Festival.
"We'll help get twice as many people there," Ehlmann said. "If you've got good food and good fellowship, people will show up and, to the extent that it helps people understand other religions, that's just an added benefit."