Who is in this 1967 photo from United Hebrew?
Jordan Palmer, Chief Digital Content Officer
Published August 18, 2022
This week's "Blast From The Past" photo featured some well-mannered teenagers, sitting with copies of the Jewish Light. The only information on the photo, which is part of the Light's archives, is that it was taken at United Hebrew in 1967.
We asked if anyone recognized themselves or others in the photo and the response has led us solving the mystery of who is who.
From responses, we received from Alan Wolff, Brenda Pereles and Barbara Singer as well as comments on social media, we have learned the following:
The picture was taken in the annex of UH, at the corner of Skinker Boulevard and Fauquier Avenue.
These kids would have been confirmed in 1968.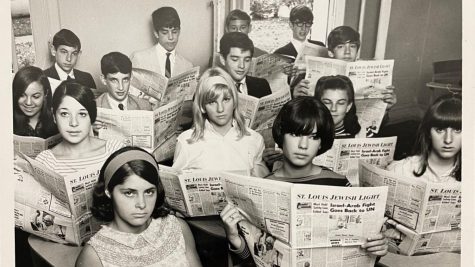 First row from left: Debbie Davidson, Sindy Kaplan, Shelly Alton
Second row from left: Barb Mintz, Elaine Silverman, Brenda Ukman Pereles
Third row from left: Nancy Feldman, Robert Bogard, Gary Burjoski
Fourth row from left: Danny Goran, Mike Kahn. Rich Wyde, Neil Finbloom