WashU freshman tasked with finding the stories within 10,000 Judaica books, and loving it
Jordan Palmer, Chief Digital Content Officer
Published April 4, 2023
Bram Hoffman is knee-deep in books. He is in a dimly lit back room at Dunaway Books, one of the largest independent bookstores in St. Louis located at 3111 S. Grand Ave. Stacks upon stacks of cardboard boxes surround his small workstation. The boxes are filled with books, part of a collection of thousands of Judaica books.
"Here we have a stack of various books that are each valuable in their own way. Each has its own story which requires explanation and background," said Hoffman.  "This 'Hanhagot HaAdam' was found in the collection of Rabbi David Oppenheim. Oppenheim was the chief rabbi of Prague in the early 1700s and was one of the city's largest book collectors. It's a book about how a Jewish man should behave in life."
It's just one very old book among thousands.
"The collection is made up of everything from out-of-print Hebrew books to Israeli novels and Yiddish plays," Hoffman continued. "We also have books of significant historical value like early Gershom Scholem books, and a Shulchan Aruch (1753) and a Seder Olam Rabba (1711) printed in Amsterdam. There's also a massive collection of late 19th-early 20th centuries Jewish writers like Shai Agnon and Shalom Aleichem."
Hoffman picks up another book, opens it and reads the Hebrew printed on the inside cover.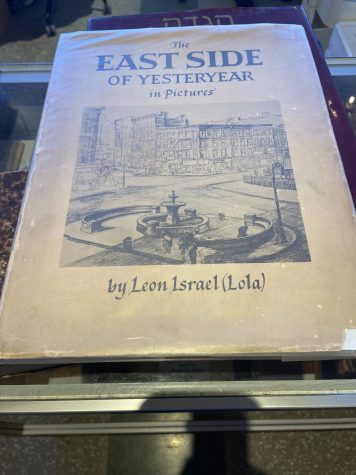 "This is 'Illustrations of Jewish Life on the East Side of Manhattan" by the famed artist Leon Israel [Lola]. It's a picture album of scenes from the streets of the Jewish section of the Lower East Side, which was the center of Jewish life at the start of the 20th century," said Hoffman.
Watching Hoffman, who is fluent in Hebrew, move from book to book reading the information printed inside is like watching a rabbi reading the Torah. There is a cadence to his voice and thoughtful intention to his tone as he reads snippets of information about each book out loud. He seems to be in awe of the information as well as the history he has in his hands.
"My experience with each book is essentially 'How did this end up here?' So many times I've found books that I knew were rare and had only seen once or twice or had never even heard of," said Hoffman." I've also held first editions of works by people I admire, like Nobel Laureate Shai Agnon, Vladimir Jabotinsky and Natan Alterman. Overall, my experience working with the collection has been one of continuous curiosity and surprise."
The Aron Lutwak Collection of Judaica Books
The thousands of books Hoffman is unboxing are from the Aron Lutwak Collection. Lutwak (1934-2020) was the longtime proprietor of Ideal Bookstore near Columbia University in New York City and later in northern New Jersey. He was a book dealer specializing in out-of-print academic books of Judaic content.
The owners of Dunaway Books, Kevin Twellman and Claudia Brodie, first met Lutwak in 2017 through a connection with Brodie's sister who worked with Lutwak's wife, Alice.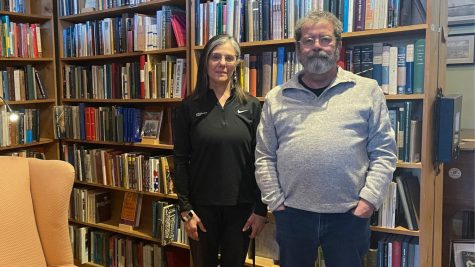 "We made him an offer to purchase his entire collection, and he turned us down," remembered Twellman. "Then two years later (2019) we made him an offer to purchase his inventory of ancient civilizations, which was about 700 books. We traveled to New Jersey to close the deal and we again offered to buy everything."
This time, Lutwak was ready to sell.
"He asked us what our offer was in 2017. We told him and he refused again. I asked him to give me a number. He wrote it down, we countered, and he accepted," said Twellman.
The process of packing up the books and shipping them to St. Louis took several months. About one half of the books went into the store's inventory and the remainder was kept in storage as the process of unpacking and cataloging continued.
"We bought the collection for two reasons," said Twellman. "To resell it, and because I love history and research. Even though I'm not Jewish and Claudia is, together we enjoy Jewish history and holding these books is like holding a piece of history in your hand."
Four years later, roughly 6,000 of the 10,000 books in the Lutwak collection have been cataloged. The process has been slow because many of the books are entirely in Hebrew. Modern books published in Israel have a second title page in English, but many older books do not.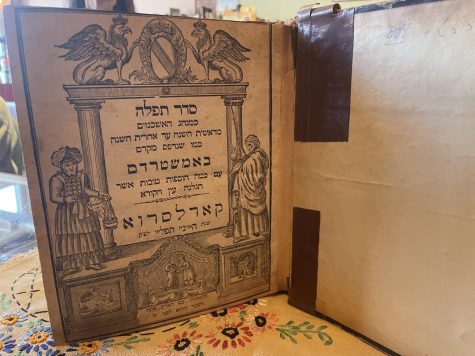 "We struggled to find the right person that could help us and stay with this project," said Brodie. "And then we found Bram."
Bram Hoffman
Bram Hoffman, 19, is a Washington University freshman who grew up Orthodox in Cleveland, Ohio. After graduating from high school in 2021, he spent a year at a yeshiva in Israel. A lover of books and literature, Hoffman picked up skills allowing him to understand the story behind the books.
"Last September I heard that there was a large collection of Hebrew books at Dunaway, so I came with an Israeli friend to check it out and ended up buying three books," said Hoffman.
Striking up a conversation with one of the employees working that day, Hoffman learned they needed someone to catalog and tell them what they had. He reached out to Twellman and Brodie, who hired him to catalog the collection and figure out explanations and backgrounds for as many books as possible.
"Cataloging a collection is very important. It is basically making sure that the inventory is searchable in a database," said Twellman. "Bram is fluent in Hebrew, has a yeshiva education and understands what he's looking at, and which books are important to Judaism."
Cataloging the collection
Once a week, Hoffman puts down his schoolbooks, heads to the back of Dunaway and picks up a book from the Lutwak collection. The process of cataloging can be a slow go. Many of the books published in the 19th and early 20th centuries have no English descriptions to work with, have unknown authors, or have little basic information about their origin.
Hoffman's unique skills and mastery of Hebrew and Jewish history allow him to pull out specific pieces of information written in the books that act as clues to solving each one's hidden mysteries. Each book is a challenge, but one Hoffman relishes when he makes a breakthrough.
"It's an 'a-ha' feeling. Like now I understand what gives it significance. Often, it usually comes from noticing the smaller details, like the publishing location, the printer, the year, any symbols or handwriting in it," said Hoffman.
Since September, Hoffman has been making progress on the 4,000 remaining books, though this part-time job has become much more than cataloging the collection.
"I would say that is only one part. My other job is to connect Dunaway with the Jewish community so that these books can find a good home," said Hoffman. "That involves marketing, making connections, talking to community members, and even just telling friends about books the store has that I think they would like."
Hoffman recently pulled about 450 books from the collection to be sold at a book sale being held at U City Shul on April 30, from 10 a.m. to 2 p.m.
"I think the fact that this collection is in St. Louis means that the community here should have more knowledge about it and come and check it out," said Hoffman.
On the shelves
Slowly, the books from the Lutwak collection are finding their way onto the shelves of Dunaway Books. Housed within a spacious former art gallery, the store itself is gem among independent bookstores. Along with the Lutwak collection, you'll find aisle after aisle of carefully collected books on a broad variety of subjects.
While there is a Judaica section inside Dunaway, books from the Lutwak collection are shelved in multiple sections. Prices of fine used, out-of-print and rare volumes will vary, so feel free to call ahead with any questions, or simply ask any salesperson where to find any books from the Lutwak collection.