Update: Carrying your best friend's baby. A modern Mother's Day story
Mother's Day, or thereabouts, seemed like the perfect time to check in with Nikki Freyman and Kati Kaup to find out how both women and their families are doing.
Readers met best friends Nikki and Kati right before Mother's Day 2021, when Nikki, a married mother of two and Central Reform Congregation member, was carrying a baby via surrogacy for Kati and her husband, Gerome Gregory. (You can read the entire story here). 
Kati, who has cystic fibrosis, underwent a double lung transplant in 2015. While doctors were optimistic that she could live a long life, they cautioned her against getting pregnant, fearing it would be too risky.
Knowing this, Nikki offered to become a surrogate (gestation carrier) for Kati and Gerome. In 2019, Kati underwent IVF (in vitro fertilization), which produced two embryos suitable for transfer. They were frozen until they could be implanted into surrogates.
One of those surrogates, of course, was Nikki, who on Nov. 9, 2021, delivered baby London Nicole (the middle name in honor of Nikki) at Missouri Baptist Hospital. At that time, a second surrogate named Ashley, whom Kati and Gerome found through a matching support group, was also pregnant, having been implanted with the couple's other embryo. That embryo split during the pregnancy, which meant the couple was now expecting twins — an extraordinary development considering there was only a 2% chance of that happening.
When I checked in with Nikki and Kati last week, Kati reported that all three girls, 18-month-old London and 16-month-old twins Evie Elizabeth and Celine Henri, were thriving at home in Ft. Lauderdale, Fla.
"Luckily, we've been able to keep them on the same schedule," said Kati, explaining that the three toddlers share a bedroom, each with her own crib. "They get up at 7 every morning and go down at 7 at night and sleep straight through. They take two naps a day. When you're raising three who are essentially the same age, you do your best to keep to a structured schedule."
Both women say that one of the "surprises" from their surrogacy arrangement was how they have been able to help other couples.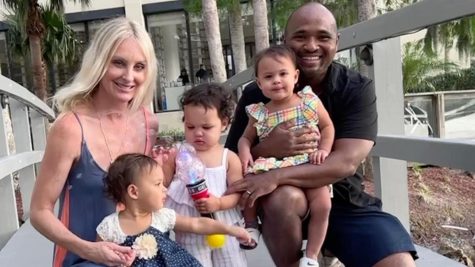 "What has been really a great gift out of all of this, aside from knowing that I was able to help Kati and Gerome become the incredible parents they are, is that we've become resources for other people," said Nikki, who flew to Florida from St. Louis in November to help celebrate London's first birthday. "Kati and I have talked to other couples together and are able to walk them through the process and hopefully make it a little less intimidating and overwhelming. We love being able to share our experience."
Added Kati: "That's why we chose to be open about our story and tell it. We kind of embraced the opportunity to build audience around surrogacy."