Two ways to see Dale Chihuly artwork and how living on a kibbutz changed his life
Jordan Palmer, Chief Digital Content Officer
Published May 1, 2023
For the past 18 years, St. Louisans have not had to travel far to enjoy the work of renowned artist Dale Chihuly. In 2006, the Missouri Botanical Garden presented "Glass in the Garden," an exhibition of Chihuly's blown glass sculptures, highlighted by the amazing 928-piece "Missouri Botanical Garden Blue Chandelier, 2006" which is permanently suspended in the Botanical Garden's Climatron Conservatory.
And now there is much more Chihuly art to see.
Opening May 2 and running through October 15, "Chihuly in the Garden 2023" is a bigger exhibition than "Glass in the Garden." This stunning exhibition unites art and nature. With thousands of pieces of blown glass forms in 18 dramatic installations throughout the garden's grounds, Chihuly in the Garden 2023 presents these artworks on a grand scale.
Daytime viewing of "Chihuly in the Garden 2023" is included in garden admission.
Chihuly Nights
Starting May 13, the garden is hosting Chihuly Nights, giving visitors the opportunity to experience these masterpieces in an extraordinary way. The 18 installations are transcendent when illuminated at night. Visitors will enjoy live music and entertainment as they stroll the garden. Food and drinks will be available for purchase. Chihuly Nights tickets are on sale and range from $8-$25. You can purchase tickets online.
| RELATED: From Chihuly to chemicals, Faith Berger's second act is about the art of science
Chihuly at the Greenberg Gallery
Chihuly at The Greenberg Gallery coincides with the "Chihuly in the Garden 2023" exhibit. This exhibit opens May 11 and runs through July 31. On display, you'll see unique Chihuly works in glass and paper throughout the exhibit space, including a larger wall installation of vibrant reds and oranges, titled "Copper Ruby Persian Wall" in the main gallery space as a grand demonstration of Chihuly's mastery of light, space and form.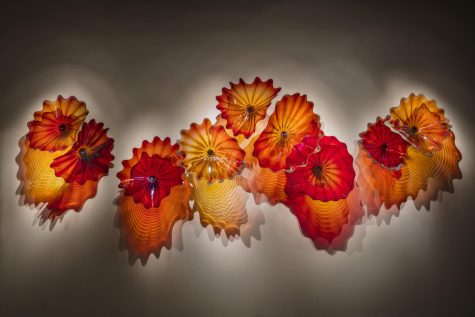 The Greenberg gallery is located at 230 South Bemiston Avenue in Clayton. You can find more information about the gallery and the exhibit online.
Chihuly and the Kibbutz
Dale Chihuly is an American artist who transforms spaces with experiments in color, light, transparency and form. He is known for his exhibitions and large-scale architectural installations around the world and for revolutionizing the studio glass movement. Chihuly works with a variety of media including glass, paint, charcoal, neon, ice and Polyvitro, and his work is included in more than 200 museum collections worldwide.
Although he is not Jewish, Chihuly has had a lifelong connection with Israel, Jewish life and values.
According to a biography of the artist on Chihuly.com, in 1962, he traveled to Europe, where he was especially drawn to the stained-glass windows of cathedrals and churches. It did not escape Chihuly's notice that these large-scale religious art projects, from the twelfth-century Chartres Cathedral to Matisse's 1951 Chapel of the Rosary in Venice, were visited by millions of tourists who revered these glass works, not for their theological content, but as timeless works of art.
Escaping an unusually cold winter, Chihuly traveled south through Greece and Turkey, and then to Israel, where he worked from 1962–1963 at Kibbutz Lahav in the Hagev Desert. Like other Americans who participated in the kibbutz movement during the 1960s, Chihuly developed a new sense of purpose from this experience in collective living.
"I remember arriving at the kibbutz as a boy of 21 and leaving a man, just a few short months later. Before Lahav my life was more about having fun, and after Lahav, I wanted to make some sort of contribution to society—I discovered there was more to life than having a good time," said Chihuly to biographer Timothy Anglin Burgard in 2008. "It's difficult to explain how this change came about, but it had a lot to do with going out on border patrol during the night with guys my own age who had more responsibility and maturity than adults twice their age in the States. After the kibbutz experience my life would never be the same."
Dale Chihuly In Israel
In 1997, Izzika Gaon, the late curator of the Israel Museum visited him in Seattle in 1997. It was during this visit that the idea of Chihuly bringing his work to Israel was first discussed. Sadly, Gaon died later that year, and when Chihuly returned to Israel for Gaon's memorial service, he followed up on Gaon's recommendation to look at the Tower of David Museum at the Jaffa Gate in the Old City of Jerusalem, otherwise known as the Citadel, as a possible site for an exhibition,
He was completely overwhelmed by the location. In time, Chihuly's project became increasingly ambitious, even for a man who has strung glass over the canals of Venice and whose work is displayed in the world's most famous museums. "Each time I came back to Jerusalem my ideas got a little bigger," Chihuly said in a 1999 interview with the Jewish Telegraphic Agency.
The 1999 Jerusalem exhibit featured 15 installations in the courtyard of the ancient fortress. Among them was a 40-foot-high tower made of 2,000 blue and white snakelike protrusions, a triangular construction of blood-red spears and the Crystal Mountain, a huge structure made of pink candy-like extensions. "The idea hopefully is that this will bring a lot of joy to people and will make people feel good," Chihuly told JTA. "Not all art does that."