This Jewish St. Louisan is a modern-day nomad traveling the country in his custom 'skoolie'
BY ELLIE GROSSMAN COHEN , SPECIAL TO THE JEWISH LIGHT
Published December 12, 2022
Jonathan Perera calls himself an "unconventional dude" with a driven personality. Today, Perera, 28, is ready to embark on the ride of his life in the driver's seat of a rolling, tiny home: a luxury school bus conversion called a "skoolie."
Born and raised in a tightknit Jewish family in west St. Louis County, this bearded, free-spirited millennial takes his high-octane hobbies of snowboarding, skateboarding, scuba diving, hiking and climbing as seriously as his work hustle in sales, marketing and videography, which is why the modern-day nomadic lifestyle appeals to him. 
And he's not the only one who is hitting the road, as thousands of people across generations have traded in their cars for moveable "cribs," making the tiny-home market a booming business, especially since the pandemic forced people to social distance, downsize and work remotely. 
"For someone living in the United States, the average retirement age is 65," Perera said. "The average life expectancy is 80. I'm not interested in selling my time for 40-plus years to hopefully enjoy the last 15 years. That's why I'm doing this. To challenge myself and push the limits of what's possible. To bring my creative strengths to the forefront and show off this beautiful world for everyone to see. To hopefully inspire others to turn their own dreams into plans. To feel truly alive." 
In February 2019, he sold his 2007 Dodge Nitro SUV with more than 160,000 miles on the odometer for $5,000 cash. The next year, right before his 26th birthday when COVID hit, he bought a flat-nose Bluebird school bus with a little more than 130,000 miles on it. 
He recently made his way to his first stop on his skoolie adventure at Arapahoe National Forest in Colorado with his best friend, an 8-year-old Siberian husky named Skye, in the passenger seat.
"Skye is my adventure buddy and a constant motivator to be the best version of myself," said Perera, who adopted Skye in the summer of 2014 when he was a sophomore at Bradley University. "She loves hiking, singing, road trips, belly rubs, sunbathing, snowstorms, swimming and pulling me on my skateboard." 
In college, Perera served on the executive board of Alpha Epsilon Pi and considers his Jewish fraternity brotherhood lifelong friends. With degrees in television arts and interactive media, he broke sales records as a business development leader for custom apparel maker University Tees, traveling 5,000 miles across 11 states and supervising students on 12 campuses. One of his clients was the Shirlee Green Preschool at his family's place of worship, Congregation Shaare Emeth.  
With money saved, Perera bought the retired 2003 school bus for $7,000 and then spent six figures to deck out his first home with every amenity imaginable.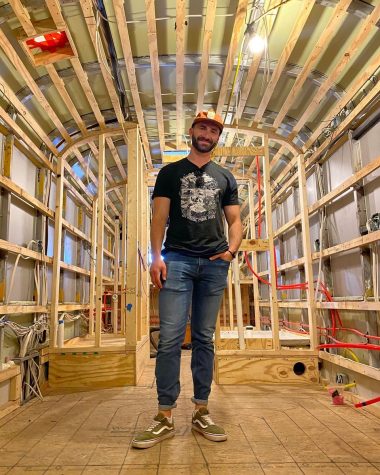 "The final product is more affordable than the average home, totally custom to my life and design taste, and has very few compromises other than the 250-square-footage," said Perera, who plans to travel throughout the United States, Canada and Alaska, hitting ski resorts along the way as he continues to build his marketing, sales and consulting career.
The skoolie boasts a 20-inch raised roof, a full-length rooftop deck with solar panels, robust climate control and off-grid utilities, heated floors, a tiny wood stove, a lofted queen-size bed, a couch that converts into a dinette, a full kitchen and bathroom, a twin-size guest bed, extensive fabrication work and a custom decorated interior that matches an earth tone exterior.
As an expression of his passion for the outdoors, the bus' paint job features vibrant waves of green representing grass, mountains and the color of his watchband; yellow as an ode to the original bright yellow school bus and the bandana tied around his head; and orange for the color of sunrises and sunsets that he will document on his journey.
The bus conversion was to have been completed in fall 2020, but the pandemic slowed the project because of supply chain issues. Still, Perera says, it was totally worth the wait. He recently hosted a "bus voyage" party that raised $1,665, which will go toward planting 333 trees with the National Forest Foundation and 333 gallons of diesel fuel for him to start his full-time road trip. 
Perera's roots are in the environment, having explored about a dozen national parks with his dad, Jaime, who also teaches scuba diving. His parents always have their son's back, no matter how crazy his ideas. 
"The very first time Jonathan told us he put a deposit down on an old school bus, we were like what the heck is he talking about," said his mother, Beth Perera, who described how her son's maiden voyage landed him on the side of the road in Marion, Ill., with blown-out tires and a severed brake line. 
"I thought to myself, OK, we've got two doctors in the family (Rachel, 22, is studying to be an oncologist, and Jacob, 25, is doing his residency in physical medicine and rehab at Mayo Clinic). Now we're going to have hippie Jonathan. Of course, I was joking about the hippie part but, seriously, we are so proud of Jonathan for following his dreams."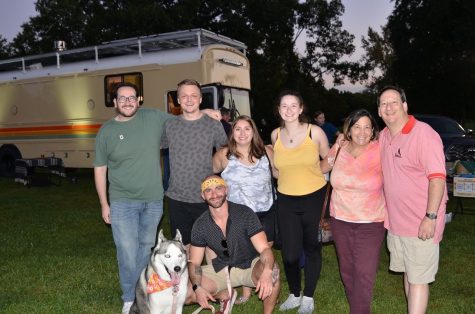 Jonathan Perera is a dreamer and a doer. 
"I imagine if I do this right, it's going to take at least five years," he said. " Throughout my travels, I'm excited to push my limits physically, learn all sorts of lessons I can't even predict at this point and connect with countless people along the way," he said.
From millennials to retirees, modern-day nomads fuel school bus conversion market
While it's impossible to know for sure how many skoolies are out there, social media accounts with thousands of members have formed a real community and camaraderie. Bus Life Adventure on Instagram, for example, has 163,000 followers. Skoolie Planet has more than 62,000, even if some are living the dream vicariously. 
Luke Davis is a welder and pipefitter who converted his first school bus in 2015 and is founder and owner of bus conversion business Skoolie.com. 
"The COVID pandemic has certainly made skoolie living or a nomadic life in general much more appealing," he said. "For a lot of folks, the missing piece of the puzzle is a remote job, which COVID unlocked for so many.
"I speculate that uncertainty around work, housing and economics also played a role in some deciding on a more nomadic and autonomous lifestyle. Making such a big lifestyle change like going on the road is very difficult for most of us, and I think the pandemic was just the nudge needed for a lot of those that were on the fence."
By the way, there is a clear difference between someone purchasing an RV from a dealer and someone buying a bus to convert into a skoolie.
A skoolie is custom built from the layout down to the type of wood, screws and paint. RVs are mass-produced at an assembly warehouse in only a few different configurations per model. There are also significant differences in cost, financing options, durability and community.
"One of the ways I like to explain the difference between a skoolie and an RV is this: Skoolies are the Harley-Davidson of the motorhome world, whereas mass-produced RVs are more like Hondas," Davis said.