"Talking Beatles" comes from lifelong love for the band and brushes with Beatles royalty
Jordan Palmer, Chief Digital Content Officer
Published March 14, 2023
The Beatles are generally regarded as the single most important rock band of all time. Aside from writing so many great songs, the Fab Four came to define and influence pop culture for more than six decades. The Beatles are also iconic in how they affected their fans. The Beatles engrained themselves into the lives of tens of millions of fans worldwide and stuck there.
Some fans like Neil Davis will never get enough of the Beatles. For him, it's always been about the music.
"There was a time that I thought I enjoyed their music, no matter what it was, just because it was the Beatles, but there was an incident that really changed my mind.," said Davis. "In 1964, 'Peter and Gordon' recorded a song titled 'World Without Love,' and it immediately went No. 1. I really enjoyed the song. As it turns out it was written by Paul McCartney, which I didn't know at the time so I was certain that I wasn't enjoying the music just because they wrote it but because it really was fine music."
It's these memories that have led Davis to dedicate himself, in his own way, to preserve the legacy of the Beatles. Davis lectures and teaches about the history of the Beatles around St. Louis and has a monthly residency at the Mirowitz Center where he speaks about the band.
Breaking down the Beatles
In each of his presentations, Davis selects and focuses on a specific area of the Beatles' history. In one session he explored the path from the young Beatles' early days as the Quarrymen to their musical transformation in Hamburg, Germany. Weaved within that discussion was learning about the people who influenced the band as well as the stories of their antics that helped create their legend.
In a discussion this past January, Davis was joined by a passionate group of Beatles fans who came to learn about the making of the seminal album "Rubber Soul." Davis, 76, explained that the Fab Four faced a seemingly impossible task in October 1965: to produce a new studio album in exactly 30 days.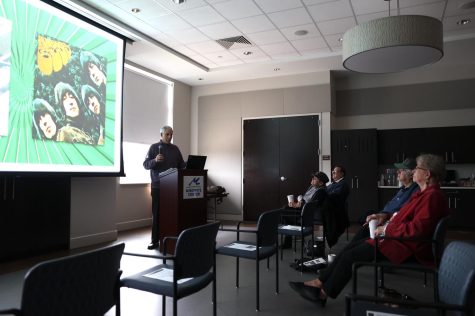 As he did that day in discussing "Rubber Soul," Davis broke down each topic piece by piece and song by song.
"The group spent long days and nights writing and recording now-classic songs like 'Nowhere Man,' 'Drive My Car' and 'Norwegian Wood.' They also experimented in the studio to achieve innovative sounds," explained Davis to an appreciative audience.
Alan Rudolph, an audience member at the presentation, said he appreciated how Davis explained the back story of the songs on the album.
"You made connections that I never knew about, like how they influenced Bob Dylan," Rudolph said.
Brushes with the Beatles
As a lifelong Beatles fan, Davis also draws his knowledge from some lucky encounters with his musical heroes.
"I attended their press conference in Chicago in 1964. I've interviewed Sir George Martin, the band's producer. I've toured Abbey Road Studios and have toured Liverpool. I simply love their music and I am continually amazed at their musical genius," said Davis.
In 1995 Davis scored a backstage pass when Ringo Starr and his All-Starr Band played Fair St. Louis that summer.
"I was told to stand against a wall and watched as Billy Preston, John Entwistle (formerly of the Who), and finally, Starr, accompanied by wife Barbara Bach, casually arrived. They soon began lining up for a buffet that was waiting for them," said Davis.
Davis continued to quietly observe the stars around him when he was asked a question.
"Hey, if you're hungry want to get a tray of food and join us?"
That generous offer came from none other than Preston and took Davis by surprise.
"Although there was no way I could eat because I was so surprised," Davis explained, "I picked up a tray, put some food on it, and walked over and sat down at the table next to Starr, Preston and Entwistle."
This magical encounter was hard for Davis to take in.
"I can't recall everything that they were talking about, but I do know that they were talking about the setlist for the concert, which would take place in about one hour from the time of the lunch. Every once in a while, one of the band members would look at me and ask me why I was there and what I did for a living."
In 2000, Davis had another brush with the Beatles. Davis was visiting his daughter who was studying in London when he saw George Martin, the famed Beatles producer on the street.
"I spent 30 minutes with him picking his brain about his career and the Beatles. He was an amazing, kind individual who unselfishly gave me his time," said Davis.
Luckily, Davis's wife had brought along her camera and took this picture.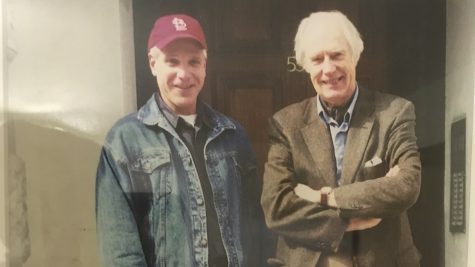 Once home, Davis mailed the picture to Martin, who graciously autographed the picture and sent it back to Davis.
These encounters inspire Davis to this day.
"Too many times," Davis concluded, "people find out that their heroes turn out to be unfriendly or jerks. Not in these cases."
Coming soon: The Beatles' Revolver
Davis' next lecture on Beatles is coming up on March 31 and will focus on the Beatles' "Revolver" album. He will use vintage footage and rare interview clips to explain how the band built on the advances of their 1965 "Rubber Soul" release.
"The band took a three-month break and then five more months to create 'Revolver,'" said Davis. "That period was probably the last time the Beatles truly collaborated together as a unit. Classic songs from the album include 'Tomorrow Never Knows,' 'Eleanor Rigby' and 'Here, There and Everywhere.'"
Click here to register in advance for Davis' lecture. 
| RELATED: A Jewish doctor loves The Beatles so much he created America's only museum devoted to them