St. Louisan Rachel Miller to tell her Holocaust survival story Monday on Nine PBS
Jordan Palmer, Chief Digital Content Officer
Published April 13, 2023
St. Louis resident Rachel Miller, who survived the Holocaust as a hidden child, will be the subject of a segment for the new season of Living St. Louis, which will air on Monday, April 17th at 7 p.m. on Nine PBS.
Reporter Ruth Ezell and her crew joined Miller as she told her story to visitors at the St. Louis Kaplan Feldman Holocaust Museum and talked about why it is important to continue to share what happened to her and millions of others.
If you're not able to view the story on Monday, you can also watch it online.
Miller was born in Paris where her family moved following rising antisemitism in Poland. She was one of four children born to Nathan and Helen Goldman in 1933.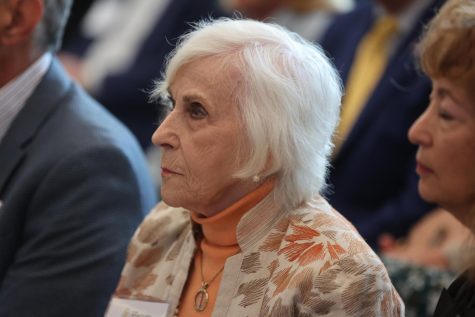 After Miller's father was taken by the SS and French police, her mother sent her to a farm in the French countryside to live with a Catholic family.  Three days later, the Nazis invaded France.  Her other family members were sent to various holding camps and ultimately transported to the Auschwitz extermination camp in 1942.
After liberation, Miller emigrated to the United States in 1946 where she lived in multiple foster homes in New York City and was reared by her father's sister. She later married and moved to Los Angeles and then to St. Louis in 1994.
Miller has shared her story with thousands of students through speaking engagements at St. Louis Holocaust museum. She also founded a local nonprofit, Shaving Israel, which raises funds to purchase personal hygiene items for soldiers in the Israeli Defense Forces.