St. Louis' unique and wonderful Jewish connection to this Oscar nominated film
Jordan Palmer, Chief Digital Content Officer
Published March 9, 2023
Film producer Daniel Dreifuss has only one surviving photo of a distant relative: his grandfather's cousin, who fought for Germany in World War I and died in combat two days before the war's end.
He has a few more photos of his grandfather, who also wore the German uniform in WWI — only to be rounded up by the Nazis two decades later during Kristallnacht and thrown into the Gurs concentration camp in southern France. Even the Jews who had fought for their country were not safe from the Nazis.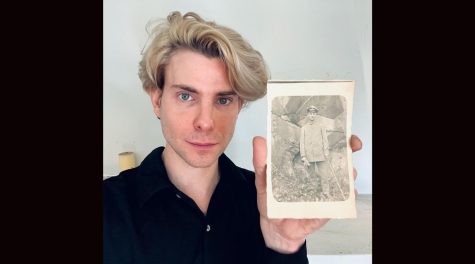 "My grandfather survived Gurs and the Holocaust and made his way to Uruguay in 1940. My father was born in 1945," said Dreifuss, who produced the Oscar-nominated film, "All Quiet on the Western Front."
Dreifuss spoke to the St. Louis Jewish Light to discuss how his family's past echoed through his mind when he first read the script for a proposed modern take on the classic Erich Maria Remarque's novel and to share the story of how St. Louis played an odd role shaping his life.
"I said, 'I know these people,'" he recalled. "Not because they are some distant relatives that I've heard of, but because I am the grandson of one of those kids who were in the film."
The St. Louis connection
"When my father René was nearing his senior year in high school, he applied through the American Field Service to become an exchange student in the United States. He was accepted and came to St. Louis and lived with a Jewish family named the Kopolows from 1961 to 1962," said Dreifuss.
"That was my senior year at Clayton High School," remembers Jeff Kopolow. "He arrived around Labor Day, and we threw a hosting party for him and invited many of our classmates to meet him. From the first day, we could tell he was so personable. Everyone liked him instantly."
René Dreifuss not only charmed his new friends at his new school but his host family as well.
"We really turned out to be a good match. Our family's histories were very similar and he really was a charmer. I had an old country grandmother who fell in love with him and I had a new country grandmother who fell in love with him," said Kopolow.
Daniel Dreifuss believes that for his father, the experience of living in St. Louis was life-changing. The Kopolow family took him in and absorbed him into their family.
"He really was adopted, so to speak, in the hearts of the family. He became the fourth child of the Kopolow family," said Dreifuss.
As he grew up his father would bring him to America to visit his "American aunts and uncles."
"They all stayed close for 35 years. I grew up knowing that my dad had three American siblings, Jeff, Sally and Tricia," said Dreifuss.
At age 15, Dreifuss had an idea. He wanted to have the same experience as his father. He decided to write the Kopolows to ask them if they would host him for his upcoming senior year in high school.
"They talked amongst themselves and felt that the sister Sally who lived in Columbia, Mo. was the best person to host me because her kids and I were the same age," said Dreifuss. "So, to Columbia, Missouri I went. It was a magical year. I had my senior year there and graduated. And they became a part of my family."
Dreifuss' father passed away 20 years ago this May and says that the extended Kopolow family really is his existing family on his father's side.
"I spend Thanksgiving in Columbia now. They are my relatives. I call them mom, brother and sister, cousins, nephews and nieces. They are my family," said Dreifuss.
Dreifuss says he's excited knowing his extended Missouri family will be watching this Sunday as his film goes after the Oscar. The Academy Awards airs at 7 p.m. Sunday, March 12 on ABC.
"When I heard of the nomination I thought 'How could I possibly know anyone who could win an Oscar for Best Picture?'" said Kopolow. "But then at the same time, I thought, 'Why am I surprised?' Daniel is so creative and capable. Of course, he could win an Oscar. If he wins, we'll be elated and very proud of him, because he did this on his own. He has made everything on his own. He's an incredible guy."
Dreifuss and"All Quiet on the Western Front"
His global upbringing is reflected in Dreifuss' interest in international film. It took a decade for him to mount his remake of "All Quiet," which was eventually set up with a German production company and released by Netflix this past fall amid another seemingly endless military conflict in Europe.
"No one wanted to fund a resolutely an anti-war film that refused to glorify its combatants, a film that was 'never a hero's journey,' not the story of someone who came, you know, beat 1,000 people with their bare hands, triumphs and looks down on top of a hill at the end with some sweeping score."
But that journey has been validated by the film's impressive number of Oscar nominations, which surprised industry observers. At the nomination ceremony last month, "All Quiet," which was a remake of the 1930 Best Picture, received nine total nods, the second most of any film this year, including for Best Picture. Lewis Milestone, the Jewish director of the original film, also won an Oscar for Best Director.
Considering the Nazis had once led a campaign of book burning against the source material and terrorized German movie theaters that showed the original movie adaptation, accusing it of being a "Judenfilm," Dreifuss sees the new film's success as a historical victory, too.
"I love that my name will be associated with a story that was deemed degenerate by that regime," he said.