St. Louis couple's creation named "one of the best inventions of 2022" by Time Magazine
BY ELLEN FUTTERMAN , EDITOR-IN-CHIEF
Published May 9, 2023
During a ski trip to Vermont with her engineer husband, Jared Miller, Samantha "Sam" Rudolph remembers reading a 2014 New York Times article questioning why breast pumps were still so uncomfortable and unwieldy.
"The headline read, 'Shouldn't the Breast Pump Be as Elegant as an iPhone and as Quiet as a Prius by Now?' " she recalled, adding, "I didn't know what a breast pump was. I was not pregnant. We weren't thinking about kids then.
"I just read the article and sort of saw my future flashing before my eyes. I was like, 'Jared, can you believe this? This is just one more thing women have to deal with.' "
Miller listened but he was hungry. He wanted brunch. So to appease his wife he responded, "Don't worry about it. We can make a better one, never thinking in a million years she would hold me to that."
That better breast pump, made by Rudolph and Miller's St. Louis-based company Babyation, was named one of the best inventions of 2022 by Time magazine. In bestowing the honor, the magazine wrote: 
"The Pump's patented suction technology mimics how babies suckle, which is gentler than traditional breast pumps. The FDA-approved device includes soft silicone breast shields, a discreet tubing system, a quiet motor and bottles— all in a carrying case with cooling to preserve milk. An app lets you customize pump settings, view pumping history and more."
In addition, Babyation was recently recognized in Fast Company's World Changing Ideas 2023. It was a finalist in the consumer products category and an honorable mention in the wellness category.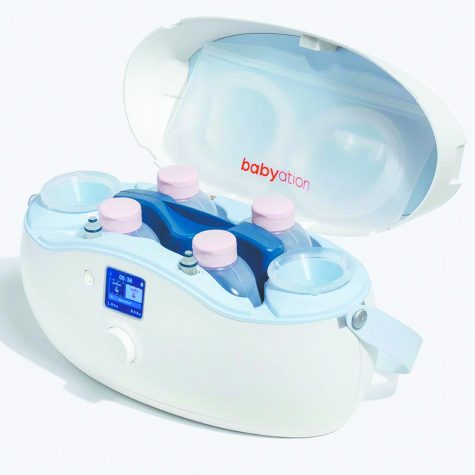 All in the family
Rudolph and Miller, both 41 and Jewish, started building their breast pump while living in Connecticut. They moved back to St. Louis, where Rudolph grew up, after winning a $50,000 Arch Grant in the fall of 2015. At the time, Rudolph had just given birth to the couple's first son Exton, now 7. They have since had a second son, Oden, who is 4.
The couple attended the University of Pennsylvania where she studied business at the Wharton School and he was in the engineering school.
"We met at the campus TV station," said Rudolph, who graduated from Parkway Central. "We've always worked on different sides of the same industry." 
Miller has designed TV studios, including the "Saturday Night Live" HD control room, and worked on multiple Olympics. Rudolph worked as director of business development for ESPN and, later, as a sports technology consultant.
In 2011, they got married in St. Louis with Rabbi Brigitte Rosenberg of United Hebrew Congregation officiating. At the time, they vowed never to live here. But then things changed.
"We had this very preconceived, snobby notion about St. Louis, that it wasn't as sophisticated as what we had been used to on the East Coast," Rudolph said. "I had every backward notion you could have about St. Louis, but I was wrong. So wrong. And I'm more than happy to admit it."
A stipulation in receiving an Arch Grant is that at least one of the co-founders has to relocate to St. Louis and work on the business full-time. 
"Honestly, it's very enabling. That was part of the calculus when we moved here. This is a good city for entrepreneurs, but it's also where we've got family and a support network." 
Rudolph added, laughing: "It's very nice to have built-in babysitters, though we try not to take advantage of that. But it's a house filled with love and laughter. And the relationship our kids have with my parents is phenomenal for each one of them."
Their baby: A new breast pump is born
The couple spent more than six years raising capital; creating, building and modifying the design; securing patents and FDA approval, manufacturing and office space, and everything else that goes into building a revolutionary new breast pump. 
Then about a year ago, the Pump by Babyation launched with a price of $499. If that seems expensive, consider that almost immediately, the Babyation pump amassed a 4,500-person waitlist. 
"Generally speaking, we have not been able to keep up with the demand," said Rudolph, who serves as the company's CEO while Miller is CTO (chief technical officer). "Our big focus this past year was how to improve efficiency and fulfill the needs of the demand."
Since the pump and the app used to control it are considered medical devices, both required FDA approval and other regulatory measures. 
In addition, Rudolph says, there was that pesky matter of the pandemic when "everything moved slower and some of the logistics became more difficult."
Nearly 30 patents worldwide are attached to the pump, including ones for how the device looks, the breast shield and the method of using the system.
"The way we're doing this is fairly unique," Miller said. "There is not another product that looks like ours. The way we move milk through tubes doesn't exist anywhere in the world. There's a lot to protect here."
So how does it work?
The Pump by Babyation is essentially an all-in-one portable carrier that includes a cooling system to preserve the milk, an ultraquiet motor and bottle storage. To pump, a nursing mom slips small silicone breast shields inside her bra and connects them to two tubes which in turn, are connected to the bottles in the carrier. An accompanying app allows the mom to regulate the speed and suction of the milk as its pumped, see how much has been expressed, and automatically start and stop the process, among other functions. 
When pumping is done, the tubes, which need to be replaced daily for safety reasons, are stored in their own bag within the carrier system until the next pumping session. All of this can be done discreetly and comfortably so a nursing mom can keep her top on while she pumps and go about her daily activities.
"We always felt that a woman should be able to use a breast pump without the world around them knowing," said Rudolph, adding that Babyation has a "give back" program where anyone can apply for a free pump. 
"That means I can keep my shirt on and there is no dead giveaway," she said. "That means an easy way to tell how much milk has been expressed. That means an app on my phone where I can conveniently control the pumping process."
Rudolph is explaining all of this at Babyation's headquarters, a 10,000- square-foot warehouse and office space in Maryland Heights where the pumps are manufactured and shipped by a core team of 13 employees, the majority of them women. 
"We didn't think we'd be able to do this in St. Louis, but there has been such a growth in manufacturing here," she said. "We are seeing much better capabilities here now than even a few years ago." 
As an Entrepreneur in Residence at Washington University's Skandalaris Center and a mentor for Stadia Ventures, a global sports accelerator and venture fund headquartered in Webster Groves, Rudolph is also working directly with burgeoning business leaders and entrepreneurs. Often when she speaks to them, she offers a little advice.
"I tell them they have to know why they are doing what they are doing because they're going to have some really bad days, no matter how successful they were or will be," she said. "So the most important thing you need is the 'why.' For us, our north star has always been the moms and to be able to make a difference with something that is so hard and important at a unique time in their lives. To be able to make one little piece easier is everything."
For more information, go to babyation.com.