In the late 19th century, as the number of Eastern European Jews emigrating to the United States continued to rise, many found a sense of familiarity and community in their new country by joining landsmannschaften, immigrant benevolent organizations formed and named after the members' birthplace or hometown. By 1914 New York City was home to more than 500 of these organizations.
One such group remains active to this day. The Fraternal Order of Bendin-Sosnowicer (FOBS) is a landsmannschaft founded by early Jewish immigrants from the Zaglembie region in Poland. Its home base is in Woodbridge Township, N.J.
"After World War II, with the influx of Holocaust survivors from our towns, FOBS played a key role in helping to heal the survivors," said Sandy Pensak, a second-generation FOBS member whose parents survived the Holocaust.  "Some spent years in Displaced Persons Camps in Europe and had lost so much. When they arrived here, FOBS became a friendship circle and source of community."
In 2023, FOBS is now made up of first-, second- and third-generation members with a continued mission focusing on Holocaust remembrance. This year the group — wanting to create interest among its growing fourth generation — decided to hold an essay writing contest for young people with a connection to the organization.
"We felt that they could reflect upon present-day manifestations of antisemitism and discuss the importance of standing up to bigotry and hate," said Pensak. "The target age groups for the essay contest are well aware of how the Holocaust decimated their families, and the impact that antisemitic rhetoric and events are having today."
Little did FOBS know, a young student from St. Louis, Ashlyn Cooley, was waiting for just such a chance to share her experiences with antisemitism with the world.
Ashlyn Cooley
Ashlyn learned about the FOBS contest through her great-aunt Sharon Berry and submitted her essay while she was in the fifth grade (she is now in the sixth-grade).
"I always believed that if we can raise our voice together, we can truly make a difference. I wanted to see if I could make a difference in regards to antisemitism, so I decided to write about one of my own personal experiences," Ashlyn said.
The incident that she wrote about happened to her in fourth grade.
When Ashlyn's essay entry arrived from St. Louis, Pensak and FOBS almost didn't accept it, because they didn't realize she was connected to the organization. But after a bit of research, they found that Ashlyn was the great-granddaughter of Holocaust survivor and longtime St. Louisan Ben Fainer. Fainer, who survived five Nazi death camps, was born in Bedzin, Poland. Sam Finkel, the husband of Fainer's great Aunt Malka "Molly" Urman, emigrated to the U.S. in 1907 and was an early board member of FOBS. Fainer died in 2016, but his daughter, Sharon Berry, remains a member of FOBS and informed Ashlyn, her great-niece, of the contest.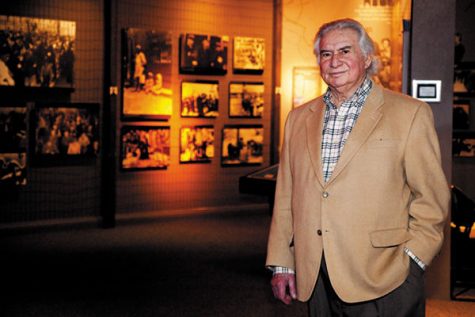 Ashlyn said her great-grandfather was a major inspiration as she wrote the essay.
"I always wanted to make my great-grandfather proud of me," said Ashlyn.
Raise Your Voice
The "Raise Your Voice" essay contest was for students in the fifth through 12th grades.
"We asked students to use a recent event or personal experience that inspires you to 'raise your voice' to tell us why you think the lessons of the Holocaust continue to be relevant today," said Pensak.
Ashlyn's essay won first place.
"It was very well written, she was very reflective, citing a personal experience that made her aware of the importance of being an upstander, and her quote at the end was so poignant," said Pensak. "It was very mature for a student who only just completed fifth grade."
Ashlyn said she hopes her words resonate with readers and inspire others to raise their voices.
"I hope people take away one major thing. No matter their age. It's important that we each find our voice and continue to talk about antisemitism so never forget the lessons of the past," Ashlyn said.
Here is Ashlyn's essay.
Raise Your Voice Essay
By Ashlyn Cooley, Grade 5
Growing up, I was always aware of the existence of prejudice and discrimination in the world. However, it was not until I experienced it firsthand that I truly understood its impact. I remember a particular incident in 4th grade, last year that inspired me to speak out and raise my voice.
It was a typical day at school, and I was walking to my classroom when I noticed something out of the ordinary. On the wall next to the bathroom, I saw that someone had drawn a large swastika. At first, I was so stunned, I almost fainted. I could not believe that something like this could happen in my school! As I looked around, I noticed that some other students had also seen it and were also shocked.
I felt a mix of emotions – anger, sadness, and fear. As a great-grandchild of a Holocaust survivor, I knew that the swastika was a symbol of hate and violence towards my community. Seeing it displayed in such a public and prominent way made me feel vulnerable and targeted. It quickly became a topic of conversation in classrooms and hallways. Although most students seemed to have dismissed it as a harmless prank.
For me, this incident was a wakeup call. It made me realize that we cannot afford to be complacent in the face of hate and prejudice. We cannot afford to dismiss these incidents as harmless or insignificant. Every act of hate, no matter how small, has the potential to escalate and cause real harm- like the Holocaust did, and other genocides. Since this day, I have been more aware of the impact of hate and antisemitism on individuals and communities. I have also been more vocal in speaking out against acts of hate and bias. I have learned that even small actions can make a big difference in promoting tolerance and understanding. This experience was a pivotal point for me. It taught me that apathy is the wrong response. We must all work together to create a more inclusive and accepting world for everyone.
"In thinking we were less than human, the Germans had lost their own humanity. They treated us like animals, but this had not snuffed out our own humanity. -" Ben Fainer from his memoir, Silent for Sixty Years. Rest in peace my dear grandpa.