Spreading cheer to hospitalized kids is Tamar Adler's bag
Bill Motchan, Special to The Jewish Light
Published January 4, 2023
Avi Adler was hospitalized after an accident in June 2020. Adler, 18, recovered, thanks in part to a child life specialist, a key member of his healthcare team.
Adler's older sister, Tamar, was intrigued by the work that goes into helping children overcome from a traumatic injury. That led to her becoming a child life volunteer. Her idea was to help children like her brother recover from health scares.
"I started making craft bags as a way to help out," she said. "And then it just kept growing. I started donating craft bags during the pandemic. And I thought I would do that until I was able to volunteer in person. And then it just kept growing. I started by donating craft bags to St. Louis Children's Hospital. And now I've expanded to Mercy Hospital, SSM Health, St. Louis Children's Hospital Specialty Center, Cardinal Glennon Hospital and Ranken Jordan Pediatric Bridge Hospital."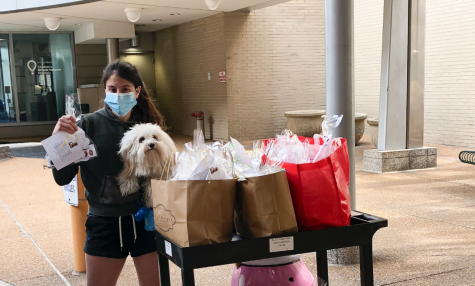 This year, Adler has distributed about 3,000 craft bags after starting out last year with 2,000. She collects items for the bags and has developed a small assembly line in her home to put them together. The theme of the bags often is tied to a holiday, she said.
"Usually, I do three different types of crafts, and a lot of coloring," she said. "I only do crafts that are safe for kids in the hospital. So no sharp pencils, markers or paints. Crayons are very popular, and sticker crafts for the older kids."
Since beginning the project, Adler has incorporated another element to help brighten the day of a hospital-bound child: a card bearing the likeness of Adler's dog, a 2-year-old Havanese named Charlie.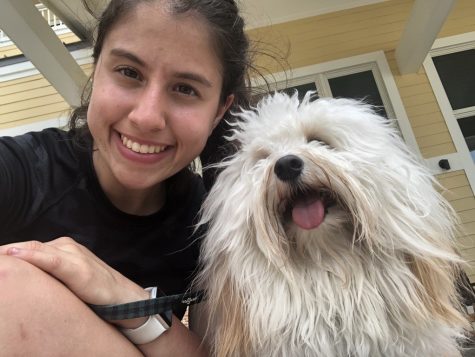 "I got Charlie as a gift, and then the name Cheery Charlie just clicked because Charlie gives me so much cheer," she said. "In each bag there's a little picture of him. And so every kid can have a picture of Charlie."
Adler's Cheery Charlie gift bags have become so popular with the hospitals that she turned her volunteer project into an official 501c3 nonprofit organization. She's received sufficient donations to pay for the contents of the gift bags. She volunteers her time and has even developed an expertise at sourcing materials inexpensively. She also gets volunteer assistance from other family members, including her mother, Aviva Raskas, who said this isn't her daughter's first venture into volunteering.
"When she was in high school, she started baking for the Salvation Army as a personal volunteer project," Raskas said. "She baked 2,000 cupcakes and 4,000 cookies every six weeks or so, and we had this massive load of baked goods that we took to the Salvation Army. They have a shelter, and they can accept food from private homes. We took huge loads of holiday-themed deliveries for Thanksgiving, Valentine's Day, Christmas and Independence Day."
Adler does take on a few smaller scale projects, too, Raskas said, for family birthdays or holiday celebrations.
"They are always unique and always personal," Raskas said. "She's our creative force, no question about it. We thought the Cheery Charlie project was going to be temporary during the pandemic, when you couldn't go into the hospital. But it was so well received that the hospitals kept asking for bags."
Adler's gift bags are a welcome diversion for children in the hospital, said Margo Newman, St. Louis Children's Hospital corporate and foundation relations officer.
"When children are admitted to the hospital, they are going through trauma," Newman said. "They are scared, and things are a little bit out of their control. The hospital does whatever it can to help ease the child. Tamar has been able to help with her Cheery Charlie craft kits and gift bags she drops off at the hospital. She is really helping support the mission of our Child Life Department, which is responsible for helping children continue with their childhood while they're at the hospital.
"What the gift bags do for these kids is, it really interrupts that stress and trauma that's happening, and it not only reminds them that somebody's thinking about them, but it gives them normalcy at a time when things are not so normal. So she is really helping these children, she's interrupting in the most positive way the stress, anxiety, the trauma that's going on with them in the hospital, and she's doing that through her gift."
Adler is a graduate of Yeshivat Kadimah High School. When she's not creating craft bags, she's either designing and building intricate dollhouses or playing piano. Her favorite music genre is Broadway music and show tunes.
But her primary focus is on the well-being of children, especially when they're in the hospital. Adler is so committed to the field that she plans to make it her profession. She is in a child life master's degree program at Missouri State University, with graduation scheduled for May 2027. It should be a perfect fit for her personality and caring nature, Newman said.
"She really will be phenomenal," Newman said. "I was thinking about her maturity when she started this, at an age when most teens are thinking about themselves and are focused on things like 'What am I wearing?' and 'Who am I going out with this weekend?' Tamar is choosing to think about others, and that really speaks volumes to her character and that she's a good soul, and she really just wants to help bring happiness to others."