Raise a glass to the opening of City Winery STL
Remember the days when you could stand for hours listening to a favorite band, shoulder-to-shoulder in a packed crowd, sipping a beer out of a plastic cup, hoping someone didn't bump into you causing you to spill said beer all over yourself?
As one who endured too many of those days, there's something almost luxurious about being seated at a table in an intimate performance venue, being served a velvety glass of wine in a real wine glass while watching a favorite band perform. Add to this a tasty meal if you're hungry, and voila, concert bliss. Or as it's known by another two words, City Winery, an entertainment venue, winery, restaurant and event space all under one roof. 
Over the past 10 years, my husband and I have made several trips to City Winery in Chicago to see various bands and singer-songwriters we like perform. Knowing we have a guaranteed ticketed seat at a table and can eat and drink in comfort as we enjoy a live show — that actually starts at the appointed time! — has been a game changer. 
Thankfully, we no longer need to trek north because City Winery STL just opened at the City Foundry, adjacent to the food halls. Already there are several shows among the three dozen or so booked on my wish list (Raul Malo, Rickie Lee Jones, Valerie June, Marcia Ball) — and more are being added weekly. I haven't been this excited about an opening here since Ikea in 2015.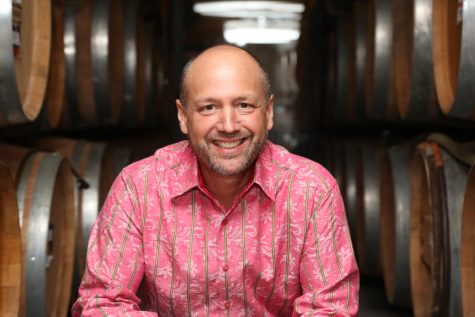 City Winery is the brainchild of Jewish entrepreneur and businessman Michael Dorf, 60, a Milwaukee native who graduated from Washington University in 1984 with degrees in business and psychology. An affable, easy-to-talk to guy, he found success in the music business after he and a friend opened The Knitting Factory in 1987 with Dorf's bar mitzvah savings. The East Village, N.Y. nightspot became the place to see avant-garde jazz and experimental rock, as well as cutting-edge poetry, comedy and performance art. 
As Dorf explains, "I wanted to have as much of the Jack Kerouac smoky jazz-club experience as possible."
But like many of us, that want changed as he got older. He sold his interest in The Knitting Factory in 2003, and a year later started a Hebrew school in Manhattan's Tribeca neighborhood ("I wanted a cool Jewish after-school program for my kids," he said) and launched a concert series at Carnegie Hall that has raised more than $1.5 million for music programs benefitting underserved youth. 
It was also in 2004 that Dorf fully realized his passion for winemaking, after he produced his first barrel in California. That's when he started putting the pieces together and came up with an urban winery, opening the first City Winery in New York City in 2008. 
"Combining culinary with the cultural became important," he said. "And frankly, because I'm really into wine, I didn't want a beer focus or a cocktail focus, I wanted a wine focus." 
As founder and CEO, Dorf has turned City Winery into a limited chain, with locations now in Chicago, Nashville, Atlanta, Boston, Philadelphia and New York's Hudson Valley (one in Washington, D.C. closed in January). Opening in St. Louis, he says, was part of a natural — and more national — progression, and something he wanted to do for years. 
The 10,000-square foot City Winery STL is about a third of the size of Dorf's flagship locations. Smaller market, smaller footprint, a concept Dorf hopes he can duplicate in similar-sized cities (he's opening City Winery Pittsburgh mid-May). The advantage for STL concertgoers is even closer proximity to the artists on stage — whereas Chicago for example, can seat 350 people for a live show, St. Louis has 225 seats.
Dorf takes pride in the fact that artists like to play his rooms because they are so intimate, comfortable, the sound is stellar and sight lines are excellent. He hopes to book 200 shows a year, and bring some acts to St. Louis that have never, or rarely, perform here.
He notes that St. Louis is the perfect stopping point between Chicago and Nashville, so he can provide the same artist with multiple nights, even residencies or a tour, at several, or all, of his locations. 
"At City Winery, 75% to 80% of the box office goes to the artists," said Dorf, explaining that the venue makes the bulk of its profits from food and drink, specifically wine.
To that end, like other City Winery operations, St. Louis has its own, glass-enclosed, wine-making facility, albeit smaller. Grapes are sourced from roughly 30 vineyards, then fermented and aged onsite.
Rather than bottles, the wine is stored in stainless steel kegs and poured from a tap, not unlike beer, which saves on cost and is more environmentally friendly. About 10 varieties are offered by the glass ($10-$14), with more choices by the bottle. Flights, at $20, feature four 2-ounce pours; local craft beers and specialty cocktails also are available. 
An eclectic dinner menu offers a variety of shared plates ($13-$19), charcuterie boards ($22-$35), pizzas ($24) and entrees ranging from a classic burger ($21) to grilled chicken sandwich ($29) to pan-seared grouper ($47). A 75-seat restaurant (with additional capacity outdoors) and expansive bar welcome patrons to wine and dine even if they aren't attending a concert. 
On days with no shows, City Winery STL can be booked for private events. Thanks to its flexible design, the entire venue can accommodate up to 350 people for weddings, b'nai mitzvahs and corporate functions.
Dorf quips that his interest in wine started when he was eight days old, at his bris. "Someone, I assume my grandfather, stuck a cloth with Manischewitz in my mouth," he deadpanned. 
Describing himself as more of a cultural Jew than a religious one, he references the Jewish value of "tikkun olam" on his personal website and "the importance it plays in our company's DNA." He's open to collaborating with nonprofits, adding "we can give 100% of our box office to a cause, as long as there's a full house with people eating and drinking."
Since 1991, first at the Knitting Factory and now at City Winery, Dorf has hosted a Passover seder in advance of the actual date; this year it will take place at 1 p.m. April 2 at the New York location (also streaming at citywinery.com). The ticketed event features 15 performers — writers, musicians, politicians, comedians — each of whom is assigned a part to play. 
"Lou Reed, for many years, was the wise child. Philip Glass was the simple child and played a simple, minimalistic tune. Louis Black has done the 10 plagues. Al Franken has sung 'Go Down Moses' in a deep baritone. Judy Gold has this whole schtick on Dayenu," Dorf said laughing, adding that audiences "love the event because it's both fun and poignant." 
This year's lineup includes Betty LaVette, David Broza, Dr. Ruth and Paul Shapiro's Ribs & Brisket Revue, among others. 
The seder also features four glasses of wine and a vegetarian meal, which is set on communal tables as guests arrive.
"That's because the last thing you want is 300 hungry Jews waiting and complaining about food service," Dorf said. "We take some very liberal approaches to the seder, but it has become a very powerful, special night."
Who knows, maybe next year in St. Louis.