"Pay as you wish" weekend offers great opportunity to see new Holocaust Museum
Published January 23, 2023
Each year on January 27, the world commemorates International Holocaust Remembrance Day on the anniversary of the 1945 liberation of Auschwitz-Birkenau by Soviet soldiers. This year, the St. Louis Kaplan Feldman Holocaust Museum is planning a weekend-long commemoration beginning on January 27 and ending on the 29.
All weekend, Museum admission will be "pay as you wish" (at least $0.01), meaning visitors will be able to purchase admission to the permanent Holocaust exhibition for any amount they deem appropriate. All Pay As You Wish tickets must be purchased at the Museum Welcome Desk during the Museum's open hours on Friday, January 27 through Sunday, January 29.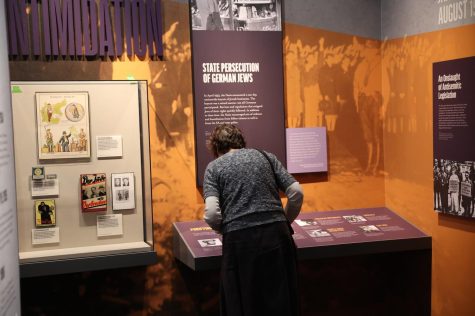 On January 27, the Museum will mark International Holocaust Remembrance Day with a 6-hour memorial name reading. During the Museum's open hours (10 am – 4:30 pm), Museum staff, board members, volunteers,  and civic leaders will the names of hundreds of Holocaust victims. The reading will be live streamed on the Museum's Facebook and YouTube pages.
Visitors are welcome to witness the name-reading in-person by filling out this form.
On January 29, the Museum is honored to welcome Dr. Peter Hayes for a special lecture entitled "Why the Jews? Thoughts on the Up and Down History of Antisemitism." Dr. Hayes is the author of the book Why? Explaining the Holocaust and was a featured expert in Ken Burns' The U.S. and the Holocaust documentary. Tickets are $12 for general admission and $10 for Museum members. Guests can sign up for the program on the Museum's website.
"In the closing gallery of our Museum, we ask guests to pause and reflect on the quote from Holocaust survivor Elie Wiesel, 'whoever listens to a witness, becomes a witness,'" said Museum Interim Executive Director Dr. Frances Levine. "That's what this year's International Holocaust Remembrance Day programs are about – witnessing. We ask the community to join us in bearing witness to the history of the Holocaust and the powerful testimonies shared by those who lived through it."