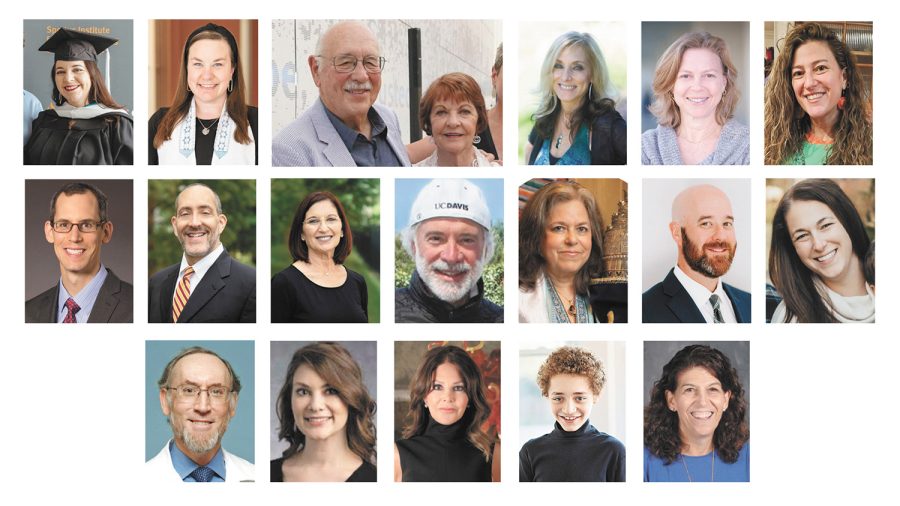 Laura Wildman was one of 23 graduates who received their Master of Arts in Jewish Professional Studies from the Spertus Institute. She is the director of Elementary Education & Engagement at United Hebrew Congregation, where she and her family attend.
Rabbi Rachel Bearman, of Congregation Shaare Emeth, was installed as the networking vice president of the Women's Rabbinic Network. Her election to this position is especially meaningful during the 50th anniversary of Rabbi Sally Priesand's ordination. The Women's Rabbinic Network is the organization of Reform female-identified rabbis, supporting and advocating for their members and the values they uphold to positively impact women in the Jewish community.
Harvey and Judy Harris received the 2022 Jack Galmiche Pioneer Spirit Award by Nine PBS at its Midsummer Celebration in the Public Media Commons on June 24. They were honored for their support to the station and the St. Louis community. The Harrises, who attend Congregation Temple Israel, support a variety of organizations including those with a focus on health care, civic development, sciences and the arts.
The Visionary of Honor award will be presented to Leslie Wolf for her service to Temple Israel's Jack & Ellen Deutsch Family Education Center at their Tu B'av Gala. The event will take place on August 13 at the Chandler Hill Winery. Wolf, a member of both Temple Israel and Kol Rinah, was the director of Family Education from 2009- 2021.
Geriatric pharmacist Hedva Barenholtz Levy was installed as president of the ASCP, a non-profit association of pharmacists and pharmacies that manage the medications of older people and the medically complex. She founded HbL PharmaConsulting, a community-based senior care pharmacy practice in St. Louis to promote the safe and effective use of medications among older adults, caregivers, and others serving the older adult community. Levy is also an adjunct instructor at St. Louis College of Pharmacy and is a member of Kol Rinah.
Shelley Hoffman Dean is the North America director of marketing and recruitment for Livnot U'Lehibanot (Hebrew for "to build and be built"). Based in Tzfat Israel, Livnot is a program that strengthens Jewish identity through hiking, experiential education, community service and meaningful interactions with local Israelis. It is open to men and women ages 21-32 years old.
Crown Center for Senior Living welcomes three new board members: Dr. Dan Cohen, a radiologist with Radiologic Imaging Consultants and department chairman for SSM Health St. Joseph Hospital – St. Charles, and attends United Hebrew; Clifford L. Tager, an attorney and a member of U. City Shul; and Jody Waldman, a community volunteer who attends Shaare Emeth.
Ron Rubin was awarded an honorary doctorate by Sonoma State University School of Business and Economics in recognition of his leadership to Sonoma County and his advocacy, advice and support for the university. Rubin, a Shaare Emeth member, is the board of directors' president for Sonoma State University's Wine Business Institute as well as owner of Ron Rubin Winery and Republic of Tea.
Rabbi Lynn Goldstein, formerly of St. Louis and Congregation Kol Am, is the new rabbi at Temple B'rith Shalom in Springfield, Ill. She is a member of the St. Louis Rabbinic and Cantorial Association.
Rabbi Andrew Terkel is the CEO of Be the Narrative, the new national parent organization of the Student to Student program. While the Student to Student program is currently in 13 cities around the country, Be The Narrative plans to expand into more towns and create new programs in the future. Terkel and his wife, Hannah Rubin Schlansky, are members of Shaare Emeth. Schlansky joined Washington University's Hillel as the assistant director.
Dr. Daniel Goldberg, professor of molecular microbiology at Washington University School of Medicine, was elected to the National Academy of Sciences, a nonprofit society of distinguished scholars. This is considered one of the highest honors that can be awarded to a U.S. scientist or engineer. Goldberg's work centers on the biochemistry of the parasite that causes malaria.
Stacy G. Blum has joined Yoon Dermatology. She is a board-certified dermatologist specializing in treating skin conditions for patients of all ages. Blum will practice out of at their Fenton and Wentzville locations.
Faith Berger, of Faith Berger Art Consultants, added a children's line to her custom paintings. They are a gouache medium and silver leaf on paper with silver frames. Berger is a member of Congregation B'nai Amoona.
Yosef Granillo, a 12-year-old 11th grader, published his first manuscript with Guillermo Goldsztein, Ph.D., professor and director of undergraduate studies in mathematics at Georgia Tech University: Machine Learning as a Tool to the Diagnosis of Diabetes in the Journal of Student Research. After scoring a 5 in AP Computer Science A, Yosef is doing work in machine learning at St. Louis University Parks College of Engineering Aviation and Technology under the Students and Teachers as Research Scientists (STARS) program. Previously first violin in the Webster Community Music School Young People's Symphony Orchestra, Yosef will also be an alternate for the St. Louis Symphony Youth Orchestra in the coming year. Yosef is the son of Dr. Carole and Tony Granillo and attends Nusach Hari B'nai Zion.
Mindy Grossmann is the new program coordinator of the Signs of Suicide (SOS) program at CHADS Coalition. Her responsibilities include the presentation of suicide awareness/prevention training across St. Louis/St. Charles County schools, train trainers to give effective and interactive presentation on suicide awareness and other mental health issues, present signs/ symptoms of anxiety/depression and suicide and how to help youth dealing with these issues to school staff and parents, and to develop programs and outreach events to expand the message about suicide and mental health among the youth.