Newsmakers: January, 2023
Published January 17, 2023
Doug Waxman has joined GadellNet Consulting Services LLC as an account manager. He serves as the primary contact for immediate and long-term technology solutions and is the liaison between the company partners and their technical team, assisting in planning for their futures. GadellNet is an IT solutions firm providing small business IT support, help desk, and cyber security. Waxman attends Congregation Shaare Emeth.

Jenna Abrams has joined the Audiology Center as a clinical audiologist. She is taking new patients, ages 5 to adult, at the St. Peter's, Creve Coeur and Florissant locations. She specializes in hearing aids including comprehensive evaluations, troubleshooting as well as cerumen (ear wax) removal. Abrams attends U. City Shul.
Sarah Beth Matt is the new PJ Library Shalom Baby parent connector. Her goal is to connect parents to each other and with the Jewish community through get-togethers and events. Matt is a member of Nusach Hari B'nai Zion and Congregation B'nai Amoona. 
Elana Hertel is the new director of experiential events and marketing at Syxsense, the world's first IT and security-solution provider to offer patch management, vulnerability scans and endpoint security in a single console. A member of Shaare Emeth, Hertel was previously the director of programs and rabbinic services at Central Reform Congregation.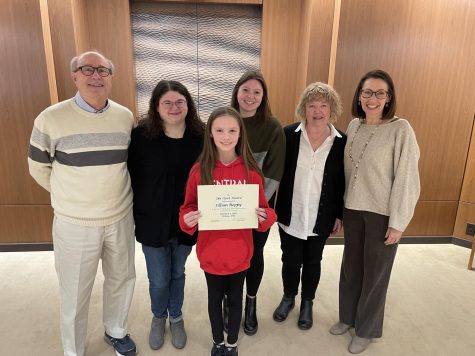 Jillian Reppy was recently named the 2022 recipient of the Ida Stack Award at Shaare Emeth's Religious School. The award was established in 1997 and is given annually to a sixth grader who has demonstrated dedication and enthusiasm for Jewish learning. Jillian, daughter of Allison and Justin Reppy, is a student at Parkway Central Middle School.  

Cultural Leadership's program director, Jeremy Brok, was recently awarded eLATION Honors' Servant Leadership Award in the nonprofit field for his work with youth programming. eLation Honors is a St. Louis-based radio and media company that recognizes outstanding servant leaders for their accomplishments, contributions, and differences they make in their communities.
Connie Flachs has accepted a position as program coordinator at Washington University Department of Psychiatry's Center for Healthy Weight and Wellness. She will be working on a project funded by the U.S. Department of Health and Human Services to improve early detection and prevention of eating disorders in adolescent girls in Missouri by implementing the Body U program in schools throughout the region. Flachs, most recently with the Jewish Community Relations Council, regularly attends events at Central West End Chabad and MaTovu.
Michael Lourie has been selected by FOCUS St. Louis to join its 2022-2023 Leadership St. Louis cohort. The immersive nine-month curriculum explores issues such as economic development, racial equity, education, criminal justice, poverty, immigration and arts and culture, across the region. Lourie is the director of marketing and communications at Barnes-Jewish Hospital and attends United Hebrew Congregation.

Tzivia Levin Kalmes is AJC St. Louis' new senior communications and development associate. She will be responsible for the execution of meetings and events, act as a point of contact for AJC lay leaders and community partners and manage board and donor relations. Kalmes is a member at both B'nai Amoona and Congregation Temple Israel.
Richard Gavatin received the St. Louis Press Club's highest honor, the Catfish Award, at its recent annual meeting. The award recognizes his contributions to the field of communications and to the club, and for being their long-time treasurer. The honor is called the "Catfish" in recognition of the long-gone Catfish & Crystal restaurant in downtown St. Louis, where the club's founders met in the 1950s. Gavatin attends Kol Rinah.
Howie Sher recently collaborated with a college friend to form Burchtree, a sports marketing company committed to helping companies strategically incorporate sports imagery or content marketing into their brands. A member of Shaare Emeth, Sher works as the strategic partner managing their clients from a creative and strategic standpoint.