The U.S. Supreme Court overturns the right to abortion, Missouri ends all abortions
St. Louis Jewish Life Staff
Published June 24, 2022
The Supreme Court on Friday ended the constitutional right to obtain an abortion, ending 49 years of precedent that began with Roe v. Wade. The decision by Justice Samuel Alito will set off a seismic shift in reproductive rights across the United States. It will allow states to ban abortion, and experts expect about half the states to do so.
Missouri ends abortion
Following the Supreme Court of the United States' ruling Missouri Attorney General Eric Schmitt today issued an opinion to the Missouri Revisor of Statutes that "triggers" parts of Missouri's House Bill 126, effectively ending abortion in the State of Missouri. Missouri is the first state in the country to do so.
"Today, following the United States Supreme Court's ruling that overturned Roe v. Wade, with the issuance of an attorney general opinion, my Office has yet again reinforced Missouri's dedication to protecting the sanctity of life, both born and unborn. With this attorney general opinion, my Office has effectively ended abortion in Missouri, becoming the first state in the country to do so following the Court's ruling," said Attorney General Schmitt. "My Office has been fighting to uphold the sanctity of life since I became attorney general, culminating in today's momentous court ruling and attorney general opinion. I will continue the fight to protect all life, born and unborn."
Jewish Groups issuing statements, published in order they were received
The St. Louis Jewish Light is beginning to receive statements from various Jewish groups both locally and nationally that are speaking out on the Supreme Court Decision.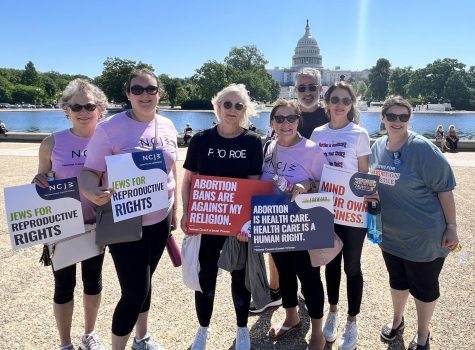 For over 127 years, National Council of Jewish Women St. Louis has worked to improve the lives of women, children, and families. We are gravely concerned that, as expected, the Court today wiped out 50 years of precedent and the ability of people who will become pregnant to make decisions for themselves and their futures. It is cruel, harmful, and shameful.
As a women's organization, we know just how critical it is that people have access to the full range of reproductive healthcare services and that includes abortion. As a faith-based organization, we understand just how dangerous it is to let the religious beliefs of some influence public policy that makes medical decisions for all.
Nancy Litz, NCJWSTL Board President stated, "This unfortunate decision – and the state legislative actions that will almost certainly follow – forces an extremist minority viewpoint into the most intimate decisions of American women and their families. It also overrides the Constitutional principle of freedom of religion by prioritizing the beliefs of one faith tradition above all others."
By overturning Roe vs. Wade, the Court has prioritized the life of the fetus over the pregnant person, a violation of both Jewish law and tradition and of American religious liberty. This decision has opened the door to anti-abortion lawmakers in Missouri to keep pushing more brutal abortion bans that disregard the human rights and bodily autonomy of millions of people. Due to trigger laws, Missouri now has a near-complete ban on abortion, including in cases of rape and incest. The law allows for abortions only in medical emergencies that immediately threaten a pregnant person's life or will create "irreversible physical impairment of a major bodily function."
Our work will continue as we fight for access for all.
Ellen Alper, CEO, stated that "Since 1895, NCJWSTL has been fighting for individual and civil rights for women, children, and families in our community and throughout the country. This decision will not stop us from continuing this fight to ensure everyone has access to the vital health care they need, when they need it, free from stigma, shame, and criminalization — no matter how long it takes. Denial of the right to bodily autonomy is unacceptable, plain and simple."
National Council of Jewish Women St. Louis is committed to creating a world where all people, regardless of race, class, gender, sexuality, ability, or immigration status, have the right to build their families and live their lives with dignity. Our Jewish experience tells us that our reproductive freedoms are integrally bound to our religious liberty; we are committed to advancing the goals of reproductive justice so that every person can make their own moral and faith-informed decisions about their body, health, and family. We support a world where people respect other people's personal decisions around parenthood and pregnancy—whether those decisions involve giving birth, putting a child up for adoption, having an abortion, or choosing not to have children at all.
NCJWSTL will continue working with our coalition partners to help increase access for all people in need of reproductive health services. We support the freedom to decide and have established a women's emergency fund to assist those in need of help. Click here to donate to that special tribute fund, and designate Women's Emergency Services Fund (WES). For more information, please contact NCJWSTL at (314) 993.5181 or go to https://ncjwstl.org/donate/donate-now.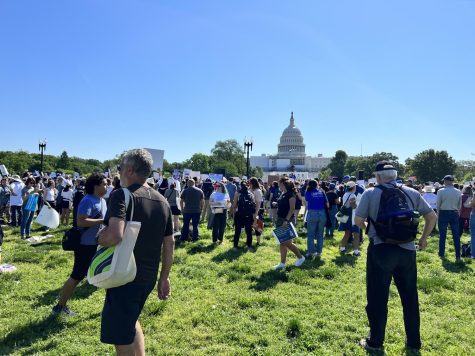 "With the end of nationwide access to the full range of reproductive healthcare, abortion has become a state-level issue. Now more than ever, the work of Access MO to support state-level candidates who will fight for reproductive healthcare is critically important," said Dana Sandweiss, executive director of Access Mo, a statewide political action committee, inspired by Jewish values, that supports candidates and initiatives in Missouri that advocate for reproductive choice. "As we mourn the end of Roe's protections, let's use our collective strength to support the next generation of reproductive rights leaders."
Sandweiss suggests that pro-choice proponents become even more proactive and take the following actions in the coming days, weeks and months, including:
Attend Access MO's zoom event Sunday, June 26th at 7:00 pm with Wash U Law Professor Susan Appleton (who also serves on the Planned Parenthood STL Region and Guttmacher Institute boards) to hear her thoughts and discuss the "actual" decision.
A direct contribution to Access MO will send money to help elect candidates who will work for access to reproductive healthcare.
Purchase MRE Jewelry 1973 necklaces today for yourself and friends. Wear them proudly as a reminder of our ongoing commitment to create a brighter more inclusive future for abortion access.(10% of each purchase will be donated to AccessMO).
Vote! And encourage everyone you know to vote. The outcome of the state level elections has a huge impact on our daily lives in healthcare, education, and many other areas.
Sandweiss notes that absentee voting for the Aug. 2 primary has already begun.  You can get an absentee ballot request form here.
Jewish Council for Public Affairs (JCPA) strongly condemns today's Supreme Court ruling in Dobbs v. Jackson Women's Health Organization overturning Roe v. Wade, holding that there is no longer a right to abortion under the federal constitution. Access to safe, affordable, and legal abortion and reproductive health care is a priority for JCPA. We are outraged by this decision, which we do not believe represents the will of the people nor is in the best interest of the country.
For decades, JCPA has championed reproductive freedom in keeping with our strong belief in religious liberty. We have advocated at the state and federal levels, joined amicus briefs, and adopted policy resolutions in support of everyone's right to make their own reproductive decisions, including the right to access an abortion.
Today's dismantling of nearly 50 years of Supreme Court precedent undermines reproductive freedom, endangers people's health, and will inevitably lead to the criminalization of those who get abortions and the doctors who perform them. We know that abortion bans do not stop abortions; they only stop safe abortions. This decision will disproportionately impact people of color, those who are low-income, and young people. Studies show that banning abortions leads to poor health outcomes for the pregnant person, long term poverty, and other adverse health and economic impacts. This ruling could even lead to death if a person experiences an ectopic pregnancy or other life-endangering conditions that require an abortion, as would be the case in those states that have passed "trigger" laws banning abortion without exception.
Prohibiting abortion access is contrary to Jewish law, traditions, and our principal value of saving a life; it enshrines specific religious imperatives in American law. Judaism compels us to stand for all life, and we prioritize the life and health of a pregnant person. While we treat a fetus with great significance, it does not merit the status of a person until the moment of birth and then it has equal status with the person giving birth. If the fetus endangers a person's life physically or, according to at least some Jewish religious authorities, through mental anguish, Jewish law supports abortion of a fetus up until the moment of birth.
JCPA believes in the foundational principle of separation of church and state, which prohibits the governmental imposition of religious beliefs. Overturning Roe v. Wade violates this principle. It imposes a narrow religious perspective on the entire nation.
JCPA believes in the American vision that the role of our government is to protect the health, liberty, and dignity of all people. We will continue to work for reproductive freedom and call on Congress to codify Roe v. Wade. JCPA supports an individual's right to make their own reproductive choices.
In response to the recent decision issued by the Supreme Court of the United States in Dobbs vs. Jackson Women's Health overturning the precedent of Roe v. Wade, Hadassah president Rhoda Smolow and CEO Naomi Adler today made the following statement:
"The Supreme Court's decision is an attack on American women and their rights to health care, privacy and autonomy. Without federal protection for their rights, women across the country could now be barred from making their own health decisions under a patchwork of inconsistent state laws. Hadassah, The Women's Zionist Organization of America, reaffirms its unwavering support for full and complete access to reproductive health services and the right to make decisions based on each woman's religious, moral and ethical values. Hadassah will continue to fight for federal and state legislation affirming and protecting reproductive rights."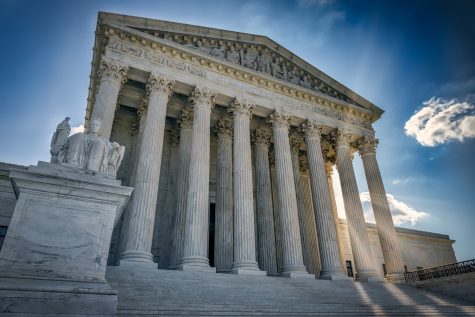 Rabbi Ze'ev Smason of Nusach Hari B'nai Zion Congregation
Today, the Supreme Court of the United States overruled Roe v. Wade, the 1973 decision establishing a constitutional right to abortion. I welcome this historic ruling.
Jewish beliefs and ethics treat fetal life, as all life, as possessing inestimable sanctity.  Halacha (Jewish law) permits termination of a pregnancy only under extreme circumstances, and never as a matter of choice. Judaism therefore supports legislation which limits abortion "on demand," while permitting it only for the gravest of reasons, such as where the mother's life is threatened.   May today's Supreme Court ruling encourage all Americans to embrace a culture that celebrates and treasures all human life.