Jewish siblings' book chronicles St. Louis life during pandemic lockdown
Kate Colton was looking for something to do with her pent-up energy. It was March 2020 and St. Louis, like the rest of the world, had come to a screeching halt because of COVID-19.
So Colton, 46, who is a professional photographer, part-time hairdresser and lives in Chesterfield with her husband and 7-year-old daughter, started driving around and shooting pictures. Lots and lots of pictures.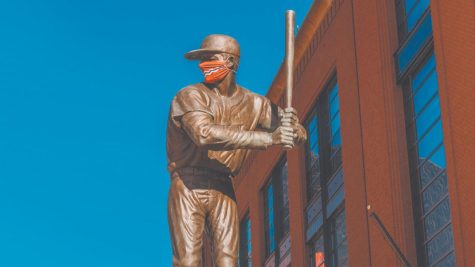 By the time a couple of weeks turned into a couple of months, she had enlisted her twin brother, James A. Williams, in her pursuit to photograph various people, places and things across the St. Louis region during the pandemic shutdown. Although Williams is a professional writer for an engineering company – and has a Ph.D. in literature from Washington University – he enjoys taking pictures as well.
Much of their inspiration to chronicle the shutdown came from their maternal grandmother, who is nearing her 98th birthday. Colton explains that until a year or so ago, before enduring a stroke, her mind was "tack sharp." 
"Talking to her was like opening a history book based on a 16-year-old young woman navigating World War II in St. Louis," said Colton, who is Jewish and grew up attending Congregation B'nai Amoona. "Her memory of where she was when the war broke, the blackouts and so much more was so vivid. We realized this was a gift and if you could just bottle all her knowledge into a book, it would be amazing."
That realization figured into Colton and Williams' decision to put together a book that documents St. Louis during the many months so much of the region was locked down.
"When we started, I didn't think we'd be doing a book," said Colton. "But then it was like, 'This is going to be history.' Let's just document it. And as two weeks turned into seven weeks and longer, we thought we should probably do a book on this. And the feeling of the book was that you would open it up and it would take you back to a time that you lived through, much like talking to my grandmother and she's taking me back to a time and place."
The siblings, who at the time knew nothing about putting together a 160-page glossy coffee table book, did a masterful job balancing dozens of rich, color photographs with short interviews, including ones from a first responder, COVID patient, emergency room doctor and educator.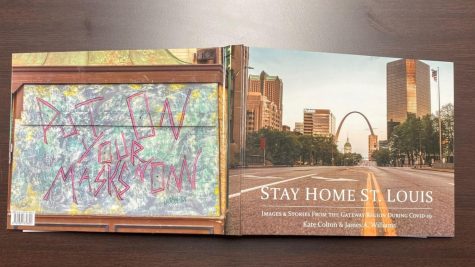 Entitled "Stay Home St. Louis: Images and Stories from the Gateway Region During COVID-19," the book is divided into 11 chapters or sections, with each focused on a different category such as healthcare and public policy; sports; local business and retail, education and outreach; arts and entertainment; and dining and hospitality. An interview with Rabbi Randy Fleisher of Central Reform Congregation is featured in the "Places of Worship" chapter, where he talks about the "immediate and dramatic impact" lockdown had on CRC congregants, especially those who had an already scheduled b'nai mitzvah or had lost a loved one.
"The number of funerals I officiated during this time went up exponentially," Fleisher explained in his book interview. "I think 10 were directly due to COVID. But others were indirectly caused . . . In 2020 to 2021, I did more funerals than I did in the 20 years I've been a rabbi without question."
Perhaps most striking about the book is the multitude of signs – in various shapes, sizes, colors and lettering —either cautioning the public to "social distance" or requiring masks be worn or signaling the closure of a building. One particularly eye-catching photo, in which Colton used a drone, is a double truck spread of Lafayette High School's 2021 commencement at POWERplex STL. It depicts rows and rows of cars in the parking lot with many of the occupants seated in folding chairs or atop their vehicle watching the graduation ceremony from a giant screen. Another poignant one, especially if you are a Cardinals fan, is a near-empty Busch Stadium during a September 2020 game.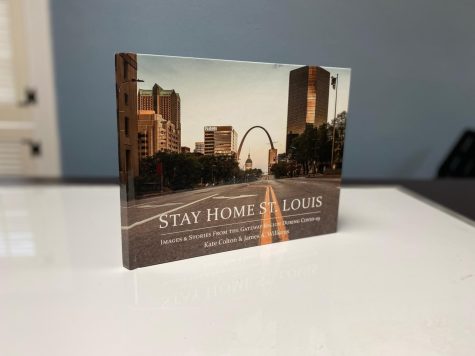 Colton and Williams know that their book may not be for everyone – some people would like to forget the pandemic altogether — but they feel it is important to preserve the past.
"Human nature is to want to move past it but there is a piece of us that also wants to remember," Colton said. "Whether people are or aren't ready to look back on this time, it is something we all lived through. Forgetting is not healthy. This is something we all experienced, and we felt the ability to photograph and write about it is something that needed to be shared."
"Stay Home St. Louis: Images & Stories from the Gateway Region During CODID-19" by Kate Colton (above left) and James A. Williams (above right) retails at $44.95 and is available at katecoltonstudios.com.