Jewish Life Television rebranding, features St. Louis based kids show
Jordan Palmer, Chief Digital Content Officer
Published April 26, 2023
Jewish Life Television, the Jewish-themed TV network that features a St. Louis-based children's show, is rebranding itself and becoming "JLTV: Stories That Inspire." The new branding reflects the network's efforts to showcase uplifting, inspiring and positive content that celebrates Jewish culture, heritage and values.
The network notes that "Stories That Inspire" reflects JLTV's belief that great stories have the power to change lives, connect communities and inspire action, while continuing to provide viewers with content that is engaging, entertaining and informative.
"JLTV has always been committed to sharing the stories of the Jewish people and community with the world," said JLTV's CEO Daniel Laikin. "We believe that 'Stories That Inspire' reflects our continuing and unwavering commitment to fighting antisemitism and all hatred by shining a light on the stories of real people whose actions, in North America, in Israel, and around the world, inspire and uplift our viewers."
The rebranding to "Stories that Inspire" will be accompanied by a new logo and visual identity, which will be rolled out across all JLTV's platforms, including its website and social media channels. The rebrand will also include changes to its programming slate, beginning on April 26, as well as six new original series rolling out over this summer.
"Rhythm 'N Ruach on TV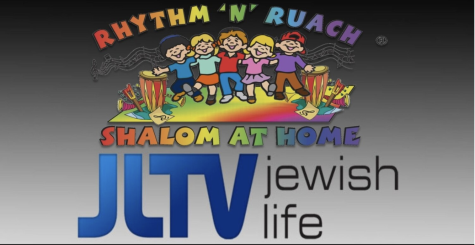 One popular JLTV show is based in St. Louis and fits the network's theme perfectly: "Rhythm 'N' Ruach," a children's show that celebrates joyful Judaism.
St. Louisan Shelley Dean is the co-host and producer of the show, which has aired on JLTV since 2020.
"Rhythm 'N' Ruach specializes in sharing Jewish values, instruments, and music with children from birth to 5 years old," said Dean. "Each week, you and your child will explore a brand new instrument, a new Hebrew word, and you both will be singing, dancing and playing instruments of all kinds to the rhythm of both Jewish and secular music."
Dean founded Rhythm 'N' Ruach in 2011, offering classes to engage families through Jewish music and movement. In 2018, Adrienne 'Auntie A' Suson joined Dean bringing professional marketing skills to the team. Soon, Rhythm 'N' Ruach started to grow quickly.
When COVID-19 arrived, Dean and Suson found a way to keep families connected by creating an online platform. Offering classes, live-streamed events, private programming and online facilitator trainings led to a need for on-demand programming. The pair created "Shalom At Home," a series of 30-minute Rhythm 'N' Ruach videos that could be accessed on demand from their website.
Brad Pomerance, Senior Vice President of Jewish Life Television, noticed their online presence and offered them a morning slot on their weekend children's programming. Since August 2020, Rhythm 'N' Ruach has produced three seasons of "Shalom At Home!"
Rhythm 'N' Ruach's Shalom At Home episodes air Saturday and Sunday mornings at 6:30 a.m., 7:30 a.m. and 10:30 a.m. Episodes can also be viewed on the Rhythm 'N' Ruach website.
Finding JLTV
JLTV is available in over 50 million homes through Charter/Spectrum, Comcast/Xfinity, Cox, DirecTV nationwide, Xumo, LocalNow, and other video operators.
For more information about JLTV and its current programming, visit www.jltv.tv.  For JLTV channel position throughout North America, visit www.jltv.tv/channels.