Jewish history is repeating itself in Ukraine. This time, we must fight Putin back
Rabbi Yoshi Zweiback, The Forward
Published February 26, 2022
This story was originally published on Feb. 26, by the Forward. Sign up here to get the latest stories from the Forward delivered to you each morning.
In 1911, my grandpa Jake was born in the small Hungarian village of Torun in the Carpathian Mountains. While he was still a child, the village became a part of Czechoslovakia, and after World War II, it fell within the borders of Ukraine.
My grandpa was just a little boy when World War I broke out. His father was drafted into the Austro-Hungarian army. My grandpa and his mom fled to her parents' home in Synevyr. Grandpa Jake later told my aunt that he remembered seeing Russian soldiers lead men out of Synevyr with ropes around their necks, never to be heard from again.
Thankfully for me, my grandpa and other family members were able to immigrate to the United States in 1920. In 1939, my grandfather's brother Leon traveled back to Europe to visit family that had been left behind.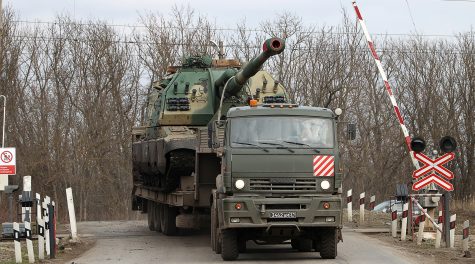 Uncle Leon wrote that when he got off the bus in Torun, he "immediately recognized that everyone was my mishpacha because this one was wearing one of my old sweaters and that one was wearing my old trousers, and another had one of my hats."
During his visit, Hitler invaded Czechoslovakia, and my Uncle Leon almost fell into the hands of the Nazis. His family was able to artfully redirect a local official, and thanks to Uncle Leon's own quick thinking during an ensuing encounter with a German soldier, he was able to leave Czechoslovakia.
His grandfather — my great-great grandfather — wasn't so lucky. He and dozens and dozens of my distant cousins were unable to leave Europe. Most all of them were murdered during the Shoah.
What we are witnessing now, we have seen before.
In 1938, Hitler began his occupation of Czechoslovakia by first annexing the Sudetenland, claiming it as ancestral German territory. Russian president Vladimir Putin similarly set the stage for his invasion of Ukraine by backing the territorial claims of separatists in the country's southeastern regions.
Because of yesterday's events, the lives of more than 40 million Ukrainians — including 50,000 Jews, among them President Volodymyr Zelenskyy — are endangered.
In the days to come, we will learn more about this unfolding situation. As Jews, we have a special obligation to support members of our mishpacha, our own family. The Talmud teaches that kol Yisrael arevim zeh bazeh — all Jews are responsible for one another. (Shevuot 39a).
We have seen this before and we know, sadly, that such brazen acts of aggression do not end well.
Will we raise our voices? Will we come to their aid? Or will we watch quietly as innocents are led away with ropes around their necks?