Nine individuals and one married couple will be recognized as the 2023 Jewish Light Unsung Heroes on Tuesday, Nov. 28, at 7 p.m. This year's 14th annual event will take place at the Missouri History Museum in Forest Park.
Unsung Heroes, which began in 2010, shines a light on individuals of any background or faith who generously volunteer or go above and beyond to help the St. Louis Jewish community, and Jewish St. Louisans who volunteer, either within the local Jewish community and/or the community at large. This year, two of the 11 Unsung Heroes are not Jewish; both are teachers, one in Jefferson County, the other in Collinsville, and both are going above and beyond in their efforts to stop antisemitism in their classrooms and in their communities.
This year's co-chairs for the event will be two former Unsung Heroes, Marilyn Ratkin and Stan Shanker. Ratkin was recognized in the first class of Heroes for her outstanding volunteerism at organizations such as the Jewish Community Relations Council, the National Council of Jewish Women and Ready Readers, to name a few. Shanker was honored in 2017 for his passion and commitment in helping to settle new immigrants in St. Louis through the efforts of Congregation Shaare Emeth and the International Institute of St. Louis.
Since its inception, more than 120 St. Louisans have been honored as Jewish Light Unsung Heroes.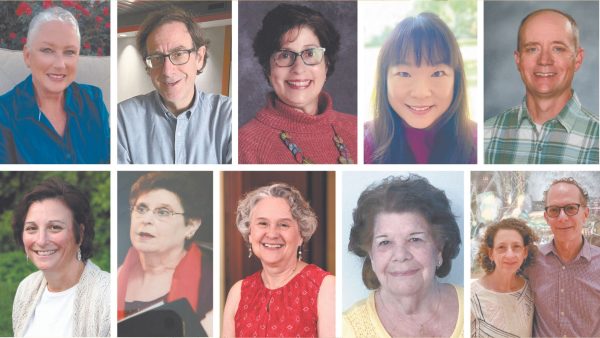 Here are this year's honorees:
• Elizabeth "Betty" Baumgartner, a sixth-grade teacher at Dorris Intermediate School in Collinsville. She took determined action after hearing one of her students proclaim, "Hitler is cool," as he instructed two other boys to give the Nazi salute. With the support of administrators at her school, Baumgartner, who is Catholic, showed a YouTube interview with a Holocaust survivor to her class, but her lessons to combat antisemitism did not stop there.  
• Murray Bresler. His acts of chesed, while monumental and lifesaving, are done quietly and in private. Bresler, who owns Murray's Travel Centre in Overland and is a member of Young Israel, has helped countless numbers of people, families, schools and organizations, insisting on no credit or kudos for his actions, and only accepted this honor after friends encouraged him to do so. 
• Nancy Wasserman Giannasi, a retired occupational therapist volunteering at Ranken Jordan Pediatric Bridge Hospital to help children with disabilities who cannot live at home because of their illness. Giannasi and her dog Gigi also completed the 12-week Duo Dogs Touch Therapy Training Program so Gigi can now make the rounds at Ranken Jordan, cheering up patients and their families.
• Amy Kuo Hammerman, a full-time feminist homemaker, community organizer and activist spends countless hours volunteering with social justice organizations such as the National Council of Jewish Women, where she serves on its board and has chaired or headed many of the organization's social justice and health rights efforts. She is a member of Congregation Shaare Emeth.
• For 22 years, Alan Kirby, a German teacher at Seckman High School in Imperial, Mo., has been bringing Jewish students, through the Student to Student program, to his classroom to talk with his German students. In addition to showing the connections between the German language and Yiddish and Hebrew, the most powerful reason Kirby has these students returning each year is because his own family was part of the Nazi regime. He wants his students to be part of a positive future, and to ensure genocides like the Holocaust never happen again.
• Cathy Lander-Goldberg. She founded the Resilient Souls Project, an exhibit of portraits and writing celebrating a diverse group of young women, including many at risk.  She also began a photography education program for adolescent girls at Edgewood Children's Center to build self-awareness and self-esteem. Recently, through photos and storytelling, she focused on a diverse group of St. Louis older women to provide inspiration for viewers of all ages.
• Helene Meyer, the founder of Slaying Dragons, a non-profit organization dedicated to stamping out the stigma of mental illness. Topics addressed through these productions have included depression, PTSD, and Alzheimer's. 
• Sue Picus, who is another example of an uber volunteer, having long associations with non-profits such as the Jewish Fund for Human Needs, Shaare Emeth and St. Louis Oasis. While her volunteer efforts are extensive, one example: During COVID, she helped create and implement chesed calls to every senior at Shaare Emeth.
• Beth Saltzman, who is one of the most active volunteers and "Mitzvah Makers" at Congregation B'nai Amoona. After the COVID shut down, when it became clear that "business as usual" was not going to be reality anymore, she developed and organized a Mitzvah Corps program where volunteers would fulfill many roles in the congregation once held by professionals. 
• Dr. Bruce Frank and Enid Weisberg Frank. Bruce volunteers as a chaplain at Missouri Baptist Hospital, helps out at NCJW's Back to School! Store as an eye doctor doing screenings, has been president of B'nai Amoona's Men's Club and is a dedicated member of its Minyan Corps and Social Action Committee. Enid also volunteers at the Back to School! Store, has been president of the Women's Club at B'nai Amoona, tutors young students in preparations for their b'nai mitzvah and also serves on the board of Nishmah.  
For more information, go to stljewishlight.org/unsung. Tickets to the event will be available for purchase online starting in early October. To make a tribute in honor of an Unsung Hero, visit stljewishlight.org/unsung-tribute.