Humans of St. Louis turns a page
Bill Motchan, Special To The Jewish Light
Published April 3, 2023
Lindy Drew didn't know much about St. Louis when she moved here 10 years ago to attend Washington University. Now she has hundreds of friends, many of whom she's photographed and written about. Her stories have also generated more than 130,000 social media followers.
Drew, 44 who is Jewish, is the co-founder of the storytelling organization Humans of St. Louis, which was created in 2014.
Humans is a nonprofit group that shares first-person stories and portraits of people and places throughout the metro area. In December 2022, Drew and her collaborators celebrated the launch of a book featuring 400 photo essays.
The book launch event began with a panel discussion with Drew and her co-authors at the Schlafly Public Library, followed by a signing at Left Bank Books. The "Humans of St. Louis" book is "heavy," Drew said, both in terms of weight and subject matter. These stories about real people don't always have happy endings, but they have a gritty realness.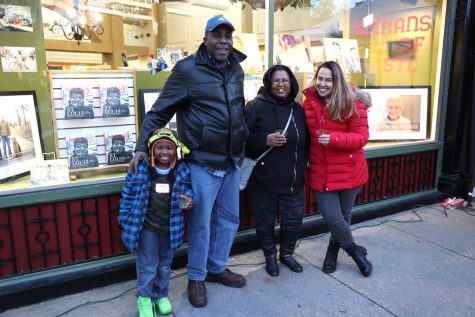 A few of those people joined the Humans storytellers to talk about how they connected. Those included one family who bought a house in the city to rehab. The owners were on the roof surveying what repairs were needed when Drew called up to them from the street. She asked if she could photograph them and get their story. They agreed and a long-term friendship was forged. 
The Humans of St. Louis website (www.humansofstl.org), and the book have a goal of creating understanding, particularly on issues of racial equity, gender equality and LGBTQ+ rights. The Humans team regularly posts online photo essays (facebook.com/HumansofSTL) and (instagram.com/humans_of_stl). They are first-person stories accompanied by an environmental portrait of the subject.
For several years, Drew and her storyteller/photographers have been turning those stories into the Humans book. It was so popular, it quickly sold out. Pre-orders are now being taken through the group's website, with a spring reprinting planned.