How Washington University's Hillel House became a reality
by Sabrina Gorse, Special For The Jewish Light
Published January 8, 2023
This story is being published in partnership with the Missouri Historical Society.
Dr. Abram L. Sachar, who helped organize and was one of the first national directors of B'nai B'rith Hillel Foundation, long wanted to found a chapter and help Jewish students at his alma mater, Washington University in St. Louis (WUSTL). The opportunity to start it, though, didn't appear until after World War II ended.
Aware of the growing number of GIs taking advantage of the GI Bill for their college education, Dr. Sachar predicted that Jewish GIs would need a support system more than ever. In the spring of 1946, he met with Rabbi Robert P. Jacobs and asked him to organize a Hillel chapter at WUSTL. Rabbi Jacobs agreed, ending his work at Congregation Beth HaTephila in Asheville, North Carolina, and moving to St. Louis to start the chapter.
Not everything went smoothly for the future Hillel House (also known as the St. Louis Hillel Center). Some members of WUSTL's faculty opposed the proposal, believing that the chapter would prevent Jewish students from assimilating with the campus body. Leaders in the St. Louis Jewish community—including the Jewish Federation—also disapproved of starting the chapter.
The university's chancellor, Nobel Prize winner Arthur Holly Compton, and the local B'nai B'rith lodges, however, supported Rabbi Jacobs's efforts. To secure full backing from both WUSTL and the Jewish community, Rabbi Jacobs and Dr. Sachar approached WUSTL's Board of Trustees and persuaded them to publicly approve Hillel.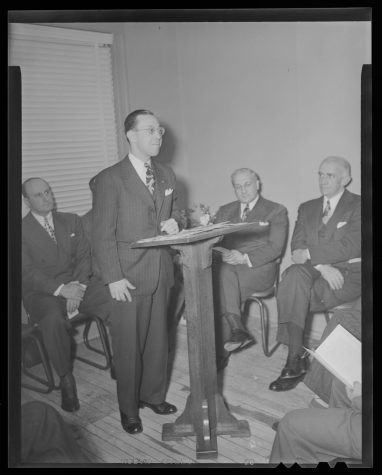 With approval obtained, Rabbi Jacobs started building the chapter. With Dr. Sachar's help he established the Hillel Board of Directors, which drew on representatives from the local synagogues and Jewish organizations. He also spread the word out among WUSTL's Jewish students and Jewish student organizations.
The organization's inaugural meeting was hosted on November 15, 1946, at the United Hebrew Temple. After dissension arose between the Jewish fraternities and independent students regarding election results for the first student council, a second election was hosted and ratified during the second organizational meeting in January 1947 at the Young Men's Hebrew Association on North Union Boulevard.
Due to energetic support for the chapter and active participation of the Jewish students and Jewish war veterans enrolled at WUSTL, the Hillel chapter decided that a walk-in office wasn't enough; they needed a whole building. They started fundraising, getting support from not only B'nai B'rith lodges in Missouri and Illinois but also local Jewish community leaders, such as Judge Robert L. Aronson and Milton Marcus. Within a few months, the Hillel chapter raised enough funds to acquire and renovate their first house, a two-story dwelling at 6142 Pershing Avenue, only a block north of the WUSTL campus.
On March 27, 1947, Hillel House celebrated by hosting its dedicatory program. The full-house event featured Rabbi Samuel Thurman of United Hebrew Temple, Judge Aronson, Herman Willer, Mr. Marcus, Vice-Chancellor Dr. Charles Belknap, and Dr. Sachar as speakers.
The Hillel House at Pershing Avenue served as the chapter's seat for 20 years. Over the decades, the chapter offered many religious and social programs there, including Sabbath services, large-scale social events, community social services, and Zionist activities. Hillel House not only served WUSTL's students but also provided services to other colleges in the St. Louis area, such as Saint Louis University, the University of Missouri-St. Louis, the Harris Teachers College, and Webster College.
The 1960s changed the face of Hillel House. WUSTL's demographics were changing. It was no longer a "streetcar college," teaching a student population predominantly from the St. Louis area, but was attracting more and more students from out of town. The Pershing Avenue house was off-campus, too remote to adequately compete with campus life. Thus, Hillel decided to buy a new house. They temporarily moved to a house at 6320 Forsyth Boulevard, but it didn't adequately meet their needs. In 1967, after years of searching, fundraising, and dealing with anti-Semitism, they were able to purchase and renovate their new home at 6300 Forsyth Boulevard, across the street from WUSTL's schools of architecture and fine arts. Since then, this house has served as the headquarters of Hillel House—now known as WashU Hillel.