How veteran CBS journalist and Granite City native Peter Maer became a 'museum relic'
Jordan Palmer, Chief Digital Content Officer
Published June 8, 2023
The newest museum in Washington, D.C. opens Friday, June 9, with a small but significant nod to a Jewish kid from Granite City, Ill. who grew up to cover the White House for nearly two decades for CBS News.
The Capital Jewish Museum explores the Jewish experience of the men and women who have called Washington, D.C. home. The point is to showcase the warts-and-all history of Jews who lived and worked in the region, and how their lives and efforts connect the past to the present.
Peter Maer, who grew up in Granite City and became a bar mitzvah at United Hebrew Congregation in St. Louis, lived and worked in D.C. for 17 years as the White House Correspondent for CBS News covering the Carter, Reagan, Bush 41, Clinton, Bush 43 and Obama administrations.
Now a bit of his history is on display inside the new museum.
"When planning for the museum was in the early stages in 2020 a staffer familiar with my career contacted me and asked if I had any Jewish-related memorabilia and other material from my years covering presidents from Carter to Obama," said Maer. "I gathered credentials, background papers and other items.  I had almost forgotten about the donations when the museum contacted me to attend a preview for people who had donated items."
On display are two of Maer's press badges that were created by the White House for journalists traveling with the president. The badges are from his coverage of President George W. Bush's 2008 trip to Israel, Saudi Arabia and Egypt.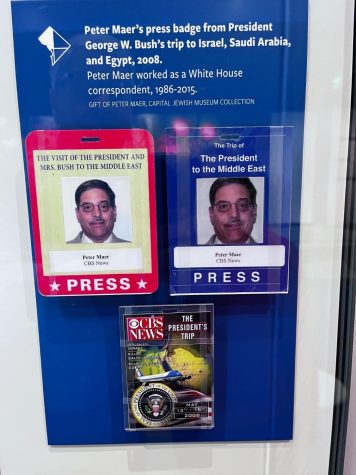 In addition to the items that are on display, Maer says the museum accepted other items that will remain in their archives for possible future use.
"They have an original state department program from the signing of the Camp David Accords featuring a picture of Carter, (Former Israel Prime Minister Menachem) Begin and (Former Egyptian President Anwar) Sadat on the cover," said Maer. "They also have my press passes from the dedication of the (U.S.) Holocaust Museum, the 1993 signing of the Israeli-Palestinian agreement, the Gore-Lieberman campaign, the Obama trip to Israel, the Reagan-Gorbachev summit, and various political conventions."
"I'm now a museum relic," said Maer, jokingly.
Capital Jewish Museum
575 3rd Street, NW
Washington, D.C. 20001
202-789-0900