How Rabbi Robert P. Jacobs is still helping fulfill Mitzvah of Tzedakah
In 1999, a bit of local Jewish history was made when Rabbi Robert P. Jacobs, z"l, then 90 years of age and the senior rabbi of Greater St. Louis, took part in an interfaith service at the Cathedral Basilica in St. Louis. The occasion was Pope John Paul II's historic visit to St. Louis, the first such visit by a reigning pope.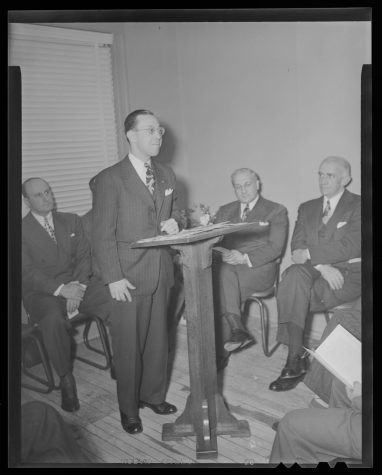 It was not surprising that Jacobs represented the St. Louis Jewish community during the Pope's visit. Jacobs, the long-time director at the WashU Hillel, was beloved by his colleagues and respected by Jews from all streams of Judaism and faith groups in St. Louis. He also served as the executive vice president of the St. Louis Rabbinical Association for three decades.
During his life, Jacobs stressed Judaism's obligation to fulfill the mitzvah of tzedakah (the obligation to do righteous acts) and instilled the importance of Jewish involvement in the interfaith community.
Jacobs passed away on Nov. 30, 2001, but his inspiration continues through the work of the "Rabbi Robert P. Jacobs Jewish Fund for Human Needs," or JFHN.
Rabbi Robert P. Jacobs Jewish Fund for Human Needs
This project is coordinated between the Jewish Community Relations Council (JCRC) and the St. Louis Rabbinical and Cantorial Association (STLRCA) and is funded in part through a generous grant from the Lubin-Green Foundation and through the support of individual donors.
This week the JFHN announced six nonprofit organizations, not affiliated with the Jewish community, but which help those in need throughout the St. Louis region, were awarded small grants.
"JFHN's work had unfortunately been paused during the COVID years, so it was especially meaningful to get back to doing what Rabbi Jacobs founded JFHN to do: give tzedakah and help people in need," said Rabbi Janine Schloss, president of STLRCA.
This round of grant recipients includes:
Empower Missouri – works to secure basic human needs and equal justice for everyone in the State of Missouri. The JFHN's grant was specifically awarded to support Empower Missouri's clean slate expungement criminal justice reform initiative.
Immigrant Home English Learning Program – empowers immigrant families by providing English language education and other tools to navigate their new community.
Lifewise STL – supports the needs of Latinx and Somali immigrants. The JFHN's grant was specifically awarded to support Lifewise STL's Emotional and Physical Wellness Department.
Metro Trans Umbrella Group – coordinates services among the St. Louis transgender community and provides direct support to individuals who identify as transgender.
A Red Circle – addresses health and equity issues in north St. Louis County through a variety of programs including employment and access to healthy foods.
River City Journalism Fund – promotes local news in the St. Louis region and strives for better representation of historically marginalized communities.
Upon receiving notification that they were awarded the grant, Richard Weiss, chair of the River City Journalism Fund, said: "We were honored that JFHN recognized our work to advance the cause of social justice at such a critical time for our region. In recent months, we have been able to broaden and deepen our work on behalf of marginalized communities. This grant will allow us to tell stories that will make a difference in the lives of our fellow citizens. We look forward to future collaborations with JFHN, JCRC and the STLRCA."
Donations to the Jewish Fund for Human Needs can be mailed to the Jewish Community Relations Council, 12 Millstone Campus Drive, St. Louis, MO 63146; or made here online.