For decades, Stan Towerman downplayed his military service. How an Honor Flight changed that
Jordan Palmer, Chief Digital Content Officer
Published November 11, 2022
Stan Towerman served his country.
He served his country in the United States Air Force from 1952 to 1954, at the height of the Korean War. But Towerman never considered his service worthy of any accolades, or even much discussion in his life because while the war raged in Korea, Towerman was stationed in Newfoundland where he never saw combat. This fact influenced his feelings about his own military service.
"Because we were thousands of miles away from any fighting, I never felt I was valuable in my service," said Towerman, 92, a retired insurance executive in St. Louis.
But one day in 2018 would change this veteran's perception of his own service and the direction of his life.
Who is Stan Towerman?
Stan Towerman was born in St. Louis in 1930. He grew up in a reasonably poor area of north St. Louis. His father worked hard as a butcher, but the family was poor.
"I was a bar mitzvah in an Orthodox shul that we did not belong to. We were poor as were many in our neighborhood at the time," said Towerman.
He attended Soldan High School with many other Jewish students and graduated fourth in his class in 1948, earning a four-year scholarship to St. Louis University, where he was just one of a handful of Jewish students. He graduated in 1952 with a business degree as well as with distinction as a member of the Air Force ROTC.
"Korea was starting to heat up, so I joined the Air Force instead of being drafted.  That also committed me to serve two years of active duty, and six years of reserve time," said Towerman. "I also got married in my last year at SLU, so I entered the military as a newlywed."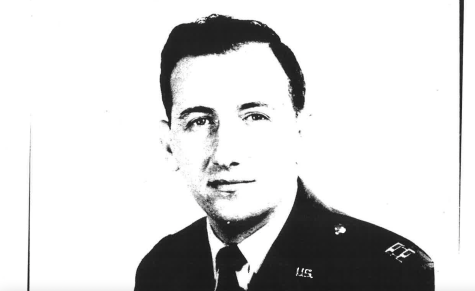 Towerman spent the first year of active service at Westover Air Force Base in Massachusetts. In his second he was deployed to Newfoundland as a supply officer for a communications construction squadron.
"Our mission was to protect the early warning radar in Newfoundland, Greenland and Iceland because while the war continued in Korea, the worry was Russia would fly in and bomb the U.S," said Towerman.
In 1954, he came out of his active duty commitment, moved back to St. Louis and began a long career in insurance. He would enjoy a 65-year career in the field, creating his own company, the Towerman Organization, in Clayton in 1960. But throughout his career and life, Towerman never considered his service to his country as anything he should be proud of.
Honor Flight 2018
The mission of Honor Flights is to honor and celebrate America's veterans by inviting them to share a day at our nation's memorials.
"I had heard of the flights, but pretty much ignored them because I didn't feel worthy," said Towerman, who eventually did sign up for a flight in 2018. The flight would change his life.
"Visiting the memorials is just a fraction of what it means to experience an honor flight," he said. "When you're on it, it's the interplay among the vets, and experiencing what it feels like when the public sees us coming. They applaud and it's the most exciting thing you have ever experienced."
Like many veterans, Towerman says his day on the Honor Flight, was the best day of his life. But perhaps more importantly, the trip made him re-examine his own service and its importance.
"Before the flight, I felt I did not serve well enough because I did not see active duty. After the flight, I felt different. The year I spent in Newfoundland was of value. I felt at that moment that I was loyal and I served the way I was supposed to serve," said Towerman.
The Honor Flight experience so influenced Towerman that he decided to dedicate his time and energy to the cause.
Greater St. Louis Honor Flights
Since 2008 the Greater St. Louis Honor Flights has been the hub from which more than 2500 local veterans have had the chance to experience an Honor Flight. Aside from one staff member, all of the work is done by volunteers. After his 2018 experience, Towerman volunteered himself.
"I started a recruitment effort to find and get more veterans to go on their own Honor Flights," said Towerman. "I get chills down my leg and get very emotional just talking about it. Every day I try to recruit. It's become my life."
Since he started, Towerman has recruited an estimated 140 veterans to travel on their Honor Flight.
"We consider Stan an ambassador for the Greater St. Louis Honor Flights," said volunteer Bill Seis. "Anytime Stan sees anyone wearing a Veteran's cap, he engages that person and asks if they have taken an honor flight. If they have not, he will discuss the experience, and then share any information he gets with us."
So far, Towerman has recruited 140 veterans to participate in an Honor Flight, and he's not done yet.
"It really was the best day of my life, and when I pitch it to veterans, I tell them they deserve to have the best day of their lives too," said Towerman. "I tell them they deserve to experience the feeling of people applauding as we come off the plane, or near a memorial. If you can change a person's life, even for one day, then that's significant. It's what drives me."
If you know a U.S. veteran who would like to take an honor flight, or you yourself are a veteran and interested, Stan invites you to call him directly. Call him at 314-277-1989. If you have already taken an honor flight, Stan would also enjoy hearing from you as well. He rejoices in learning more about how this experience affects each and every veteran.