Erich Dahl, WWII vet and man behind Famous Barr's French Onion Soup, passes at 102
Erich Dahl, Age 102, of Creve Coeur, Missouri was born on February 29, 1920 in Geilenkerchen, Germany and passed away on June 1, 2022.
Growing up in Germany
Dahl and his two sisters lived in Germany near the Belgium border. Their father was a cattle broker.
In 1933, he was the only Jewish child in his school and was kicked out. He found a job working as an apprentice pastry cook for his uncle, which would influence his future. But, then the Nazis came in and took over that job.
In 1938, he was waiting for a visa to get out of Germany, and when he got it, he left alone at 18 years old and headed for New York.
Upon his arrival in America, he was drafted and served in the Pacific during the rest of the war. Most of his family perished in the camps. As part of the St. Louis Kaplan Feldman Holocaust Museum's Oral Histories project Dahl, recorded the following.
When he returned from his tour, he met his future wife, Hilda. They were married 55 years.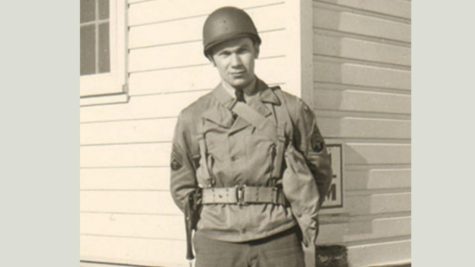 Dahl worked for Famous-Barr for many years as Director of Food Services before taking a similar position with the May Company in Cleveland, Ohio, and finally having his own food brokerage company. Erich and Hilda returned to St. Louis in 1986 to be with their family.
The legend of the soup
When Famous-Barr opened its store in the West County Shopping Center at the intersection of Manchester and Interstate Highway 244 in 1969, it featured the upscale Mauretania Room. The 120-seat restaurant was elegantly furnished and decorated with hand-carved walnut paneling, moldings, and cornices from the Cunard Line's R.M.S. Mauretania.
Perhaps more distinctive than Famous-Barr's tea rooms themselves were two items on their menus — the French onion soup and John White burger.
There's ongoing debate as to who gets credit for Famous-Barr's iconic French onion soup. Chef Manfred Zettl often gets the nod, but he became Famous-Barr's Executive Chef in 1963, while "Onion au Gratin" soup was on tea room menus as early as 1942. Thomas Ferrario was Executive Chef throughout the 1950s and Erich Dahl was Director of Food and Beverage. Both had a hand in creating the soup which Manfred Zettl perfected. The soup was thick and rich, and came from the kitchen in a McCoy pottery brown drip soup bowl, bubbling with melted Gruyere cheese atop two slices of French baguette. The cheese was so thick and stringy when spooned, it was a challenge to get it into your mouth.
Dahl's Recipe for French Onion Soup Au Gratin
SOURCE: Chef Erich Dahl
YIELD: 8 servings (2 quarts)
INGREDIENTS
1 lb Bermuda onions
1/4 lb butter or margarine
4 whole baby leafs
5 whole cloves
1 tsp freshly ground black pepper
1 tsp salt
1 tsp glutamate
1 tsp flour
1/3 cup Burgundy wine (optional)
2 qt beef stock, au jus or strong beef broth *
French bread croutons
1 lb grated French Gruyère or Swiss Gruyère
PREPARATION
Slice Bermuda onions paper-thin. Sauté the onions until golden brown in approximately 1/4 pound of dairy fresh sweet butter. (A copper-lined sauté pan will give the best results.)
When onions are golden brown add bay leaves, cloves, salt, glutamate, Burgundy wine (optional) and freshly crushed black peppercorns. Add 2 quarts of clear beef stock, au jus or strong beef broth (bouillon cubes may be used as a substitute). Simmer slowly for another 30 to 35 minutes. If soup appears too thin, add beurre manié which consists of 2 tablespoons of melted butter and 1 heaping teaspoon of all purpose flour.
Ladle soup into an earthenware cup or bowl. Place French bread croutons (cut about 1/4 inch thick) to cover surface. Top with a generous portion of grated French of Swiss Gruyère cheese. Place under broiler for approximately 5 minutes or until cheese melts. Remove and serve immediately.
The legend of the burger
Chef Erich Dahl created Famous-Barr's John White burger. Dahl tells the story of a cook at the Clayton store named John White. In those days, there were new menus every day, with menu items named for employees. White wanted something named for him too. The result was the John White burger. Eventually, the burger was offered at all Famous-Barr restaurants.
The secret to the burger was the onions. According to Dahl, they were sliced thinly, then cooked in ½ inch of hot oil or shortening, and removed when they were brown. If they were cooked too long, they became bitter. The burgers were grilled or broiled hamburger patties, made from ground beef that was 85 percent lean. They were assembled on a toasted bun, with the onions and a rarebit sauce thick enough to stay on the burgers. The sauce included American cheese, dry mustard, and Worcestershire sauce.
Dahl, the Olympian
Aside from being a legendary chef, Dahl also participated in the Senior Olympics thru age 94, winning numerous medals at local, state, and national levels. He attributed his longevity to his daily exercise routines and continued exercising until a couple of months before his death.