During pandemic, local family turns backyard into butterfly nursery
In May 2020, Lauren Abel knew she needed to find an activity other than picking up takeout food for her young family to do during the pandemic. 
She wanted a project appropriate for her two children, ages 5 and 8 at the time, that not only would give them purpose but also help make the world — much of which was shut down at the time — just a little brighter and more joyful. 
"We got really inspired by what our neighbors (Gerald Axelbaum and Ellen Schapiro) were doing and how they were doing it," explained Charlotte Abel, who is now 10 years old (but going on 30!). "He released a butterfly one day and invited us to watch. Our mom started looking into it.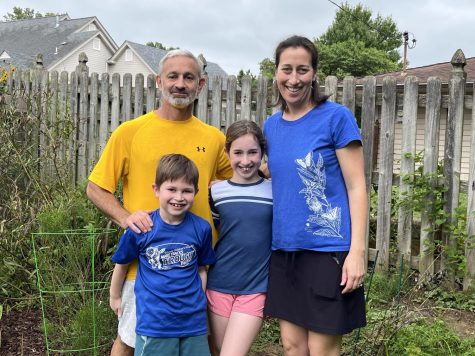 "When we first started all of this, we thought it would be fun and pretty but now it's turned into something pretty serious."
The Abel family, who live in Olivette and attend Congregation Shaare Emeth, have been raising monarch butterflies for the past three summers. In 2020, they released 12 monarchs, in 2021, they released 14 and this summer they released 43, though as of Monday, eight more were in the chrysalis stage, which occurs right before they become adult monarchs with vivid orange wings, black lines and white dots.
"Only about 10% of chrysalis turn into monarch butterflies in the wild," said Lauren, who has become something of an expert when it comes to monarchs, which were classified as "endangered" in July by the International Union for Conservation of Nature.
"We help them out by raising them in cages and containers," Lauren continued. "We only lose three to four a season. I'd say we have an 80% success rate."
"We're better than nature," enthusiastically added dad Brad Abel, who is a therapist.
"That's the whole point," Lauren retorted, laughing. Then she explained: "I remember telling (my kids) when we first planted the milkweed, if we could just help one monarch survive, this will be worth it. And then the numbers just kept on climbing."
Milkweed, as the Abels explained when I visited their backyard monarch raising operation earlier this month, is the only place monarchs will lay their eggs and the only food their larvae (also known as caterpillars) will eat, so as you can imagine, it's vital to their survival. 
"If you want to help the monarch population, you give them milkweed," said Lauren, who is a reading specialist in the Pattonville School District. In fact, reading, she says, played a key role in this family project.
"I have shared this experience with a lot of students and really try to emphasize that I didn't know anything about monarchs. I learned all of this from reading and just how powerful that can be. You can learn anything you want by reading."
Lauren's reading and research led her and her kids to plant an entire garden functional to pollinators like monarch butterflies. They not only planted swamp milkweed, which is a kind of milkweed that grows easily in Missouri, but other nectar-producing plants that bloom in the fall to provide nutrition to the monarchs born in late summer that migrate south to Mexico.
Scientists estimate that the species' population has dropped around 85% over the last several decades. They cite climate change — monarchs are very sensitive to temperature and weather changes — as well as habitat loss, urban development and pesticide use as reasons for their notable decrease.
But in the Abel backyard earlier this month, monarchs in various stages of development were flourishing. Charlotte and Levi, with some prompts from their mom, generously offered a Cliffs Notes version of a monarch's successful life cycle, and how to tell whether the butterfly is male or female. 
Essentially, they said, it takes around four to five weeks to go through a monarch's four stages — egg, caterpillar (larva), chrysalis (pupa) and adult butterfly. And while finding an egg or larva on the milkweed can be exceedingly difficult because they are so small, 7-year-old Levi happens to possess a certain superpower.
"I remember we were talking to our neighbors, and I just looked on this milkweed plant and found this random larva," said Levi, proudly.
"Levi can find the tiniest speck of larva, like 3 millimeters," said Lauren. "Charlotte can run the whole show. She's very good at maintaining the cages, cleaning and giving the amount of food (milkweed) they need."
Typically, after larva is spotted on the milkweed (usually by Levi), the family moves it to an enclosed mesh tent or container (35-ounce Utz Cheese Ball Barrels work very well) to protect it from birds and insects. Charlotte makes sure the larva, which hatches from an egg in 3 to 4 days, has plenty of fresh milkweed to feed on during this time. 
"They are eating nonstop," said Brad. "All they do, their only job, is to eat and poop."
Eventually, the larvae/caterpillars move to the top of the containers to enter their chrysalis or pupa stage; after about 10 to 14 days, a beautiful monarch butterfly usually emerges.
"It's important to let them hang for a while and let their wings dry for at least two hours before they are released," explained Lauren, adding that there have been several times during work and school hours when the family had to call on her parents, Steve and Ruth-Ellen Lichtenfeld of Clayton, to oversee the release of one of the monarchs.
Charlotte and Levi name all of their charges twice — once in the larva/caterpillar stage and again, when they become butterflies, after they learn the sex. Male monarchs have two black spots on their wing surface, females do not.
On the day I visited, I met Maintenance — as in high maintenance — whose name says it all. By the time the family and I were done chatting, they were ready to release Maintenance into the wild to flit from plant to plant, to pollinate flowers and to hopefully fly south — without incident — to Mexico. But first, the gender reveal.
"It's a boy," Charlotte announced, pointing out the black dots on his wings. She and Levi explained how last year they gave the butterflies names beginning with the letter "M." This year, the names all start with "L."
With that, Levi dug into a container filled with strips of paper bearing possible male butterfly names. And wouldn't you know, guess what name he pulled out?
"It says Levi," he proclaimed, grinning ear-to-ear.