Collectors livid as auction site vows to prohibit sale of Nazi artifacts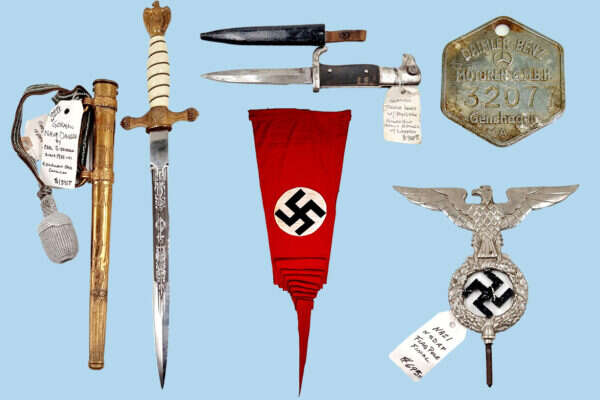 Hanan Greenwood, JNS
Published February 14, 2022
(Israel Hayom via JNS) The fight against the auctioning of Nazi artifacts took another turn over the weekend, as popular auction website "Bidspirit" announced a total ban on the sale of Nazi items. Any auction houses violating the ban will be removed from Bidspirit's website, it warned.
In a message the Ramat Gan-based company sent to auction houses, Bidspirit, an online portal to over 200 public auction houses across the globe, many of them in Israel, explained that its owners were committed to banning the sale of Nazi artifacts. Bidspirit recently removed Nazi items from its website and the company said it would wage an uncompromising campaign against the phenomenon.
"Can we say now that [auction houses] won't try testing our boundaries? I hope [they won't], but we will contend with that in a firm manner," said Nitzan Dickstein, Bidspirit's chief marketing officer.
Auctioning of Nazi artifacts
Among the items removed from the site were Nazi items put up for sale by Pentagon Auctions, including daggers, what the auction house has described as a "particularly rare" S.S. officer's helmet, a Nazi symbol the auction house said was attached to senior Nazi officials' cars, a flag that was hung on official Nazi buildings, and tags worn by slave laborers at the Daimler-Benz auto plant.
In 2021, a partial tattoo kit reportedly used by Nazis to mark their prisoners was offered at auction in Israel as an Auschwitz artifact. In November, a Tel Aviv District Court granted a request by Holocaust survivors to suspend the sale.
Last week, the Yad Vashem World Holocaust Remembrance Center in Jerusalem, which was asked to authenticate the items, said it was "highly unlikely" they were used to tattoo Jews, "though this cannot be determined with absolute certainty."
"We don't allow commerce involving these items," said Dickstein, "and we were mortified to see that the commitments made to us were violated." According to Dickstein, the company cannot examine every single item comprising the more than 150,000 offered on its website every month. But, he emphasized, "We will not work with those who put us at risk. If the auction houses continue to violate their commitment, we will reserve the right to sever our dealings with them."
Collectors of Nazi artifacts are furious
Collectors, for their part, are furious. Yariv Egozi, a collector of ancient artifacts and the owner of an auction house, took to Facebook to ask the "puritans and bleeding hearts," in his words, to "spare me your appalled faces."
According to Egozi, the law must prohibit the manufacturing and sale of new Nazi items but allow for the sale of historical items—specifically to combat Holocaust deniers.
"I'm proud of my contribution to the documentation, preservation, and research of these artifacts," he said. "They should be allowed to be sold; otherwise they'll be thrown in the garbage. The only people bothering to collect, preserve, document, research and photograph these items are the collectors, the dealers, and the public auction houses—not Yad Vashem, which waits around begging for others to donate artifacts, and not all the maligners who roll their eyes in disgust at the very notion [of selling such items] but don't raise a finger and don't spend their own money or contribute."