Broyt Baking closing its doors for good
Jordan Palmer, Chief Digital Content Officer
Published August 25, 2022
Some sad news to report. Lovers of the freshly baked challah and babka made by Mitch Furman at Broyt Baking have one last weekend to enjoy his magical bread. Furman announced on Thursday that this weekend, August 26-28 will be the last for Broyt Baking.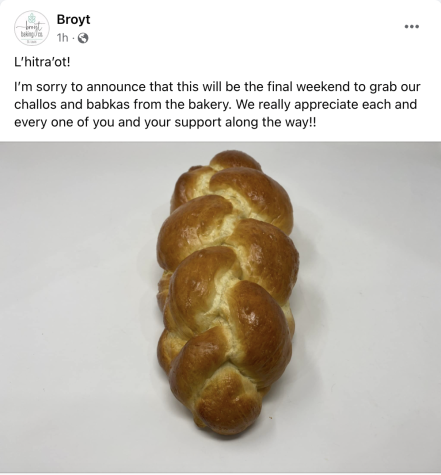 No immediate reason was given for closing the business, but it's another sad development in the small world of St. Louis Jewish cuisine. The iconic Jewish deli Pumpernickles closed in July and in March we reported the only freestanding full-service kosher grocery left in St. Louis, Kohn's Kosher Meat and Deli, is for sale.
We will update this story when more information becomes available.
Furman's baking journey
Furman's baking journey began in the middle of the pandemic. Like many people, he began baking during quarantine and soon many friends were clamoring for his challah. He and his wife Jody realized there was potential demand for his spare-no-expense approach to challah and decided to look into Missouri cottage law and see what their options were.
"To our surprise, Missouri's cottage food laws allowed us to bake and sell our challah," said Furman. "So we took a lot of orders for the high holidays and cranked out a whole bunch of loaves (one batch at a time in our non-commercial mixers and ovens). Shortly after the holidays I developed what was our signature item for a while, Caramel Apple Challah (challah stuffed with apples and cinnamon and topped with homemade caramel). And the orders just kept rolling in."
And soon, Artocopus Baking Company was born, but interestingly the name was chosen in a bit of a rush.
"We chose it to evoke antiquity and a sort of artisanal ethos," remembers Furman. But, neither Jody nor I were crazy about the name Artocopus, by now we were specializing entirely in Jewish breads and the irony of the Latin name embarrassed us a bit in hindsight."
So recently, when the opportunity to join The Bakers Hub arose,  Furman decided it would be a good time to rebrand and Broyt Baking Company is now a reality.
"The fundamental difference between the two entities, Artocopus and Broyt, is our move into The Bakers Hub," said Furman. "Having access to commercial kitchens and ovens and also the retail space is a huge upgrade. With the need for contact-free delivery receding it seemed like the perfect time to grow.
The Challah
Broyt is Yiddish for bread, and their entire lineup is just challos and babkas so it seemed appropriate to lean into the heritage with respect to the name.
Their signature item is challah. Since the beginning Broyt has been producing long and round loaves. Challah is a yeasted, egg-enriched dough that is normally braided and egg washed before baking for its distinctive look.
"I'm a big believer in butter so my challos are milchig," said Furman. "I've certainly had delicious pareve challos but it just doesn't compare to what butter brings to the table. We set out to produce the most delicious challos we could make by starting with premium ingredients and following that up with the perfect process to get delicious, fluffy loaves."
Eventually challah experiments made their way to the menu as well, along with fan favorite Caramel Apple Challah, their now is Garlic Chive Parmesan Challah, Orange-Glazed Sweet Cardamom Challah, and the beloved Pretzel Challah.
"I would say my decision to produce challah grew from inspiration because I just love the stuff," said Ferman. "When we started pandemic baking for ourselves I recalled fondly my U City days and all of the delicious fresh challah I used to be served at exquisite Shabbos s'eudos."
The Babka
Babka is a yeasted dough that gets rolled out and spread with filling, then rolled back up, cut, and braided before baking. Furman admits, (as do I), that he knew about babka mostly from the famous Seinfeld episode. A close friend suggested that he needed to try baking one so he found a recipe that looked most interesting and started tinkering.
"The recipe I work with is very butter-rich which gives it an incredible flavor," said Furman. "Instead of conforming my babkas to loaf pans (which seems to be how quite a few of them get made) I felt like the braided log was more impressive presentation-wise and provides a really nice interior marble between the dough and the filling.
Following the example of his challah baking, Broyt's babkas are made from the very best ingredients they can find: premium flour, high-fat European butter, delicious organic chocolate, dutch process cocoa, and the like.
Occasionally their regular complement of Chocolate and Cinnamon-Pecan babka's are graced by specials. The Red Velvet Babka (cocoa and buttermilk infused dough, milk chocolate filling, and topped with cream cheese icing), the Turtle Babka (our regular dark chocolate filling loaded with pecans, topped with our salted caramel), and the Blue Velvet (buttermilk infused dough, milk chocolate and fresh blueberry preserve filling, and topped with cream cheese icing). The babka is such a versatile platform that a really wide variety of fillings and toppings can be utilized.
How To Get You Some
Broyt Baking Co. will serve its last fresh challah and babka this weekend at The Bakers Hub is located at 67 Forum Shopping Center in Chesterfield.