Brothers Lazaroff launching new music festival honoring New Orleans
Bill Motchan , Special to the Jewish Light
Published June 1, 2023
Each spring, New Orleans hosts a two-week extravaganza of music, food and culture known as JazzFest. This summer, St. Louis will have a scaled-down version of the NOLA classic, known as Laz Jazz Fest. It will be hosted by the Brothers Lazaroff, who will also headline the event.
Laz Jazz Fest is scheduled for Saturday, July 15, at the Grandel Theater and the Dark Room in the Grand Center Arts District. The Grandel is the site of the Brothers Lazaroff's annual holiday extravaganza known as Hanukkah Hullaballoo.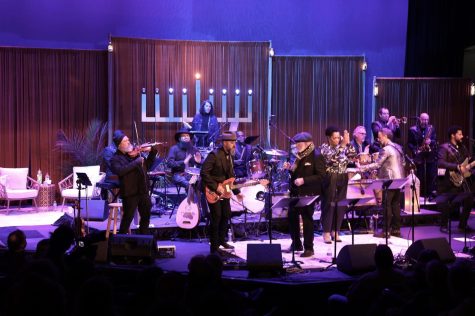 Like the Festival of Lights show, Laz Jazz Fest will include an altruistic element. Proceeds will benefit the St. Louis Art Place Initiative, which helps build wealth and equity for low to moderate-income artists through homeownership. Another similarity to the Hullaballoo will be food. One of the signature food items at the December show is latkes fried to order. For Laz Jazz Fest, there will be foods inspired by the New Orleans Jazz Fest.
David and Jeff Lazaroff, the Jewish brothers and core of the Brothers Lazaroff band, are 2019 Jewish Light Unsung Heroes. They play an eclectic style of music inspired by Americana, rock, jazz, and soul. Jeff Lazaroff explained the origin of Laz jazz.
"The beginning came from shows we've been doing at Jazz St. Louis since 2016 where for a weekend we would take our original music and bend it into our own form that we would call 'Laz jazz,'" Lazaroff said. "We're not straight up jazz players. With Laz jazz, we were leaning much more heavily into jazz idioms like swing or bop or Afro-Cuban or other different rhythms. We were taking our original folkier tunes and jazzifying them."
Lazaroff said Laz Jazz Fest will consist of three stages, two of them indoors, where an air-conditioned room could be a welcome respite from July heat. Festival attendees can choose which artists they want to hear, and there will be New Orleans Jazzfest-style "cubes" schedules with specific times when each set will begin. Those artists represent a wide range of jazz and jazz-inspired music, Lazaroff said.
"We're excited to bring these artists together," he said. "We feel great about getting to work with artists we've always wanted to like (rapper) Blvck Spvde and Anita Jackson who we've worked with and Dave Gomez, who's fantastic and we played with at Joe's Café. We also have Mo Egeston who used to be a member of the Brothers Lazaroff. And we're excited to work with Kaleb Kirby, Bob DeBoo, and Adam Maness—they call themselves KBA."
Other artists scheduled to appear include Rabbi James Stone Goodman, Joey Ferber, DJ Nune, DJ Boogieman, DJ Black Sun, Elizabeth McQueen and Thelonius Kryptonite.
Tickets for Laz Jazz Fest are available from MetroTix here.