Aaron Abeles honors his dad with special Bar Mitzvah project
Jordan Palmer, Chief Digital Content Officer
Published May 5, 2022
Aaron Abeles has experienced losses no 13-year-old boy should ever know. He also has the maturity, at his age, to understand how to take those tough experiences and turn them into something good and beautiful.
"It probably won't surprise anyone that I chose cancer as the focus of my mitzvah project because of my dad," wrote Aaron in a message to friends and family before his bar mitzvah this past weekend at Kol Rinah. "I was sad not to be able to visit my dad when he was at Siteman on chemo/transfusion days; kids aren't allowed in the treatment areas. My mom snuck us to the waiting area, but she got in trouble, and we didn't get to go back. I always wondered if my dad had anything to do or play with while he was there for so many hours. It made me sad to think dad and other patients were lonely or bored."
Honoring his father
No one who knew Aaron's dad, Eli Abeles, should be surprised in the least at his son's mitzvah project. Abeles, described by his wife as the "ultimate mensch," died in 2018 at the age of 40 after battling renal cancer. Bob Cohn, editor-in-chief emeritus of the Jewish Light, wrote of Eli:
Listening to friends, family and St. Louis Jewish community leaders talk about Eli M. Abeles, it is clear that he and his boundless energy made an indelible impression on all who knew him during his 40 years. Lynn Wittels, president and CEO of the Jewish Community Center, said that everyone associated with the J was deeply saddened over the passing of Mr. Abeles.

"Eli served in a variety of leadership positions at the J," Wittels said. "He was instrumental on the Camp Sabra Committee, chair of the Audit Committee, assistant treasurer of our Finance Committee, and ultimately vice chair of our board."

"Eli was a trusted adviser and mentor, but most of all, he was a friend," she continued. "He was wise beyond his years.  He had a sharp wit and a big heart."
Despite his young years, Eli Abeles was well established as a Jewish communal leader who did not allow even his final illness to deter him from keeping up with organizational activities, providing wise advice and counsel to the groups in which he was active and supporting and working for others.
Aaron has now taken over his father's mission.
Aaron's Mitzvah Project
Battling cancer isn't easy for anyone, but when Aaron, a seventh grader at The Miriam School, learned from his mother, Stacy, that because of COVID, the rules became even stricter for visiting cancer patients, especially older and young patients, he knew what had to be done.
"Hospitals and cancer are scary enough, but even more so for kids who can't see their family or friends due to a weakened immune system and the risk of the coronavirus. This made me really sad. I decided I wanted to collect fun things for kids in treatment, so they don't feel so alone," said Aaron.
The wish list
Stacy Abeles quickly moved into action. Not wanting to collect things no one needed or would use, she reached out to the pediatric oncology team at Siteman Kids at St. Louis Children's Hospital and they helped create a wish list of items, they knew their patients would want.
Infant items (clothes, teethers, toys)
Playdough hair cut set ("Buzz n' Cut)
Hair Chalk/Wigs (natural, realistic-looking)

 

Paint by number kits, color by sticker books,

 

Advanced art kits

 

Advanced Lego sets
Kitchen set and play food
Wreck This Journal
Sensory fidgets: Tangle toys, pop stress balls, pop sockets
New stuffed animals, with tags
Coloring books, Construction paper
Markers, crayons, colored pencils
Puzzles, Sudoku, Madlibs
Cards and board games
The next step was to spread the word. Stacy Abeles used the power of social media and email to alert family and friends all over the country, and soon the donations began rolling in.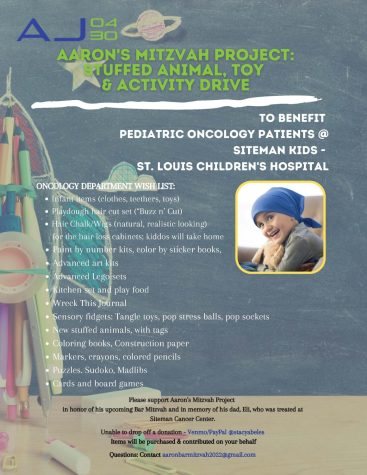 Aaron's Mitzvah Project comes together
"Friends here in town began dropping off toys, wigs, stuffed animals, and everything from the list, while friends from camp, college, and out of town, as well as friends and family donated more than a $1,000 for us to purchase items," said Stacy Abeles.
Soon, her dining room was filled with items from the list, and shortly, everything on the list will be delivered to Siteman Kids.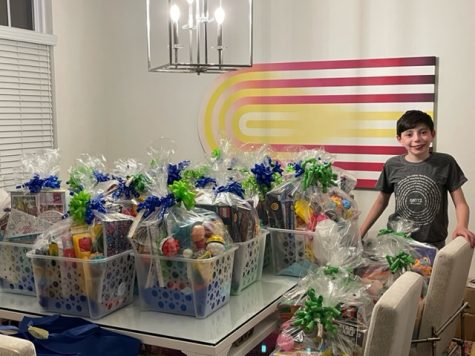 "Ever since he was very little, Aaron has been empathetic to the needs of others whether it was wanting to share his toys or gift groceries/money to a homeless person in the street," said Stacy Abeles, who in addition to Aaron has another son, Jonah, 9.
"It didn't surprise me that he was deeply concerned that Eli might be hurting or feeling isolated as he was undergoing chemo treatment or when I had to give him IV fluids at home. His selection of Siteman Kids as the beneficiary of his mitzvah project made complete sense as a tribute to Eli and his desire to help others, especially kids, who might be in pain or feeling alone. Like his dad, Aaron is a mensch, and I'm so very proud."
Aaron is also donating some of his bar mitzvah money to the Camp Sabra Scholarship Fund to help provide children with the opportunity to go to sleepaway camp and to the American Jewish Joint Distribution Committee Emergency Fund to assist Jews in Ukraine and refugees in eight surrounding countries with transportation, food, medical care and shelter.