6 ways Jews can celebrate Pride Month in St. Louis
June is Pride Month! There a plenty of ways to celebrate being LGBTQ+, loving someone who is LGBTQ+ and being Jewish with joy and plenty of rainbows. Here are 6 ways to celebrate
Jewish Community Center
June 24 – 5:30-7:30 p.m. – Pride Shabbat Picnic
All who identify as LGBTQIA+, their allies and families of all kinds are invited to join for a community-wide Pride Shabbat Picnic event with ice cream, face painting, music, a photo booth and a community art project. Bring your own dinner and blanket and enjoy it picnic style! The J offers this event in partnership with the J Associates, PJ Library, Keshet and the Jewish Federation of St. Louis.
Congregation B'nai Amoona
June 24 – 6 p.m. – Pride Shabbat
Speakers: Dr. Sharon Vermont, pediatrician who specializes in transgender health, and her son, Sage Vermont
Congregation Temple Israel
June 24 – 6-7:30 p.m. – Pride Shabbat
Kick off Pride weekend and show support for the LGBTQ community by wearing a bright, colorful outfit to Shabbat services. During the sermon, the rabbis will speak about inclusion and why supporting all our fellow human beings is an essential part of our Jewish values.
Temple Emanuel
June 24 – 7:30 pm – Pride Shabbat
Speaker – TE member Izabella Reichert-Corso
Izabella Reichert-Corso recently graduated from Francis Howell Central High School, and she is planning to go to Mizzou in the fall to study business. For the past few years, Reichert-Corso
was on the board for the Temple Emanuel Determined Youth Group and worked with Kevin Lee as a madricha. She grew up with her moms in St. Charles County, but they recently moved back to St. Louis City.
Central Reform Congregation
June 24 – 7 p.m. – Pride Shabbat
CRC is planning to hear from members of the LGBTQ+ community, who will offer short reflections during the synagogue's Pride Shabbat.
June 26 at 11 a.m. in Downtown St. Louis
Jewish Federation of St. Louis invites the St. Louis Jewish community and their friends to stand together in solidarity, to celebrate and speak out with our collective voice.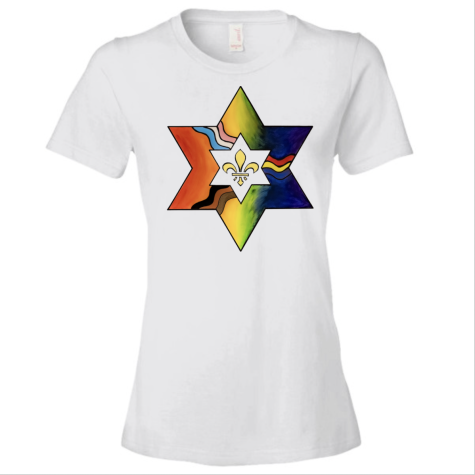 The story behind this year's PrideFest St. Louis Jewish community t-shirt design