NBA star Domantas Sabonis' wife says he is converting to Judaism
Andrew Esensten, JTA
Published April 14, 2023
(JTA via J. The Jewish News of Northern California) — When the Sacramento Kings face the Golden State Warriors in the first round of the NBA playoffs starting this weekend, they will be led by their Lithuanian-American — and soon-to-be-Jewish — center, Domantas Sabonis.
The 26-year-old All-Star is in the process of converting to Judaism, according to his Jewish wife, Shashana Sabonis (née Rosen). "We really haven't talked about it [publicly]," she said in an interview this week. "He loves [Judaism] and really wants to be a part of it."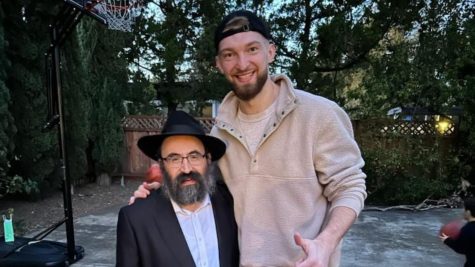 Sabonis regularly studies on Zoom with Rabbi Erez Sherman of Sinai Temple in Los Angeles. Sherman, a Conservative rabbi who hosts the sports podcast "Rabbi on the Sidelines," told J. that Sabonis is serious about learning more about Judaism.
"After [he had] a triple-double against the Houston Rockets, I get a text, like, 'Hey can we find time to learn?' I'm like, you're for real," Sherman said. "He's always asking questions. He keeps kosher, and when he's in Vilnius, he's going to the kosher butchers to get chicken."
While Sabonis is committed to his studies, his wife said, the demands of his job have made it impossible for him to commit to following all of the mitzvot. "He has to fly and he has to do those things, but he's continuing his learning," Shashana said. "We keep Passover, we keep Shabbat. We don't drive, and we do Shabbat dinner every week."
The couple were married by a Reform rabbi in August 2021. They have a year-old son named Tiger, and Shashana is pregnant with their second child.
They have a close relationship with Rabbi Mendy Cohen of Chabad of Sacramento, Shashana said. He put mezuzahs up at their house and recited the Megillah for them on Purim following the Kings game that night. Sabonis attended Chabad of Sacramento's Purim party this year and signed autographs. In December, he sponsored a sufganiyot giveaway at a Kings home game.
Shashana, who grew up in Los Angeles and went to Jewish day schools, said her husband appreciates the support he has received from the Jewish community.
View this post on Instagram
"People that follow me [on social media] see how we do the holidays and Shabbat, and I think it's really fun for the Jewish community to see that representation in basketball," she said.
| RELATED: Jewish basketball star Abby Meyers selected in 1st round of WNBA draft
There are two active Jewish players in the NBA and its developmental G League, Deni Avdija of the Washington Wizards and Ryan Turell of the Motor City Cruise. Former NBA player Amar'e Stoudemire stepped down last year as a Nets assistant coach after two seasons, citing conflicts with his religious observance. Stoudemire converted to Orthodox Judaism in 2020 after being raised in the Hebrew Israelite faith.
Sabonis, who is listed at 7-foot-1 and is the son of NBA Hall of Famer Arvydas Sabonis, had a breakout season in his second with the Kings, helping propel the team back to the playoffs for the first time in 16 seasons and ending the longest postseason drought in NBA history. He led the league in rebounds with 12.3 per game, while averaging 19.1 points per game, and he made his third All-Star team. He was drafted in 2016 and previously played for the Indiana Pacers and Oklahoma City Thunder.
Shashana said her husband is busy preparing for the Warriors series, which begins April 15 at Golden 1 Center in Sacramento, and was unavailable for an interview.
How does she think the Kings will fare against the defending champion Warriors?
"[The Kings] are going to win in six games," she predicted. "We're a really great team, and everybody is really determined to win."