Jewish values go hand-in-hand with conservation
Larry Levin
Published November 8, 2021
"No one is an island, no one can say this has got nothing to do with me – we have to bear the responsibility individually and collectively for this horrifying situation which threatens our world and which threatens our grandchildren and our great grandchildren."
— Chief Rabbi Ephraim Mirvis, Chief Rabbi of the United Hebrew Congregations of the Commonwealth
Before I served as the Publisher/CEO of the Jewish Light, I was involved in the real estate world in a variety of roles – as attorney, as real estate businessperson and as the St. Louis director of a national conservation nonprofit. And now I run Ozark Land Trust, an organization that permanently protects over 30,000 acres across the beautiful Ozarks bioregion.  Lands including forests, prairies, watersheds and working properties like farms and ranches, are all part of the portfolio we protect as stewards of their conservation values.
With COP26, the United Nations Climate Change Conference, underway this week, it's an important time for us as Jews to reflect on our role in contributing to solutions that combat the devastating impact of climate change across the globe. For me personally, my Jewish values are reflected in my choice to help those in our own backyard, so to speak — How can we protect the lands of our beautiful Ozarks bioregion, so that our natural resources not only flourish in their own right, but also continue to serve as a healthy place for us all to live, work and play?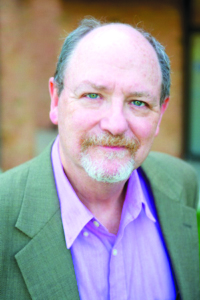 The model we employ at OLT, that of working with landowners who make the purely voluntary decision to permanently protect their land, is hardly the only tactic available to offset climate. But it is a particularly important one in our region, in which over 90% of lands are private. The climate itself doesn't care whether land is in public or private hands, so appealing to private landowners of sensitive lands to consider protection is a necessary and valuable approach. And the current federal administration's 30 By 30 plan — to protect 30% of American lands by 2030 — simply cannot be accomplished on publicly held lands alone.
Thanks to sophisticated mapping, we now have a much better idea of which lands in our region are resilient to adverse change, and which are more vulnerable to it. So those of us in the conservation sector can work toward priorities that support the resilient lands and restore and protect the more vulnerable ones.
To what end? Well, for many ends, and all support intrinsically Jewish values: Keeping our community's food production intact by preserving the watersheds and lands that support local farms and ranches; maintaining the rivers, parks, conservation areas and trails that form our ability to appreciate and mingle with nature; and supporting the inherent need to preserve and restore species and the natural resources upon which they depend.
And now we're finding the nexus between health and climate issues to be a major concern as well. From the threats of severe weather, to the degradation of water supplies, to outright unlivable areas due to heat, climate is harming our physical health in many major ways (for more, read NPR's story at https://bit.ly/climate-nexus).
So no matter how you in your Jewish life celebrate our planet — through a more generalized tikkun olam perspective, or more specifically to support the food, lands and water we need to ensure healthy living for everyone, particularly those in underprivileged living situations — conservation of our regional resources is an inherently Jewish principle.
Larry Levin is the Executive Director of Ozark Land Trust. To learn more about OLT's work in protecting lands across the Ozark region, and to get involved, visit ozarklandtrust.org.