When I play the "If I knew then what I know now" game, I have so, so many things I would do over. Realizing that my Barbie's hair wouldn't grow back after I cut it is definitely on the list. 
When my editor, Queen Ellen Futterman, challenged me to the category "b'nai mitzvah" in this game, I knew two things: which photos I would include, and that I must crowdsource. 
If I knew then what I know now, I would change … nothing. 
With my older son Davis, we had the traditional bar mitzvah in 2019, filled with family and friends from near and far. His kiddush luncheon featured his favorite foods, festive decorations to match his theme ("Just Davis," a play on Nike's "Just Do It") and a charming video montage of baby pictures and milestones.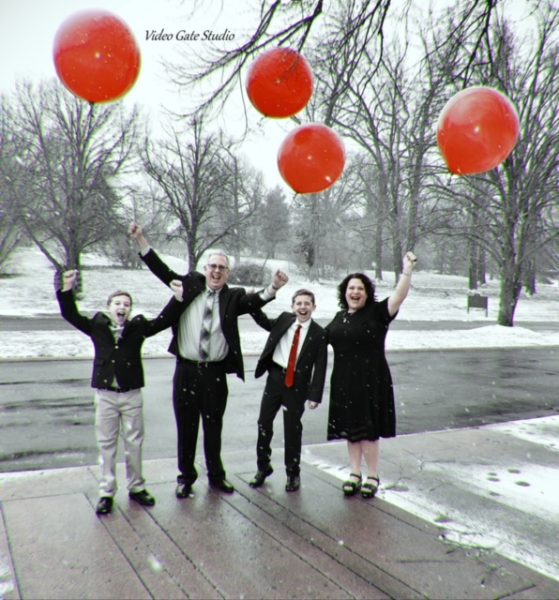 The party was crazy fun and geared toward Davis' interests:  playing sports and games with his homeys. Comfortable in front a crowd, Davis read his Torah portion with confidence.
Thirteen months later, COVID brought life to a screeching halt just two weeks before my younger son Leo's bar mitzvah. Placed on hold with no idea how long we'd be waiting, Leo was thrilled. Not one to enjoy being in the spotlight, Leo was relieved he didn't have to stand up and speak in front of so many people, no matter how much he loves them. 
About six months later, masks on faces, we were able to have Leo's ceremony in person with only a dozen or so guests. We kept his baseball theme (MLB for Major League Bar Mitzvah). Dozens and dozens of cars carrying his friends drove past the house, honking and cheering in a COVID Car Mitzvah Parade! 
One year after that, we managed to celebrate the boy-turned-man at his favorite place, Busch Stadium, at a Cardinals game with a group of his buddies. All of those ups and downs created the perfect plan for Leo.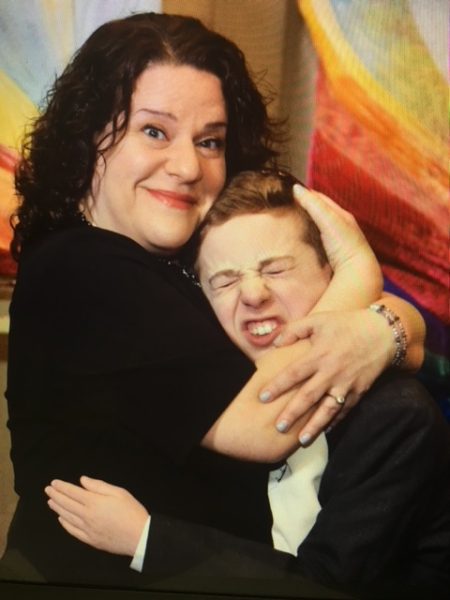 Both bar mitzvahs did result in two of my favorite photos with my sons (thank you, Rimma). Once the ceremony and party are done, you're left with memories and photos. That is why my No. 1 piece of advice to others planning b'nai mitzvahs is book the photographer you want the minute you get your date. Even if it's three years away, you'll rest easy knowing a key component of your epic weekend is taken care of. Then you have plenty of time to book the venue, choose a theme and start your diet on Mondays to come. (Also, not one person cares whether you lose or gain weight before the big day, I promise you.)
More unsolicited advice is that you should keep in mind what really matters most here: the ritual of the b'nai mitzvah and all it means to us as Jews. 
Your village celebrating your child's achievement is just the icing on the cake. 
Speaking of family and friends, I asked around to see what they would change if they knew then what they know now. Here's what they told me:
I kind of enjoyed the low-key, bare-bones intimacy of the COVID mitzvah. Only immediate family in the synagogue. We wore socks instead of heels. The guest list was whittled down to our closest friends and family at our home to celebrate. Much less pressure and much less money. The focus was on what really mattered."
— Stacey
ϖϖϖ
I would not put as much emphasis on the party. I know we definitely took great care to make sure each of our girls felt like their voice was heard for the parties, and although one said she wanted a big event, I think we should have made it much more intimate for her. The parties should just be for the kids."
— Lisa
ϖϖϖ
While I didn't think I needed a party planner, I wish I had hired someone on the day/night of the event as I spent a lot of time at both affairs troubleshooting things rather than enjoying my simcha. I also forgot to ask the photographer for a group shot of all the kids and wished I had it later."
— Marianne
ϖϖϖ
Don't have a bar mitzvah in December. Ice storm. Enough said."
— Jamie
ϖϖϖ
s the host, two drink maximum. Maybe three. With food."
— Karyn
ϖϖϖ
I wouldn't change a thing, other than not spending so much frickin' money."
— Heidi
ϖϖϖ
And now, my last piece of advice you didn't ask for. 
Even if things go wrong or not as planned, or you don't lose a pound, there will be more positives than negatives, the main one being that your child will be a b'nai mitzvah. All of their hard work and all of your Hebrew School carpool driving will be well worth it when the goal is achieved. 
I wrote about Leo's bar mitzvah here in the Light back in August 2020, and what I said then holds true now:
In finding that silver lining, seeing the positive in this mess of disappointment, it's that the actual meaning of this Jewish rite of passage is brought back into focus, the simplicity of the ritual without the chaos of everything that goes along with it."
— Amy