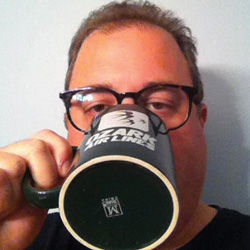 It may come as a surprise to you that my wife and I do not always see eye-to-eye on every issue, especially when that issue happens to be my attitude.
Whereas I view myself as a realist, she sees a pessimist. And this gulf of perspective is never wider than when the subject matter being discussed is the fate of the St. Louis Rams. Remember them? Oh, wait, they're still here…for now.
And this is where the trouble starts.
I see the reality of a team owner so eager to move his franchise to Los Angeles that he's already purchased land there and is moving forward with plans to put an NFL stadium on it. I don't see NFL teams lining up to be the Rams' replacement, a contingency that must be met before work can begin on a proposed new stadium. As a matter of fact, the owner of the Oakland Raiders already said "no way" to the prospect of moving to St. Louis. This is a guy whose team plays in a facility referred to as "The Black Hole" and has a small season ticket base, 40 percent of whom have to check in with their parole officers before leaving home for games. He wants no part of our fair city, even with a shiny new stadium (which by the way, will hold fewer seats than the current stadium — the one the NFL already said would never host a Super Bowl due to it having too few seats!).
Apparently, this recitation of facts makes me a "pessimist" in my wife's estimation. Whatever. I firmly believe the Rams are gone at the end of this upcoming season and I think it is vital for St. Louis to start looking for the next big-time sport to take up residence in the soon-to-be-vacated Edward Jones Dome.
Fortunately, I have put a lot of thought into this topic and I think I have the answer, and that answer will restore St. Louis as the world capital of a sport it dominated in the mid to late decades of the past century. Yes, of course I could be speaking of only one sport.
Racquetball.
That's right. The time has come for racquetball's renaissance and there is no more logical place for that to happen than the home of some of the sport's legendary players — Benny Koltun, Steve Serot, Jerry Hilecher and, of course, my boyhood sports idol Marty Hogan. 
Yep, I was a racquetball player as a kid, as were most of my friends. As a matter of fact, back in 1981 when my contemporaries and I were all going through our b'nai mitzvahs, it was a near certainty that one's gift haul would include record albums such as REO Speedwagon's "Hi Infidelity," Styx's "Paradise Theatre," Foreigner's "4," and Journey's "Escape," plus at least one racquetball racquet – one of the brand new graphite models if one was especially lucky. Racquetball was red hot, especially in St. Louis, and we must now seize the opportunity to be at the forefront of its rekindling.
We've got the history, and sometime during the winter of 2016, we're likely going to have the facility to propel racquetball's popularity back up to, if not beyond, the levels it enjoyed three or so decades ago.
As the centerpiece of my plan, I propose converting the Edward Jones Dome into the Marty Hogan Dome, complete with a huge sweatband encircling the exterior façade, just below where the massive, curved roof starts. 
An NFL football field's dimensions are 360 by 160 feet. A racquetball court's floor dimensions are 40 by 20 feet. By my math, that means we could fit 72 racquetball courts into the current footprint of the Rams' playpen. But we'd want to ensure we had some marquee exhibition courts for prestigious tournaments – and I envision us becoming the permanent host of the world championships – so, let's set our sights on 30. We could convert the dome's upper deck which would not provide close enough spectator views into space for a Hall of Fame. We'd use the old seats to outfit the exhibition courts – major recycling points!
Naturally, the big-time events don't come around that often, so most of the Hogan Dome's use will be for locals to learn and perfect their game. What a great way to get kids involved with sports, especially in this day and age when the reports about concussions are causing families to shy away from youth football. 
Local corporations, rather than throwing millions away on PSLs and season tickets to see a mediocre football team, could donate some of that money to fund equipment for youth programs, sponsor high school teams and maybe chip in for the massive marketing effort that will be needed to spread the phenomenon from coast to coast.
Who knows – maybe the National Racquetball League will become a reality in the same way Major League Soccer (another sports enterprise that's gotten quite good at toying with St. Louis without actually delivering) was born out of the mania surrounding the U.S. hosting the 1994 World Cup?
There are opportunities here, people. I say let the Rams go. It's time for St. Louis to recapture its heritage as the epicenter for racquetball. 
Who's with me?
If you aren't, well…you're nothing but a big old pessimist.