Don't call it camping; but rather a spiritual link to the past
BY RABBI JOSEF DAVIDSON
Published October 14, 2022
Despite the fact that I grew up in Denver in the semiarid state of Colorado, where there were few biting insects (except for chiggers!), my family never went camping. We would have picnics in the foothills of the mountains, usually around Buffalo Bill's grave, but we never, ever set up a tent, opened up sleeping bags and camped overnight.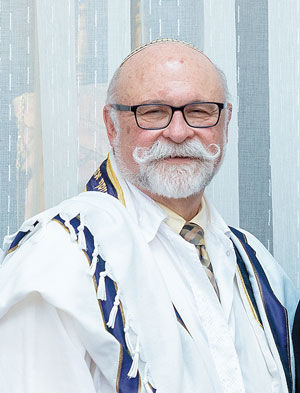 On rare occasions, I would set up "camp" in our backyard with a friend or with one of my brothers, and while our intention was to stay out all night, we usually lasted until only about 9 or 10 p.m. It became too cold, or there were strange noises, or our imaginations would go wild, or we would be just plain lonely out there, so we would come back into the house where it was safe, warm and familiar.
Years later I finally did camp — in the army during basic training. This was also not one of my most pleasant experiences.
My wife grew up in a family that enjoyed camping, however, so on our honeymoon from California to Missouri, we camped out some of the nights. Of course, we had a tent, sleeping bags, a propane lamp and a grill made from a box similar to a toolbox. It also helped to be young and in love, as that made the experience better. It wasn't as fun in the rain (rare in the western states, except for occasional cloudbursts), and some of the other comforts that one takes for granted were a good bit more difficult to access. It was overall an enjoyable experience for me and for her, and we camped out again with friends a number of times over the next few years.
Our last camping experience was in upstate New York, Lake George to be exact. We took our young children there for a nature experience and to see the beauty of that area. All went well until one night, it rained. It was not the cloudburst variety of rain to which I had been accustomed, but a torrential rain, punctuated with fierce thunder and lightning and driven by high wind. One of those wind gusts broke the supporting pole in our family tent, and our children, by then, were panicked. They ended up sleeping in our minivan, and we borrowed a pup tent from a very nice fellow camping family.
Being out in nature puts one in a very vulnerable position, as I have illustrated by my camping tales. It is why human beings have sought to provide themselves with suitable shelters from prehistoric times to the present. Our homes today are literally monuments to the advances of our civilization.
Related
In areas in which hurricanes and tornadoes occur with some frequency, building codes seek to ensure that structures are able to withstand an average storm. In an area with a high frequency of earthquakes, once again there are construction standards in place.
Our homes provide us with a comfortable, constant temperature, shelter from the elements, and reasonable security from any threat, whether natural or human. For many, I'm sure, the thought of leaving one's home to be exposed in nature is takka meshuggah (crazy).
During this season, however, that is exactly what Jewish tradition prescribes. We are to build temporary structures, little stronger than lean-tos, with thatched roofs through which we can see the stars at night and the sun during the day, called sukkot. In the autumn, a season during which there is a transition from summer to winter with the possibility of some volatile weather, we are obligated to go outside and leave our secure, warm, comfortable homes and camp out, as it were.
I must confess that I still do not sleep outdoors, but we do eat in our sukkah and spend as much time otherwise as is possible. For this seven-day period of time, it is nice to return to our natural roots and to eschew many of the manufactured aspects of life in this 21st century.
And more than that, it is a ritual that can speak to us on different levels. One is that reattachment to the natural world. Another is the excitement that is part of making oneself more vulnerable. There is a spiritual aspect as well in depending upon a higher power to provide protection for us. And there is a powerful bond that it creates with the many generations of our people who have followed this Mitzvah over millennia. The connection that the sukkah provides to our past and to our God is a powerful one, indeed.
So, I may never go camping again unless it is in a big RV. But every fall, I can go out to the sukkah and re-create a childhood experience as well as a historical one that transcends my personal history.
And who knows? Maybe this year or next year will be the one in which I attempt to sleep in the sukkah.
May this Festival of Sukkot, called the holiday par excellence, in which we are obligated to experience joy, be a joyous one for you and your families, and for our people wherever they may reside.
Rabbi Josef Davidson serves Congregation B'nai Amoona and is a member of the St. Louis Rabbinical and Cantorial Association, which coordinates the weekly d'var Torah for the Jewish Light.