Buffa's Buffet: The funniest person in St. Louis, bullying in school, and beard talk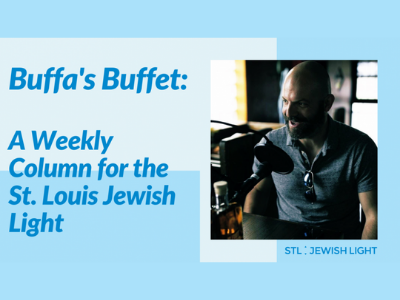 Published August 10, 2021
Let's talk about Hampton Avenue.
A few weeks ago, I spoke of the unhealthy roads that accompany my drives around town. Uneven concrete, mean potholes, and all-around bad roads. It's a "Mad Max" film to get home from the gym, which is only a mile or so away. But a recent construction project has been completed, and the new road setup on South Hampton is quite glorious.
It's a lane in each direction with a turn line in the middle. Previously on messed-up Old Hampton, it was two lanes in each direction, zero turn lane. That was chaos, signed by a guy having to make turns off that popular road. The past couple of days have been great. Now, if only I could do something about that overlong Dairy Queen line. Folks, it's not that good.
When it comes to hard-hitting documentaries that leave no trace, Alex Gibney's name is sitting near-or at-the top. He's the mind behind "Crime of the Century," which examined the opioid crisis. He's also created thought-provoking docs on Enron, Scientology, Lance Armstrong and other hot topics. If you turn on the HBO Max streaming service, you'll catch at least two Gibney documentaries near the front of the line for recommendations.
Gibney has just signed on to executive produce a scripted series for MGM Television and Israeli's Tadmor Entertainment about Iranian judoka Saeid Mollaei, who just won a Silver medal at this year's Olympics. But it's Mollaei's backstory that holds more juice. He defected to Germany in 2019 after being instructed by Iranian officials to intentionally lose in the Tokyo 2019 World Championships. Mollaei did it so he wouldn't have to face Israeli judoka Sagi Muki. Their deep friendship will be depicted in the film and if Gibney is behind the project, expect greatness.
Speaking of greatness, keep an eye on Max Pryce. The local comedian just took the top prize at St. Louis' Funniest Person competition at the Helium Comedy club on Sunday night. If there's one thing not talked about enough, it's the amount of comedy talent in this city. Rafe Williams, Yale Hollander, Libbie Higgins, Tina Dybal, Kenny Kinds, and Larry Greene. One could argue Pryce is quickly going from up and comer to star, a "jokesmith" who also cares deeply about the comedy scene here.
He's at his best talking about fatherhood and normal adulting habits but makes most topics seem authentic again coming from his perspective. If you find yourself bored later this month, keep an eye out for "Alpha King Do It Live," a comedy event at Alpha Brewing Company hosted by Pryce, featuring good beer and laughter.
Men everywhere, please don't shave your beards. Disregard what your wife says right before family picture day. Your facial hair shouldn't be put in the corner. Do what is necessary to keep the bushy spirit of that face magnet alive. Trim instead of eliminating. Tame instead of shame. I get it. St. Louis in August can be brutal for men with real beards, or in other words, a few weeks beyond your best five o'clock shadow. Don't give me that missing cheek section or bald chin top. That doesn't count.
Go all-in or stay with the goatee. Just don't shave off a good beard. The world needs them. Hollywood needs them for their heroes. Women adore them, especially if they're kept in check.  I have a beard and will never take it off. Stay with me, gents. Look at the trimmed yet still enriched beard of my mentor and Jewish Light everyman, Jordan Palmer (you can't see it, just trust me).
Kids are going back to school, and I can't get bullying off my mind for some reason. To me, it's one of the most useless things on Earth–something that plagues so many souls each year. If only books and pesky (that means good) teachers were the only things on a kid's mind walking into class.
Due to a stutter that didn't leave until I was 30, I was bullied constantly as a kid. Most of the time, I wondered what good the others got from the ridicule. But over time, I found the answer. With that experience in mind, I wrote an essay–essentially an open (and clean) letter to young kids about dealing with that school-bound trauma. They are the future, so why bully them?
See you next week.