Vivian Zwick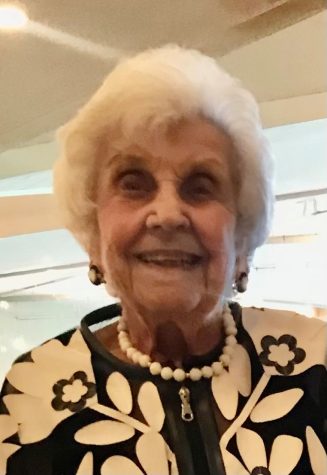 Vivian Jean Wides Zwick, April 9, 2023
Vivian Jean Wides was born on April 8th, 1917, in Murphysboro, IL, the daughter of the late Barney, and the late Emma (Schur) Wides. She passed away one day after her 106th birthday, April 9th, 2023. Vivian grew up in St Louis and spent two years studying at the University of Illinois in Champaign. She married the late Sander Zwick in 1938. The marriage lasted 67 years until his death in 2005. They had two children, Barbara Sander (Joe) and Stephen Zwick (Robin), 5 grandchildren, Cindy Siegel (Allan), Brad Lewin (Beth), Stephen Zwick, Jean Hrdlicka, and Linda Zwick, two step-grandchildren, Steven Sander, and the late Karen Sander. They also had 5 great-grandchildren, Courtney Siegel, Morgan Siegel, Cecelia Lewin, Jacob Lewin, and Maisie Hrdlicka, and one step-great-granddaughter, Paige Donovan. She was preceded in death by her sister, Alice Chasnoff.
Vivian liked to finish what she started, and in her 40s finished her BA at Washington University in St. Louis, majoring in art and archeology. After her children were raised, she devoted herself to volunteer work. She was Chair of the Clover Garden gift shop at Jewish Hospital, and the first woman president of the board of the St. Louis Jewish Light newspaper. Vivian's main interest was in promoting the opportunities for women to make the best reproductive choices for themselves. As president of the board of Reproductive Health, she merged that organization into Planned Parenthood of the St. Louis Region. She served on the board of that Planned Parenthood for the rest of her life. She was also a volunteer counselor for Planned Parenthood, helping pregnant women of all ages make the best choices for themselves.
Mom was widely recognized for her philanthropic work in reproductive health, receiving both local andnational awards. She was the Globe Democrat Woman of Achievement for Creative Philanthropy in 1985; received the NARAL Defender of Choice Award in 1998; received the Voluntary Service Award from the National Family Planning and Reproductive Health association in 1999; was an Older Women's League (OWL) Woman of Worth in 2011, and received the Hannah G. Solomon Award for the National Council of Jewish Women in 2013.
Mom contributed her time and treasure to many philanthropic causes. She was an amazing woman, widely read, who remained interested in politics and current issues her whole life.
Visitation Friday, April 14th, 1:00 PM at Congregation Temple Israel, #1 Rabbi Alvan D. Rubin Drive (Ladue at Spoede Roads) followed by funeral service at 1:30 PM. Interment private. Memorial contributions preferred to Planned Parenthood of the St. Louis Region, 4251 Forest Park, 63108. Visit bergermemorialchapel.com for more information.
BERGER MEMORIAL SERVICE