Tillie E. Berger
Published January 13, 2022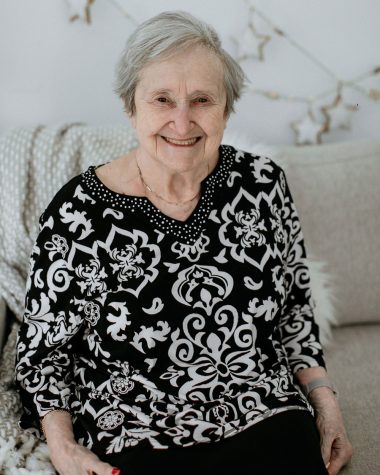 Tillie E. Berger passed peacefully and gracefully on Tuesday, Jan 3, 2022, in Overland Park, KS. She was a beloved wife, mother, grandmother, great-grandmother, sister, cousin, and friend.
Tillie was preceded in death by her devoted husband of almost 61 years, Morris R. Berger.  Dear mother of Keith Berger, Debra (Joe) Berger-Pfefer and Linda Blondell.  Loving grandmother of eight and great-grandmother of ten.  Dear sister of Audrey (Bernard) Millman, Maxine Wiggs, the late Bernard (late Millie) Harris, the late Rosalie (late Milton) Harris and the late Eileen (late Jim) Jordan.  Loving sister-in-law of the late Sam (late Lilly) Berger and the late Sylvia (late Manny) Brooks. Beloved daughter of the late Jack and the late Dena Harris.
Tillie was born in St. Louis as were both of her parents.  Her maternal and paternal grandfathers' side of the family came from Wladyslaw / (Kudirkos Naumiestis). Their original last name was Kryngiel. Going further back: Pragier, Markman and Berlovich were names in the family. Her paternal grandmothers' side of the family came from Raciena, Kaunas, Lithuania with the last names Druzinsky and Elman. We are not sure of her maternal grandparents' original last name.
Tillie was a homemaker for most of her life. Her greatest joy was to be with her family, especially the grandchildren and great-grandchildren. Over the years some of her hobbies were bowling, crocheting intricate afghans, embroidery, baking, and gardening. Her specialty was to Bar-B-Que outdoors.
Tillie met Morrie in St. Louis at the Highland's amusement park in Forest Park. They were both out with friends. The two groups started chatting, Morrie asked Tillie for a light for his cigarette (which she did not have!). Tillie and Morrie enjoyed going on cruises and fishing.  The rest is now history.
A Graveside service was held on Friday, January 7, 1:00pm at B'nai Amoona Cemetery, 930 North and South Rd. Contributions in Tillie's memory may be made to the charity of the donor's choice. A RINDSKOPF-ROTH SERVICE