Sven Gustav Eliasson, M.D., Ph.D.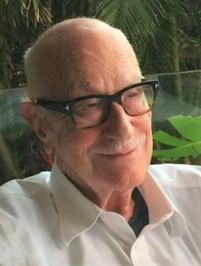 Sven Gustav Eliasson, M.D., Ph.D. June 4, 2023
Beloved husband of Michele S. Kopolow; dear father of Anders Carl Gustav Eliasson (the late Marybeth), David Sven Eliasson (Kim), and Stephen Keith Eliasson (Kate); dear grandfather of Davin Eliasson (Lauren), Kelsey Allen (Tim), Lauren Roth, Jordan Eliasson, Wren Eliasson, and Lilly Eliasson; dear great-grandfather of Dresden, Miles, and Avery. Dear brother-in-law of Bonnie Kopolow and the late Robin Lowy. Dear uncle and dear friend.
Sven Gustav Eliasson was born in Malmo, Sweden, on April 16, 1928. Having received a Ph.D. in physiology and a Medical degree specializing in Neurology from Lund University in Sweden, he decided to move to the United States in 1954. After practicing in California and Texas, he accepted a position in the Department of Neurology at Washington University Medical School and Barnes-Jewish Hospital in St. Louis in 1964 where he remained until his retirement in 1992. He was an outstanding physician and researcher and an esteemed professor and educator. He inspired students, not only in medical school and residency, but also taught and advocated tirelessly for those students and professionals in the Departments of Occupational and Physical Therapy. A gifted linguist, knowing 14+ languages, he contributed these skills as a translator for the Missouri Botanical Gardens, the Missouri Historical Society and USC Medical School after retiring from the Washington University Medical School. Survived by his loved ones and those who knew him, he leaves behind a legacy of love, knowledge and care.
Graveside service Wednesday, June 7, 2023 at 1:30 PM at New Mt. Sinai Cemetery, 8430 Gravois. Memorial contributions preferred to the charity of your choice. Please visit bergermemorialchapel.com for more information. BERGER MEMORIAL SERVICE