Susan Ruth Barad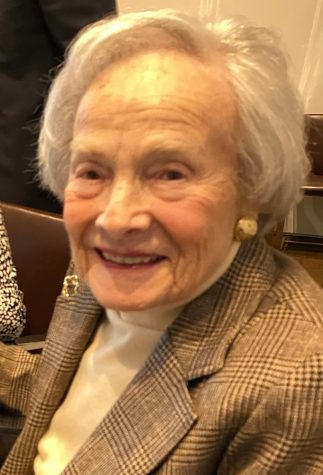 Susan Ruth Barad (nee Susan Ruth Funk) 
Born in St. Louis on February 22, 1923, Susan Ruth Barad (nee Funk) died on April 30, 2023.  Married for 67 years to Melvin S. Barad (deceased, 2010), she was a devoted wife and mother, a dedicated daughter to her parents Morris and Mary (nee Zeffren) Funk, and to her in-laws Albert and Jean Barad, and a loving sister to Irene (husb. Melvin) Greenspoon.
She was a lifelong member of Congregation B'nai Amoona. She graduated Soldan High School (1940)  and attended Washington University before working at Continental Can Co. during WWII. After the war, she and her husband raised their family in Clayton.  She worked for twenty plus years as a fashion model in print advertising and on the runways of Famous Barr, Stix, Vera Hicks Fashions at the Chase Park Plaza and events such as the Annual St. Louis Globe Dispatch Charity Show at Kiel Auditorium. Mrs. Barad also appeared in early live television commercials for Site Service Stations on KABC and hosted the live half-hour Conn Organ Theatre on KPLR. Blessed with many friends from childhood, through the war years and thereafter, she and her husband traveled the world for his business, the Barad Lingerie Co, and later with the American Seniors Golf Association, and spent winters in Naples Florida.
She is survived by her children and their wives – Edward and Marlin (Pulaski) Barad, Huntley Barad and Tirzah Mutrux, and Thomas and Jill (Elikann) Barad; six grandchildren and their spouses – Lucy (Barad) and Steve Nobles, Meredith Barad and Matt Richtell, Jonathan and Alison Barad, Alexander and Gabbi Barad, Caroline Barad and Anthony Capone, and Justin Barad; and nine great grandchildren – Calvin, Ruby, Milo, Mirabel, Max, Spencer, Elliott, Laurence and Harrison; and her niece Barbara Greenspoon.
She was one of a kind, determined, committed to family and friends. She carried her beauty with modesty and class – a charmer, who loved Judaism, piano, the baseball Cardinals and a good story.
Funeral service Monday, May 1 at 12 PM at BERGER MEMORIAL CHAPEL. Interment follows at B'nai Amoona Cemetery. In lieu of flowers, donations can be made to The Morris A. Funk Education Fund at Congregation B'nai Amoona, 324 S Mason Rd, Creve Coeur, MO 63141. Please visit bergermemorialchapel.com for more information.