Steven Woolf, the Rep's artistic director for more than 30 years, dies at age 75
Before Steven Woolf directed a production of "The Diary of Anne Frank," in 2010 at the Repertory Theatre of St. Louis, he traveled to Amsterdam and visited the annex where Frank and her family hid during the Holocaust.
"The place is just filled with emotion and history," Woolf, the artistic director of the Rep, told the Jewish Light in 2010. "Being there just personalized the story that much more. Also, visiting the Holocaust museum in Washington, D.C., brings depth to the whole story, as well as a visit I was able to make to one of the concentration camps in Germany that just leaves you kind of speechless. So all of that just helped to understand the lives of the people hiding out."
That dedication to understanding and enriching the material was not unique among the more than 300 shows Woolf staged at the Rep, according to former colleagues and others who knew him.
Woolf, who was Jewish, died Monday, July 12, 2021, from advanced chronic obstructive pulmonary disease at age 75.
"He never ever lost sight of the fact that theater was magic, and he thought opening night was magic, and he realized that people came together to share stories that changed everybody in the room," said Edward Coffield, artistic director of the New Jewish Theatre and a former production manager at the Rep, who worked with Woolf for almost three decades.
Woolf was born Dec. 23, 1945 in Milwaukee and studied theater and directing at University of Wisconsin at Madison. He became artistic director of the Rep in 1986 and remained in the position for 33 years.
During his long career there, his resume of plays created by Jewish artists or documenting the Jewish experience included "The Diary of Anne Frank," "Brighton Beach Memoirs," "Death of a Salesman," "Who's Afraid of Virginia Woolf" and "Oslo."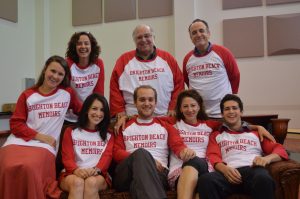 In 2011, Woolf also directed a New Jewish Theatre production of "Awake and Sing!" about a Jewish family struggling with poverty in 1930s New York.
"He hit every nail on the head beautifully, and it was just a well-constructed play, and he did a great production of it," said Coffield. "He took the same care of that production as he did for the 300-something productions I saw him produce at the Rep."
The "Anne Frank" production was the first large theater outside of New York to present an acclaimed revised version of the play that "grounded it more specifically in a Jewish context," said Robert A. Cohn, editor-in-chief emeritus of the Light,who frequently interviewed Woolf.
"Steve's Jewish sensibilities were a true asset when he directed plays with Jewish content," Cohn said.
Mark Bernstein, managing director of the Rep, said Woolf also had a keen sense of what plays would resonate with the St. Louis audience.
"He really seemed to have a finger on the pulse and know what people were going to be interested in seeing and what we should be curating conversations around, and that's a talent that not everyone has," said Bernstein.
The last play Woolf directed before retiring in 2019 was "Oslo," about the secret, back-channel negotiations that led to the 1990s Oslo Peace Accords between Israel and the Palestinian Liberation Organization.
"The word I would use to describe 'Olso' is 'explosive,' " said Bernstein. Woolf "made that happen by keeping the tension up through the whole play."
Bernstein also said he thought that "Oslo" "was a very appropriate play for the final show that Steve directed. He liked to direct big issue plays that have a large canvas, a lot of characters, and address an important issue or significant historical event."
When Wolf retired, he received a Lifetime Achievement Award from the St. Louis Theater Critics Circle.
Cohn lamented that he died just a couple years later.
"He didn't have much time to enjoy his retirement," Cohn said. "He leaves a huge void in the theatrical world and will be deeply missed."
Woolf is survived by a brother, Tom Woolf, of Tampa, Fla. A memorial service will be held at a later date.