Steve Blives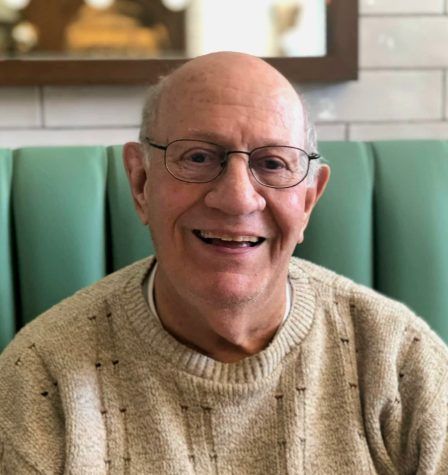 Remembering Steve Blives
Heaven just got a little livelier with the welcoming of Steven Lee (Steve) Blives who passed away Wednesday, May 3, 2023, after a grand farewell party during his short hospitalization—with his children and grandchildren—which included merriment and 50's music. No more of a fitting send-off could have been had because his family was the most important thing to him.
Steve graduated from Clayton High School and received his BFA from Washington University's School of Fine Art, where he met his sweetie, Judith "Judy" in Art Class.  After college, Steve began his career at Monsanto as a graphic designer until going out on his own to start Blives Consulting Company with Judy in 1973, which he ran for 40+ years. It was a design, marketing, and advertising company and because of his humor and wit, many of his clients became his best friends. He was also a member of the St. Louis Business Marketing Association.
When he wasn't working, he could often be seen at the JCC working out early with his friends and running with the Asphasia jogging club.  Steve was a very charitable person and served on various Boards of Directors. Every year he helped his friends Joanie and Alan Protzel with the Joe Stone Memorial Golf tournament which raises money for military and pediatric cancer charities.
Steve loved his grandkids, classic cars, pistachios, long back scratches, and a cold coke in a bottle.  Even when suffering from Dementia he never forgot his sense of humor. During the hardest parts of life, he still could find something to laugh about. His last words were, "I want a pickle and I want to take a nap and DO NOT wake me up for dinner."
He is survived by the great loves of his life, his family: Beloved husband of 60 years to Judith Mendica Blives; Dear Father of Mindy (Bruce) Blives McCoy, Missy (Anthony) Blives Castro; Loving Paw Paw to Zoe Castro, Zinnia Castro, Sicily Castro, Aidan McCoy and Connor McCoy; Dear brother to Carole Scroeder, Robin Creager, and half-sisters Marla Barry, and Dawn Klumpers.; dear friend to many. He will be dearly missed by all.  To further carry on Steve's memory, help make the world a better place and do one thing today that makes you share a laugh with someone.
Graveside service Thursday, May 18, 2023, 2:00pm at New Mt. Sinai Cemetery, 8430 Gravois Rd, St. Louis, MO 63123. Tributes in memory of Steve Blives may be made to Rainbows for Kids, a 501 (c) charity near to his heart by going to RainbowsForKids.org to donate or mailing a check to Rainbows for Kids, 7221 Waterford Drive, St. Louis, MO 63123.  A RINDSKOPF-ROTH SERVICE