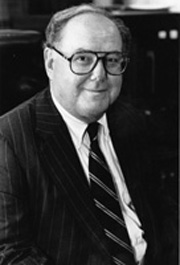 Judge Harold L. Satz, whose long legal and judicial career included service as chief judge of the Missouri Court of Appeals, died Sunday, March 18, 2007, at Barnes-Jewish Hospital of complications from cancer. He was 79 and resided in St. Louis.
A native of St. Louis, Judge Satz served in the Merchant Marine in the mid-l940s.
He graduated from Washington University with a bachelor's degree in chemistry in 1950.
Shortly thereafter, he was drafted into the U.S. Army and served in the Ordinance Corps during the Korean War.
Judge Satz earned his law degree from Washington University School of Law in 1958.
He worked as a patent examiner in the U.S. Patent Office in Washington before he started a private practice at Satz and Ponfil in St. Louis.
Judge Satz served eight years as a circuit judge in the City of St. Louis, and then was named to the Missouri Court of Appeals, Eastern District. He served for 14 years on the appelate bench, including as a settlement judge from 1982 to 1986 and chief judge of the Missouri Court of Appeals from 1987 to 1988. He retired from the bench in 1992.
More recently, Judge Satz served as a partner in the law firm, The Stolar Partnership in St. Louis.
He had served as an arbitrator or mediator in hundreds of cases since his retirement.
From 1965 to 1972, Judge Satz served as chairman of the Atomic Energy Commission of Missouri. His wife, Virginia Satz recalled to the St. Louis Post-Dispatch that Judge Satz liked to joke that then-Gov. Warren E. Hearnes named him to the post because he was the only person on hand with an "unused chemistry degree."
Judge Satz was a member of Congregation Shaare Zedek in University City. Among the survivors are his wife, Virginia Satz; a stepdaughter, Connie Thompson of Westcliffe, Colo.; a stepson, Philip Kesterson of Gulf Shores, Ala.; a sister, Beverly Leve of St. Louis, and six grandchildren.
Funeral services were held at Berger Memorial, 4715 McPherson Avenue. Burial was in the Chevra Kadisha Cemetery.
Memorial contributions may be made to a charity of the donor's choice.