Shawn "Lewis" Berkin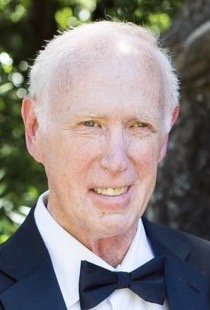 Shawn "Lewis" Berkin passed away peacefully at his home, surrounded by family, on November 15, 2021 at the age of 73. He was the loving husband of Carol Berkin, devoted father to Heather, Bradley, and Brian, and doting grandfather to Asher, Remi, Owen, and Miles. He was the cherished brother to Drucie and Craig, and committed uncle, cousin, and friend to many.
A native of St. Louis, MO, Lewis attended Ladue High School, the University of Missouri, and Kirksville College of Osteopathic Medicine. After medical school, he spent 16 years serving in the U.S. Army, including time spent as a flight surgeon, while living in Chicago, IL and San Francisco, CA with his young family. Lewis would go on to establish his own practice in St. Louis, where he tirelessly served as a family physician for over 40 years. He loved his patients and took immense pride in caring for them.
Lewis found pleasure in simple things: collecting t-shirts from local establishments, jogging the neighborhood, and watching 1970s cinema. His greatest treasure though was his family. He loved nothing more than singing and dancing with Heather, discussing the finer points of life with Bradley, and attending St. Louis Cardinals baseball games with Brian. He and Carol were devoted best friends, married for 46 years. They lived a privately full life of inside jokes, family gatherings, and an indulgence in frozen custard and Law and Order re-runs.
His life was an inspiration to all who knew him. He will be sorely missed and forever loved.
Graveside service Friday, November 19, 10:30 am at Chesed Shel Emeth Cemetery, 650 White Road. Memorial contributions preferred to United Hebrew Congregation or a charity of your choice. There will be a virtual shiva on Sunday, November 21 from 10 am to noon, and can be accessed at https://meet.google.com/jbe-essd-jvg.