Sarah Reva "Cookie" Holtzman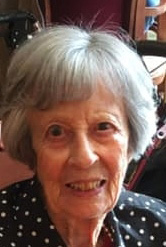 Sarah passed away peacefully on March 30, 2023, at the age of 102. She had a long, good life.
Sarah was born in Grand Island, Nebraska, on February 16, 1921, to Joe and Birdie Braverman. Her round face and big, dark eyes earned her the nickname of "Cookie" as a toddler.
Cookie met Joe Holtzman when they worked together at Edison Brothers Stores. They were married from 1943 until Joe's death in 2012.
Cookie was preceded in death by her parents, her husband, and her siblings, Karl, Eleanor, and Irv. She is survived by her four children, Michael (Amelia) Holtzman, James (Sarah) Holtzman, Barbara (Robert) Earthal, and Lynne (Mark) Myavec; 12 grandchildren and 19 great-grandchildren; and many nieces, nephews, and friends.
Cookie was an avid reader and mah jongg and rummikub player, and she kept her sarcastic sense of humor right up to the end. She will be missed.
Donations may be made to the Anti-Defamation League or St. Jude's Hospital.
Interment will be at Fort Rosecrans National Cemetery in San Diego.